CHALE WOTE Street Art Festival is an alternative platform that brings art, music, design, dance, and performance out into the streets. A community-based festival is an annual event that takes place in James Town one of Accra's most historic communities and targets exchanges between Ghana-based and international artists creating and appreciating art together.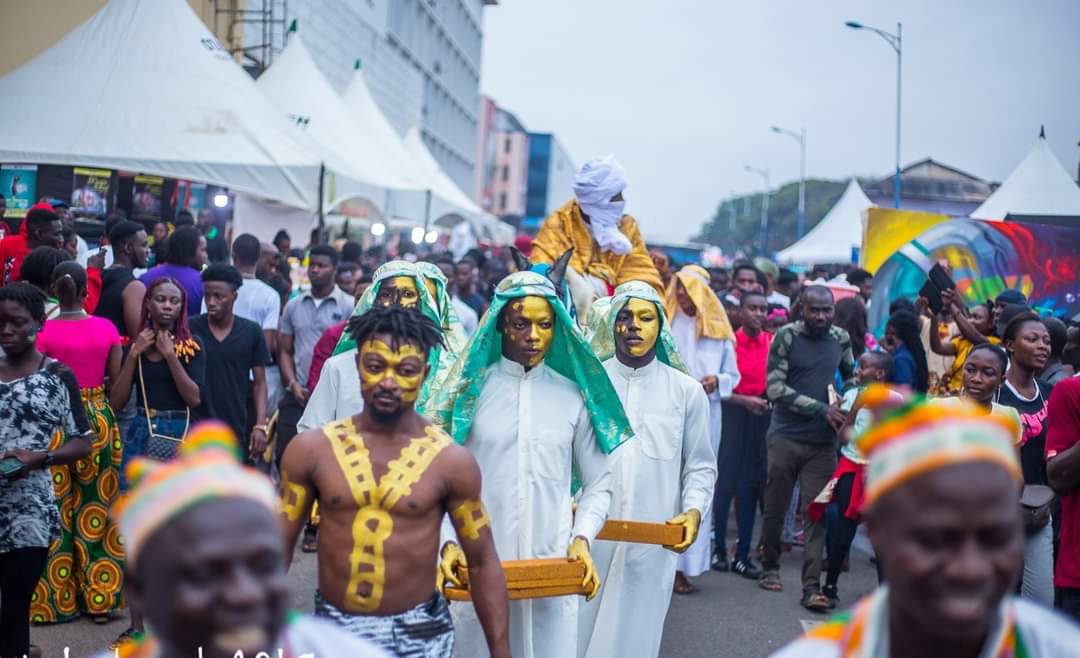 You can control these tabs with mouse and keyboad.
Aria roles are given automatically.
Arrow Key Left : Previous Tab
Arrow Key Right : Next Tab
Home : First Tab
End : Last Tab
Space/Enter : Select Tab
DAY 1 – ACCRA

You arrive at Kotoka International Airport, Accra, Ghana. Accra is situated on the Gold Coast of Western Africa. This is the start of what will be an amazing journey that will live with you forever. After passing through immigration, you proceed to collect your luggage before heading to customs. You will be met just outside of customs and transferred to your hotel in action of your stay, and transfer to your hotel in our private air-conditioned vehicle. Once you have checked in, our expert cultural guide, who will be accompanying you for the duration of your tour, will offer you Akwaaba (Welcome) and brief you on the exciting activities that await you here in Ghana.

Meal(s) Included: Welcome Dinner

Hotel: Alisa Hotel

DAY 2 – ACCRA

After breakfast you will depart for full day tour of Accra. · Visit the W.E.B. Du Bois Center honoring the life of one of the most prominent Pan-Africanists who chose to live and work in Ghana. · Continue to the Kwame Nkrumah Mausoleum and museum, a tribute to Ghana's first President. This park, formally called the Polo grounds, is where Dr. Kwame Nkrumah declared the independence of Ghana. Independence Square, Accra's open-air ceremonial grounds where all national celebrations are held. · After lunch at a local restaurant (on your own account), we visit Jamestown Community-One of Accra's most historic neighborhoods where history resides on every corner. Best known for its lighthouses (the first of which was constructed in 1875 by the British) as a navigational aid for trading vessels sailing through the Gulf of Guinea. The original structure was ruined but a larger and more improved lighthouse completed in 1921 is still functioning today. This evening, you shall have a unique experience of exploring the beautiful Fulani culture by visiting Chef Fatmata Binta. Fatmata Binta is a recognized chef of Fulani descent living in Accra. She will help you experience cuisine the Fulani way. You will be treated to 3 courses inclusive of dessert, music and good vibes that you will always remember. You will have the Attaya Tea ceremony and well as Chef's tutorial on Fulani's Culture.

Meal(s) Included: Breakfast, Dinner

Hotel: Alisa Hotel

DAY 3- ACCRA (SHOPPING EXPERIENCE)

After a leisure breakfast, we will visit the shopping areas of Accra and vicinity including craft markets, galleries, dressmakers and hair braiders. There will be bargains galore. · The always bustling Makola Market, the biggest open market in Accra. This fascinating market has been compartmentalized into various sections to make bargain hunting easier. You will have the chance to walk through this unusually bustling market and even get the chance to sharpen your bargaining skills. · We stop at the city's arts and crafts market to try out our bargaining skills. · The famous Oxford Street in Osu where you can shop for unique, colorful and beautiful African wear, handcrafted jewelry and accessories. At this evening's dinner, we shall have a Head Wrap demonstration and instruction. Tailors and dressmakers will be in attendance for those who need custom made outfits.

Meal(s) Included: Breakfast, Dinner

Hotel: Alisa Hotel

DAY 4 – ACCRA-GOMOA NYANYANO-CAPE COAST/ELMINA

After a well deserving breakfast at the hotel and check out, we set out for Ghana's Central Region. Enroute, we will visit the village of Hope Orphanage https://www.thevohgroup.org/Ministries/village to spend some time with the kids and interact with the caretakers on their day-to-day care of the children. There is an opportunity to assist with their daily activities. This is a licensed Residential Home for children to rehabilitate and nurture orphaned and vulnerable children in a holistic manner. Here, they operate the principle of the family system as the basic socialization unit of a child and consider the unique natuaral abilities of each child for their development. After lunch (at the home), we continue to Cape Coast/Elmina. Upon arrival, embark on a guided walking tour of Elmina, which was the first point of European contact in Sub-Saharan Africa. It was once the most cosmopolitan city in Tropical Africa. Climb the Jago Hill to Fort Saint Jargo, which was used by the Dutch as a post to snatch the Elmina Castle from the Portuguese. You will be thrilled by the various Colonial Dutch Cemeteries as well as the colorful Safo (Fante Traditional Soldiers) posts with their philosophical symbols.

Meal(s) Included: Breakfast, Lunch, Dinner

Hotel: Alisa Hotel

DAY 5 – CAPE COAST & ELMINA

Today we embark on a tour of the infamous Forts, Castles and Slave Dungeons of Ghana. History will unfold the story of the slave trade which the impact is still felt beyond the shores of Africa today. Visit the Cape Coast Castle built by the Swedes in 1653 and was later taken over by the British. This castle also houses the West African Historical Museum established by the Smithsonian Institute in collaboration with the Ghanaian Government in 1994. Visit the Elmina Castle built by the Portuguese in 1482 and is also known as St. George's Castle. This castle was the first European structure built in Sub-Saharan Africa. The colorful harbor nestled below the Elmina Castle, full of pirogues preparing to go to sea offers one of West Africa's greatest photo opportunities. We will also participate in the "Fihankra" ceremony which seeks to reconnect people of African descent, who have been lost due to the transatlantic slave trade, to the motherland. This ceremony reconnects returnees with the cultural and spiritual ties that had been denied them for centuries. The final part of Fihankra includes a naming ceremony. Upon our return to the hotel, we will enjoy this evening's dinner with cultural performance from the Mesomagor Bamboo Orchestra group.

Meal(s) Included: Breakfast, Dinner

Hotel: Ridge Royal Hotel

DAY 6 – CAPE COAST/ELMINA

After a restful night and leisure breakfast, we will visit 'Global Mama's' –an inspiring non-profit and Fair-trade organization, assisting women in Ghana to become economically independent. During this visit you can learn about the challenges and rewards of operating these economic uplifting projects. Here you can get also Crafty and participate in the traditional West African art of Batik making. We will also visit Esi's Kitchen to explore the fragrant and exotic flavors of West African cuisine. Esi will introduce you to an array of new tastes and flavors as you learn how to create authentic Ghanaian dishes. Using African cooking techniques, during this workshop you will create traditional dishes like Jollof rice (Rice cooked in tomato sauce), Red Red (Beans stew with fried ripe plantain), Ampesi (Cooked yam/plantain with palava sauce) or Peanut butter soup. After learning the recipes, you will enjoy eating the feast you've helped to prepare!

Meal(s) Included: Breakfast, Dinner

Hotel: Ridge Royal Hotel

DAY 7 – CAPE COAST/ACCRA

After breakfast, drive to Kakum National Park. Here you will see birds, butterflies, and perhaps catch a glimpse of the forests with over 40 species of mammals including monkeys and the reclusive forest elephant. Precede to the canopy walk, a 1000-foot long, seven-bridge walkway with viewing platforms that reach heights of over 150 feet above ground! See today's Accra at the West Hills Mall, the biggest retail shopping mall in West Africa; transfer to your hotel.

Meal(s) Included: Breakfast, Dinner

Hotel: Ridge Royal Hotel

DAY 8 – ACCRA (CHALE WOTE FESTIVAL)

We will enjoy the morning at leisure until it is time to head out to Chale Wote Festival the popular biggest art festival in West Africa. This festival brings together an alluring mix of artists musicians and Accra's up and coming fashion designers.

Meal(s) Included : Breakfast

Hotel: Alisa Hotel

DAY 9 – ACCRA-ADA FOAH-ACCRA (DAY OUT AT AQUA SAFARI RESORT)

Following a leisure breakfast, let's wind down on our exploration of Ghana with a visit to Aqua Safari Resort, a top eco-friendly luxury getaway resort in the heart of Ada Foah, located 2 hours' drive away from Ghana's capital, Accra. This is where you enjoy an ideal blend of a stunning beach, picturesque village tours, topped off with some sun. You will also unravel a rich and inspiring history of the local people. Upon arrival at the resort, take a relaxing boat cruise to the to explore the beautiful Island. Arrive back from the cruise in time for a mouthwatering lunch (prepared with fresh farm produce) which you can take right at the beach or taken from the serene chalet garden. The choice is yours ! After lunch, there are also varieties of activities you can choose such as an icy dip in the pool which overlooks the Atlantic ocean, beach volley, Beach soccer, Badminton, Segway Ride, Table Tennis and Bicycle Ride We return to Accra late afternoon.

Meal(s) Included: Breakfast, Dinner

Hotel: Alisa Hotel

DAY 10 – ACCRA-DEPART

Enjoy the day at leisure. Time permitting your driver will assist you on your last-minute errands and excursions before you are transferred to the airport for your onward flight. We hope that after this trip you will forever view the Motherland in the positive light it deserves

Meal(s) Included : Breakfast

In-flight
Trip Includes:
•Meeting and assistance upon arrival and departure
• Roundtrip airport/hotel transfers
• 9 nights Hotel accommodation in the indicated properties
• Transportation in private vehicle
• Experienced tour guide
• Admission to listed sites
• Meals indicated (Breakfast daily, 1 Lunch and 8 dinners)
• Assistance with visa application
Request A Quote