Senegal (Dakar, Goree Island, Pink Lake), Ghana (Accra, Kumasi, Assin Manso, Elmina, Cape Coast)
Experience the beauty in Senegal and the history of Ghana in this 11 day tour visiting Ghanaian cities such as Accra. Tour Goree Island, Pink Lake, Kumasi, and other tourist destinations.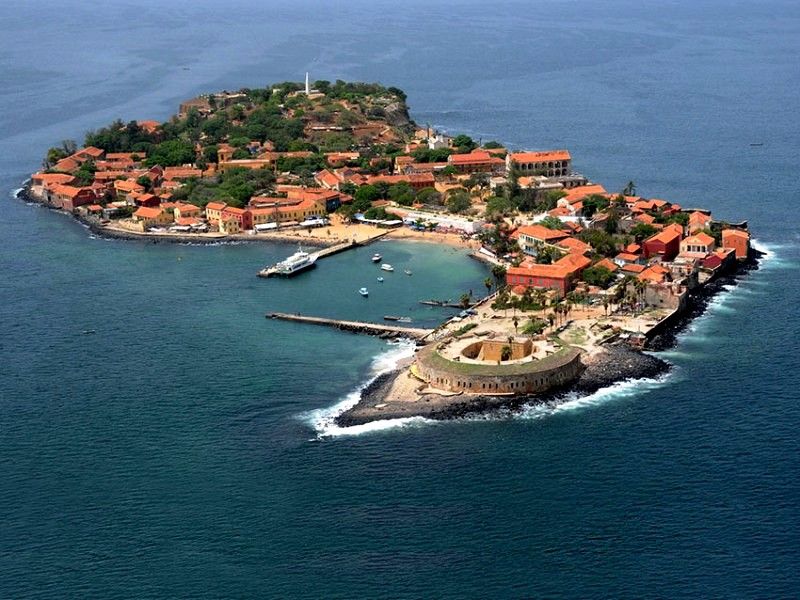 You can control these tabs with mouse and keyboad.
Aria roles are given automatically.
Arrow Key Left : Previous Tab
Arrow Key Right : Next Tab
Home : First Tab
End : Last Tab
Space/Enter : Select Tab
Day 1: ARRIVE IN DAKAR, SENEGAL

Upon arrival in Dakar, you will be met, assisted, and transferred to your hotel. Today's activities depend on your flight arrival time.

Hotel: Terrou Bi 

Day 2: DAKAR

Highlights

Renaissance Monument
Museum of African Civilization
Markets

After breakfast, begin the city tour of Dakar and its vicinity. Sites include the Africa Renaissance Monument: a 164 Feet high monument unveiled in 2010, overlooking Dakar and is taller than the Statue of Liberty. The once-controversial bronze statue is a popular attraction among locals as well as visitors. It features a man, woman, and child pointing, a symbol of renewed African hope. The woman is now decently clothed, as conservative groups forced the government to lengthen her formerly short skirt, at a cost of more than US$ 10 million, to a more modest length. Independence Place, the heart of the city, you will pass by the presidential palace and the main cathedral. Then get to the Museum of Black Civilization. This massive four-story complex fulfilled the dream of Senegal's first president Leopold Sedar Senghor. The museum retraces the oldest and first civilizations from Africa to the rest of the world. The architect is inspired by the impluvium huts found in Casamance Opportunities for beach activities this evening.

Meal(s) Included: Breakfast,Dinner

Hotel: Terrou Bi


Day 3: DAKAR – GOREE ISLAND – SALY

Highlights

Goree Island
The Door of No Return
Pink Lake

Depart on the 20 minutes ferry ride to visit the charming yet infamous Goree Island, a UNESCO World Heritage Site. Explore the quiet streets lined with pastel-colored colonial-era buildings. Among the most famous building here is the House of Slaves which records the painful history of Goree's past. Observe the "Door of No Return" through which millions passed on the way to slavery. The tour includes a visit to the ethnographic museum and a lecture on the history of Goree.

You may visit the MariamaBâ, Elite high school for girls named after the famous Senegalese writer. The school was founded in 1977 by Leopold Sedar Senghor, first president of Senegal, and was named after MariamaBâ, novelist, teacher, and feminist who struggled for women's rights in Senegal. The school admits girls who obtained the highest scores during the national secondary school entrance exam. Each year, about 50 female students from the 11 regions of Senegal are given the opportunity to attend the school for the rest of their high school years. After lunch, return to Dakar and drive to visit Pink Lake, a rare natural phenomenon caused by a unique combination of micro-organisms and a high concentration of salt which gives the lake its unique pink color. Interact with the women harvesting salt and visit the nearby Fulani village.

Continue to Saly in time for an evening splash in the ocean.

Meal(s) Included: Breakfast and Dinner

Hotel: Terrou Bi


Day 4: SALY – BANDIA – SALY

Highlights

Drive to Bandia Park where you will see numerous species native to Senegal including buffalos, antelopes, impala gazelles, monkeys, tortoises, and crocodiles in addition to white rhinoceros, kudu, elands, cape moose, giraffes, ostriches, zebras. Stop by the crocodile pool where animals come to drink and buffalos wallow in the mud.

You will see numerous bird species including the small hornbills, grey heron, eagles, blackbirds, and kingfishers.

Return to the hotel in time for a short excursion on the Somone Lagoon to admire the beautiful landscape and see some rare river birds. This evening there is an opportunity for swimming and other beach activities.

Meal(s) Included: Breakfast and Dinner

Hotel: Royam Saly

Day 5: ARRIVE IN ACCRA

Morning at leisure before departure flight to Ghana. On arrival in Accra, you will be met, assisted, and transferred to your hotel for the next two nights.

Meal(s) Included: Breakfast,Dinner

Hotel: Accra City Hotel


Day 6: ACCRA

Highlights:

W.E.B Dubois Centre
The Independence/Black Square
The Kwame Nkrumah Memorial Park
Jamestown Fishing Community

Experience the bustling city of Accra today which is a blend of modern buildings and old structures that existed during colonial times. This 120-year-old city has a number of historical things to offer as you set off after a sumptuous breakfast at your hotel, passing through the economic and administrative districts.

The first visit will be to W.E.B Du Bois Centre honoring the life of the prominent Pan-Africanist who chose to live and work in Ghana.

We continue to Independence Square where you will see the enclosed flame of African Liberation, which was lit by Dr. Kwame Nkrumah in 1961. The Kwame Nkrumah Memorial Park, the final resting place of Ghana's first president. Set in attractive gardens, there is an adjoining museum, which contains photos, artifacts, and insight into Dr. Nkrumah's life. Adjoining the park is the National Cultural Centre, which is Ghana's largest outdoor arts and crafts market selling traditional crafts from all over West Africa.

Our day's visit ends at Jamestown Community-One of Accra's most historic neighborhoods where history resides on every corner. Best known for its lighthouses (the first of which was constructed in 1875) as a navigational aid for trading vessels sailing through the Gulf of Guinea. The original structure was ruined but a larger and more improved lighthouse completed in 1921 is still functioning today.

You may visit "Brazil House" and learn about the seven Afro-Brazilian families who returned to settle in Ghana in 1836. Familiar Brazilian/Portuguese last names such as De Souza, Palmares, Azumah, Amorin, Da Costa, Santos, De Medeiros, and Olympio are abundant in this section of Accra.

Meal(s) Included: Breakfast,Dinner

Hotel: Accra City Hotel


Day 7: ACCRA – KUMASI

Highlights:

After breakfast, we will check out of our hotel and head further East to Akosombo. En route, we will the Teshie Casket/Coffin Shop where uniquely designed caskets are made and this reflects the people's belief in life after death.

The shop was started by Seth Kane Kwei in the 1950s, almost by accident. He made palanquins, also known as Litters or Sedan Chairs that are used to carry tribal chiefs at traditional festivals. One chief, who had ordered a palanquin shaped like a cocoa pod, died unexpectedly before the festival, so he was buried in the palanquin. Soon after that, his grandmother who had planned her first overseas trip by flight died before the trip and she too was buried in a coffin shaped like an airplane. "The third fancy coffin was for a chief fisherman who was buried in a canoe. Thus, the fancy coffin industry was started.

Continue to Kumasi arriving late afternoon; transfer to the hotel and check-in.

Meal(s) Included: Breakfast,Dinner

Hotel: Noda Hotel


Day 8: KUMASI

Highlights:

3 craft villages of the Ashanti kingdom

Today, enjoy a scenic drive through several villages with Ashanti cultural-styled houses in the surrounding lush countryside which is a sharp contrast to the modern-day Kumasi city.

Drive through Ejisu, the home of Nana Yaa Asantewaa the Queen mother of Ejisu who led Ashanti women warriors in a battle against the British in 1900. Continue your drive to visit the three craft villages.

Adanwomase will be our first craft village where we'll see how the famous Kente Cloth is handmade on looms in a time-honored tradition passed down through generations. See the Kente patterns with each having a meaning. You will have the opportunity to make purchases. We may pay a courtesy call to the chief of this community amidst drumming and dancing or see their cocoa farms (must be prearranged).

We will continue to the village of Ntonso where Artisans hand-stamp patterns on a Cotton cloth to make Adinkra Textiles. Black-on-Black and Black-on-Red Adinkra Cloth is worn for funerals and other solemn occasions; learn how the Black Dye is made in the village from the bark of trees and creates your own Adinkra sash to take home. You may also purchase large pieces of the Adinkra Cloth handmade in the village.

Our final village will be the Woodcarving Village of Ahwiaa, known for the talented craftsmen who fashion royal stools, walking sticks, and Fertility Dolls from wood; with the opportunity to purchase hand-carved items of all kinds.

Continue to Central Kumasi which has quite a collection of British colonial buildings and it is the heart of the Ashanti culture. We enjoy a drive through the city with monuments dedicated to the memory of the great Ashanti people on our way to visit the Okomfo Anokye sword site, an important symbol of Ashanti unity that marks the spot where the golden stool "descended from the sky" and has been in place for over 300 years. Legend says the Ashanti kingdom would collapse should the sword ever be removed.

Return to your hotel early evening.

Meal(s) Included: Breakfast,Dinner

Hotel: Noda Hotel


Day 9: CAPE COAST

Highlights:

Assin Manso Slave River
Elmina Township Walk

Today, we depart for yet another adventure of the Coastal lands of Ghana- Elmina & Cape Coast. En route, we stop at Assin Manso, the burial site of two former slaves from the USA and Jamaica whose remains were re-interred in August 1998 during Ghana's first Emancipation Day Celebration. A visit to "the Slave River" or "Donkor Nsuo" offers the chance to see the place where captured Africans were washed before being confined in the Slaves Castles to await shipment to the Americas and Caribbean.

This evening, enjoy the sights of the many colorful fishing boats bringing their daily catch into the harbor and take the opportunity to mix with the locals at the nearby market. A short distance from the market we visit the boat builders, still building colorful fishing boats using traditional tools and methods spanning centuries.

Continue to your hotel and check-in. Prepare for dinner at your hotel.

Meal(s) Included: Breakfast,Dinner

Hotel: Ridge Royal Hotel


Day 10: ELMINA & CAPE COAST CASTLES

HIGHLIGHTS:

Cape Coast Castle
Elmina or St. George's Castle

Today, we will visit Cape Coast castle, a UNESCO world heritage site. The castle is a thought-provoking monument to a harrowing period in the region's history. You will take an emotional journey through the castle which held more enslaved Africans than any other in the region, viewing the dungeons and the infamous "Door of no return". There is a significant historical museum inside, which explains the history of the castle and of Cape Coast itself. You can purchase literature on Ghana's forts and castles, as well as the cultural history and traditions of Ghana. Next, we visit Elmina Castle another World Heritage site.

Late afternoon you will go through the "Fihankra" Fihankra is a ceremony that seeks to reconnect people of African descent, who have been lost due to the transatlantic slave trade, to the motherland. This ceremony reconnects returnees with the cultural and spiritual ties that had been denied them for centuries. The final part of Fihankra includes a naming ceremony to relax before you are transferred to the airport for your flight home.

Meal(s) Included: Breakfast,Dinner

Hotel: Ridge Royal Hotel


Day 11: ELMINA – KAKUM – ACCRA – DEPART

HIGHLIGHTS:

Kakum National Park
Abandze Town

After breakfast, you will check out of your hotel for a visit to the Kakum National Park, Ghana's most famous park. Take a brief walking tour on the forest floor where you will learn how our ancestors lived in the forest. See birds, butterflies and perhaps catch a glimpse of the forests of over 40 species of mammals including monkeys and the reclusive forest elephant. Proceed to the canopy walk. Kakum is home to Africa's only aerial walkway through the tree canopy, 1000-foot-long and even-bridge walkway with viewing platforms that reach heights over 150 feet above the ground.

On the way, we will stop to visit the village of Abandze, the ancestral home of Louis Armstrong, the famous American Jazz Musician.

Arrive in Accra late afternoon in time to visit the popular Arts & Crafts Market if you like aggressive bartering or the African Market in Osu (Ghana's Soho) if you prefer fixed prices.

Transfer to the airport for your onward flight.

Meal(s) Included: Breakfast
Trip Includes:
Meeting and assistance upon arrival and departure
Roundtrip airport/hotel transfers
Hotel accommodation in the indicated properties
Transportation in private vehicle
Experienced tour guide
Admission to listed sites
Meals indicated
Bottled water per day
Request A Quote