Ghana ( Accra, Cape Coast, Kumasi)
Tour Independence Square, Nkrumah Memorial, National Theater, National Museum, Historical Castles, Ashanti Museum and Cultural Sites, Kumasi Fort, the University of Ghana, Museum of Archaeology and more in this in-depth historical tour of Ghana.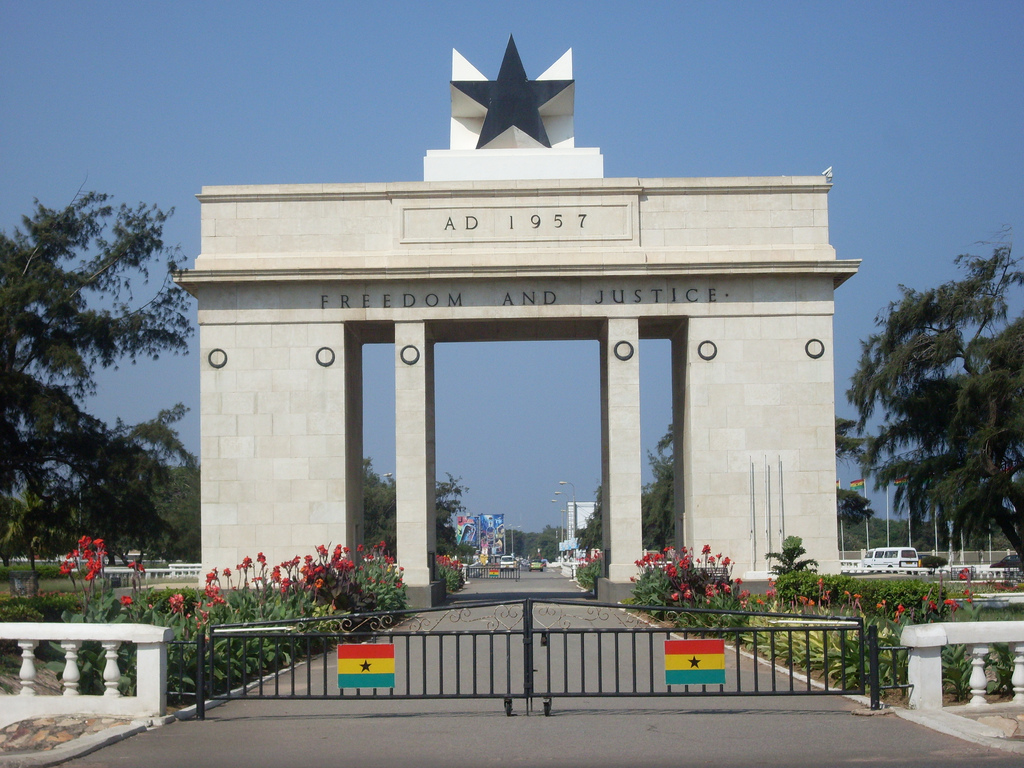 You can control these tabs with mouse and keyboad.
Aria roles are given automatically.
Arrow Key Left : Previous Tab
Arrow Key Right : Next Tab
Home : First Tab
End : Last Tab
Space/Enter : Select Tab
Day 1 ACCRA, GHANA

Upon arrival in Accra – you will be met assisted and transferred to your hotel.

Other activities today will depend on your arrival time and preference.

Overnight at Best Western Plus Accra Beach Hotel or Similar

Day 2 ACCRA

After breakfast go on a full day tour of Accra highlights will include:

Independence Square, see the enclosed flame of African liberation, which was lit by Dr. Kwame Nkrumah in 1961.
The Kwame Nkrumah Memorial Park, final resting place of Ghana's first president. Set in attractive gardens, there is an adjoining museum, which contains photos, artifacts and an insight into Dr. Nkrumah's life. Adjoining the park is the National cultural center, which is Ghana's largest outdoor arts and crafts market selling traditional crafts from all over West Africa.
James Town—one of Accra's most historic neighborhoods, where history resides on every corner. Best known for its lighthouses (the first of which was constructed in 1875 by the British) as a navigational aid for trading vessels sailing through the Gulf of Guinea. The original structure was ruined but a larger and more improved lighthouse completed in 1921 is still functioning today.
"Brazil House" learn about the seven Afro-Brazilians families who returned to settle in Ghana in 1836. Familiar Brazilian/Portuguese last names such as De Souza,    Palmares,   Azumah, Amorin, Da Costa, Santos, De Medeiros, and Olympio are abundant in this section of Accra.

Meal(s) Included: Breakfast, Dinner

Overnight at Best Western Plus Accra Beach Hotel or Similar

 Day 3 ACCRA-KUMASI

After breakfast, drive to Kumasi, the capital of the Ashanti Kingdom. Visit Manhiya Palace, official residence of Ashanti Kings (Asantehene) until 1974, now a museum containing treasured items relating to the Ashanti Kingdom. Visit the nearby Okomfo Anokye Sword, an important symbol of Ashanti unity that marks the spot where the Golden Stool "descended from the sky" and has been in place for 300 years. Legend says the Ashanti Kingdom would collapse should the sword ever be removed.
Meal(s) Included: Breakfast, Dinner
Overnight at Noda Hotel or Similar

Day 4 KUMASI

After breakfast, visit the Ashanti craft villages:
The woodcarving village of Ahwiaa, known for the talented craftsmen who fashion royal stools, walking sticks and fertility dolls from wood. You will have the opportunity to purchase hand carved items of all kinds.
The Village of Ntonso where artisan's hand-stamp patterns on cotton cloth to make Adinkra textiles. Black-on-black and black-on-red Adinkra cloth is worn for funerals and other solemn occasions. You will learn how the black dye is made in the village from the bark of trees, and create your own Adinkra sash to take home. You may also purchase large pieces of Adinkra cloth handmade in the village.
The village is Bonwire, where the famous Kente cloth is handmade on looms in a time-honored tradition passed down through generations. You will see the Kente weavers in process of creating Kente cloth in various styles, and have the opportunity to purchase souvenirs or gifts.
This evening visit the Kumasi Central Market (also known as Kejetia Market), the largest open-air market in West Africa, where more than 10,000 vendors sell their wares. Here you will find just about everything, food, fabric, beauty products, handmade crafts.
Meal(s) Included: Breakfast, Dinner
Overnight at Noda Hotel or Similar

Day 5 KUMASI-CAPE COAST

After breakfast, drive to Cape Coast; with a stop at the Gold mine town of Obuasi and Assin Manso, the burial site of two former slaves from the U. S. and Jamaica. Visit the "Slave River" where captured Africans bathed before being confined in the Slave Castles to await shipment to the Americas and the Caribbean. This evening go on a guided tour through the ancient town of Elmina. At the harbor view the colorful fishing canoes getting ready to go to sea for another night's task of fishing. This is a picture perfect opportunity for photographers.
Meal(s) Included: Breakfast, Dinner
Overnight at Elmina Beach Resort or Similar

Day 6 CAPE COAST

After breakfast, visit Elmina Castle, a UNESCO World Heritage Site built in 1482. This castle was the first European structure built in sub-Saharan Africa. In the afternoon Visit Cape Coast Castle and the Castle Museum for a guided tour. Cape Coast Castle is a UNESCO World Heritage Site, and was one of the departure points for Africans being sent into slavery in the Americas. The castle is home to the "Door of No Return".
Meal(s) Included: Breakfast, Dinner
Overnight at Elmina Beach Resort or Similar

Day 7 CAPE COAST – ACCRA- DEPART

After breakfast, visit Kakum National Park. Kakum is one of Ghana's most famous parks. Take a brief walking tour on the forest floor; see birds, butterflies, and perhaps catch a glimpse of the forests over 40 species of mammals including monkeys and the reclusive forest elephant. Proceed to the canopy walk.Proceed to the canopy walk. Kakum is home to Africa's only aerial walkway through the tree canopy, a 1000 foot long and seven-bridge walkway with viewing platforms that reach heights of over 150 feet above ground. In the afternoon return to Accra; enroute visit the village of Abandze, the ancestral home of Louis Armstrong, the famous American jazz musician.

Transfer to the airport for your onward flight.
Meal(s) Included: Breakfast
Trip Includes:
Meeting and assistance upon arrival and departure
Roundtrip airport/hotel transfers
Hotel accommodation in the listed properties
Transportation in private vehicle
Experienced tour guide
Admission to listed sites
Meals indicated
Request A Quote