Niger (Niamey, Birmin Konni, Tahoua, Abalak, Gerewol Festival, Agadez)
Attend the annual Gerewol Festival in Niger, one of the largest in the region. Every September nomadic clans from around the area congregate in the center of the country for a massive celebration consisting of feasts, camel races, markets, and beaut.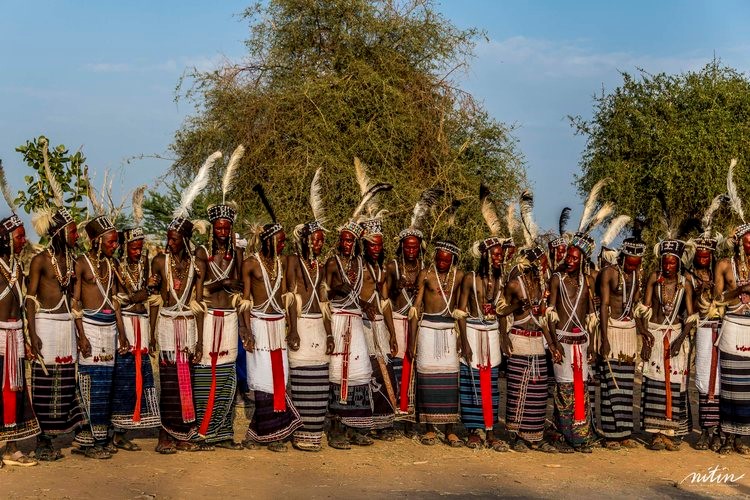 You can control these tabs with mouse and keyboad.
Aria roles are given automatically.
Arrow Key Left : Previous Tab
Arrow Key Right : Next Tab
Home : First Tab
End : Last Tab
Space/Enter : Select Tab
Day 1: Arrival in Niamey

Meet assist and transfer to hotel.

Meals included: No

Overnight at Grand Hotel or similar

Day 2: Flight: Niamey – Agadez (2 or 3 hours)

The domestic flight to Agadez has imprecise schedules, either you go directly to Agadez or you go through Zinder. So, your arrival in Agadez, does not have precise times.  Nevertheless, the evening in Agadez will be devoted to the visit of the city partly by the great mosque, the imposing minaret of the city.

Meals included: Breakfast, Lunch & Dinner

Overnight at Hotel Agadez

Day 3 & 4 : Gerewol Festival

Assist the Gerewol festival.

After breakfast, drive to the festival site of Guerewol between Abalak and Agadez. The Gerewol Festival is an annual courtship ritual competition among the Wodaabe Fula people. Young men dressed in elaborate ornamentation and made up in traditional face painting gather in lines to dance and sing, vying for the attentions of marriageable young women.

You will spend one night on the site under tent. Day 5 return to Agadez for the night in the evening to find his hotel room and shower.

Meal(s) Included: Breakfast, Lunch and Dinner

Overnight at Tents Campement Bororo/Hotel Agadez

Day 5: Agadez

Today, drive to visit the ancient city of Agadez. Tour includes: the camel market, the handy craft, the sultan's Palace and the famous mosque of Agadez.

Meal(s) Included: Breakfast and Lunch


Overnight at Hotel Agadez

Day 6: Flight – Agadez to Niamey

After breakfast, transfer for the return flight to Niamey.   Test covid – Around 15h will be devoted to the excursion on the river Niger. return to the hotel for dinner.

Meal(s) Included: Breakfast and Lunch

Overnight at Hotel Niamey

Day 7: Kouré – Niamey – Depart

Morning drive to visit the Giraffes of kouré. Visit of Niamey in the afternoon between the museum and souvenir shopping.   Last meal before transfer to the airport to take your night flight.

Meal(s) Included: Breakfast
Trip Includes:
Meeting and assistance on arrival and departure
Roundtrip airport/hotel transfers
Hotel accommodation in the indicated properties
Transportation in private vehicle
Experienced English-Speaking tour guides
Admission to sites of interest
Internal Air Ticket Niamey-Agadez-Niamey
Meals listed
Gerewol Participation
Request A Quote