Niger (Agadez, Elmecki, Assodé, Arakao, Adrar Chiriet, Tezirzeit, Oases Of Chirfa, Bilma And Fachi, Tiguidit)
Tour Niger and trek across the Sahara and Sahel. Stay in picturesque oasis towns on your journey, taking in the beauty of the desert and its people. Visit the locales that famous European explorers sighted and surveyed!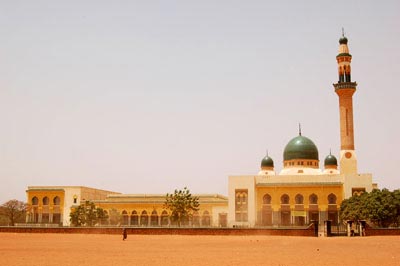 You can control these tabs with mouse and keyboad.
Aria roles are given automatically.
Arrow Key Left : Previous Tab
Arrow Key Right : Next Tab
Home : First Tab
End : Last Tab
Space/Enter : Select Tab
Day 1 Agadez, Niger

Arrive Agadez; meet assist and transfer to Hotel.
Meal(s) Included: Dinner
Overnight at Etoile Du Tenere or Similar

Day 2 Agadez / Elmecki

Departing from Agadez, we will head towards Elmecki and spend the night at the oasis of Timia.
Meal(s) Included: Breakfast, Lunch, Dinner

Day 3 Assodé / Arakao

Departing from Timia, we will visit the ruins in Assodé, the village of Tchintoulouss where the explorer Henri Barth stayed during his expedition in Sahara.  Overnight in Arakao.
Meal(s) Included: Breakfast, Lunch, Dinner

Day 4 Adrar Chiriet

Departing from Arakao toward Illakane, we will pass by Izane.  Overnight in Adrar Chiriet.
Meal(s) Included: Breakfast, Lunch, Dinner

Day 5 Tezirzeit

Departing from Adrar Chiriet toward Tezirzeït, then onto Temet (the highest dune in the Ténéré). Overnight in Adrar Bouss.
Meal(s) Included: Breakfast, Lunch, Dinner

Day 6 Oases Of Chirfa

Departing from Adrar Bouss toward the oases of Chirfa, Orida, Djado and Séguidine, where we will spend the night.
Meal(s) Included: Breakfast, Lunch, Dinner

Day 7 Bilma And Fachi

Departing from Séguidine toward Bilma and Fachi. Overnight in Fachi.
Meal(s) Included: Breakfast, Lunch, Dinner

Day 8 Tiguidit

Departing from Fachi toward the Tree of the Ténéré and the cliffs at Tiguidit.  Overnight in Tiguidit.
Meal(s) Included: Breakfast, Lunch, Dinner

Day 9 Agadez

Departing from Tiguidit toward Agadez. Ovenight in a hotel in town.
Meal(s) Included: Breakfast, Lunch, Dinner
Overnight at Etoile Du Tenere or Similar

Day 10 Agadez City Tour

Visit the Sultan of Agadez's palace where we may meet the Sultan(if he is available). Visit the livestock market and the artisans' village where Tuareg artists work with leather, silver and gold.
Meal(s) Included: Breakfast, Lunch, Dinner
Overnight at Etoile Du Tenere or Similar

Day 11 Depart

After breakfast, decide on your activities with your guide, and transfer to the airport for your onward flight
Meal(s) Included: Breakfast
Trip Includes:
Meeting and assistance upon arrival and departure
Roundtrip airport/hotel transfers
Hotel accommodation in the listed properties
Transportation in private vehicle
Experienced tour guide
Admission to listed sites
Meals indicated
Request A Quote