Egypt (Cairo, Alexandria, Pyramids & Sphinx, Egyptian Museum, Khan El-Khalili) Ghana (Accra, Kumasi, Cape Coast, Elmina)
Explore famous historic sites in Egypt and Ghana. Visit the Egyptian Museum of Antiquities in Cairo, The Great Pyramids in Giza, and the ancient city of Alexandria. Tour the slave castles in Cape Coast and the ancient Ashanti Kingdom in Ghana.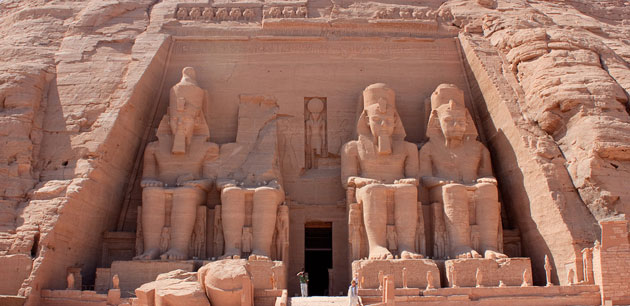 You can control these tabs with mouse and keyboad.
Aria roles are given automatically.
Arrow Key Left : Previous Tab
Arrow Key Right : Next Tab
Home : First Tab
End : Last Tab
Space/Enter : Select Tab
Day 1: Arrive Cairo

Meet assist and transfer to Hotel. In the evening, go on a Nile Cruise and enjoy an Egyptian buffet dinner and cultural performance. After the cruise, return to the hotel.

Meal(s) Included: Dinner

Hotel: Sonesta Hotel Cairo

Day 2: Cairo

After breakfast, go on a full day tour of the Giza Pyramids, Memphis and Saqqara. We will visit the towering pyramids, the ruins of Memphis in the village of Mit Rahina, and the Saqqara Necropolis, where the step pyramid of Zoser stands. After lunch return to the hotel where you will have the rest of the day to relax or pursue other activities.

Meal(s) Included: Breakfast, & Dinner

Overnight at Sonesta Hotel Cairo or Similar

Day 3: Cairo

After breakfast, enjoy a full day tour of Cairo including the Cairo Museum, in Tahreer Square. The museum is the house of magnificent ancient Egyptian Antiquities from different periods throughout the ancient Egyptian history, including the magnificent treasure of King Tutankhamen, whose tomb was recently discovered in 1922 by Howard Carter, and all his treasures had been moved to this museum along with the famous 11 kg mask of gold. After lunch, head to the citadel of Salah al Deen and visit Mohamed Ali Mosque followed by a visit to the oldest Bazar in Africa (Kan El Kalili Bazar)

Meal(s) Included: Breakfast, & Dinner

Overnight at Sonesta Hotel Cairo or Similar

Day 4: Cairo/ Alexandria/ Cairo

After breakfast, drive from Cairo to Alexandria. In Alexandria, visit the Library of Alexandria, the fort of Quaitbay (built on the original site of the famous Lighthouse of Alexandria and from the lighthouse ruins), the Catacombs of Kom El Shokafa (a series of Alexandrian tombs, statues, and other artifacts influenced by the Hellenistic and Roman funeral cult), the Pompey's Pillar and the Roman theatre. This evening return to your hotel in Cairo.

Meal(s) Included: Breakfast, & Dinner

Overnight at Sonesta Hotel Cairo or Similar

Day 5: Cairo/ Accra, Ghana

Depart Cairo early afternoon to Accra, Ghana. Arrive Accra late evening. On arrival at the Kotoka International Airport, our expert cultural tour guide will meet, assist and transfer you to your hotel in our private air-conditioned vehicle. Once you have checked in, your guide will brief you on what to expect during your stay here in Ghana.

Other activities today will depend on your arrival time and preference.

Meal(s) Included: Breakfast

Overnight at Accra City Hotel Beach Hotel or Similar

Day 6: Accra

Your first full day in Ghana, after a sumptuous buffet breakfast at your hotel, we set off for the tour of Accra and vicinity, passing through the economic and administrative districts.

Visits today will include:

Independence Square where you will see the enclosed flame of African liberation, which was lit by Dr. Kwame Nkrumah in 1961.
The Kwame Nkrumah Memorial Park, final resting place of Ghana's first president. Set in attractive gardens, there is an adjoining museum, which contains photos, artifacts and an insight into Dr. Nkrumah's life. Adjoining the park is the National cultural center, which is Ghana's largest outdoor arts and crafts market selling traditional crafts from all over West Africa.
James Town—one of Accra's most historic neighborhoods, where history resides on every corner.  Best known for its lighthouses (the first of which was constructed in 1875 by the British) as a navigational aid for trading vessels sailing through the Gulf of Guinea. The original structure was ruined but a larger and more improved lighthouse completed in 1921 is still functioning today.
You may visit "Brazil House" and learn about the seven Afro-Brazilians families who returned to settle in Ghana in 1836.  Familiar Brazilian/Portuguese last names such as De Souza,    Palmares,   Azumah, Amorin, Da Costa, Santos, De Medeiros, and Olympio are abundant in this section of Accra.

Meal(s) Included: Breakfast, Dinner

Overnight at Accra City Hotel Beach Hotel or Similar

Day 7: Accra – Kumasi

After breakfast, drive to Kumasi with a stop at Tetteh Quarshie Farm, the first commercial cocoa farm; Ghana's largest export and is used to blend some of the world's finest chocolates.

the world's finest chocolates. Continue to Kumasi arriving late afternoon. This evening, visit the Kumasi Fort, the site of the Ashanti Rebellion initiated by Queen Mother Yaa Asantewaa view a collection of the weapons used by the Ashanti Army, photos, and other memorabilia.

Meal(s) Included: Breakfast, Dinner

Overnight at Noda Hotel or Similar

Day 8: Kumasi

After breakfast, visit Kumasi Central Market, the largest open-air market in West Africa where more than 10,000 vendors sell just about everything imaginable. Continue on to the Prempeh II Jubilee Museum, named for the former Asantehene (ruler of the Ashanti people) Nana Osei Agyeman Prempeh II. Exhibits include what is said to be a replica of the famed Golden Stool, which is believed to have descended from the sky and is the spiritual symbol of the Ashanti people. After lunch your tour of the Ashanti Region continues with visits to the Ashanti craft villages starting with the Woodcarving Village of Ahwiaa, known for the talented craftsmen who fashion royal stools, walking sticks and fertility dolls. Your second stop is the village of Ntonso where artisans hand-stamp patterns on cotton cloth to make Adinkra textiles that are worn for funerals and other solemn occasions. The third village is Bonwire where the famous Kente cloth is handmade on looms, in a time-honored tradition passed down through generations.

Meal(s) Included: Breakfast, Dinner

Overnight at Noda Hotel or Similar

Day 9: Kumasi – Elmina

Travel to Elmina in Ghana's historic Central Region, with a stop at Assin Manso, the burial site of two former slaves from the U. S. and Jamaica whose remains were re-interred in August 1998 during Ghana's first Emancipation Day Celebration. You will see the "Slave River" where captured Africans were washed before being confined in the Slave Castles to await shipment to the Americas and the Caribbean.

Continue to Elmina where the evening is at leisure.

Meal(s) Included: Breakfast, Dinner

Overnight at The Coconut Grove Beach Resort or Similar

Day 10: Elmina & Cape Coast

Visit (Elmina Castle) Fort Sao Jorge de Elmina – the site of the first European contact with West Africans when the Portuguese landed here in 1471. Elmina Castle, a UNESCO World Heritage Site, was built in 1482 and is the first European structure in sub-Saharan Africa. The castle was also used as a Slave Prison.

Continue on to Cape Coast Castle which houses the West African Historical Museum established by the Smithsonian Institute in collaboration with the Ghanaian Government in 1994. Cape Coast Castle is another restored UNESCO World Heritage Site. The Castle was one of the embarkation points for Africans being shipped to slavery in the Americas.

Upon your return to the hotel, have a cool icy dip in the pool overlooking the Atlantic Ocean.

Meal(s) Included: Breakfast, Dinner

Overnight at The Coconut Grove Beach Resort or Similar

Day 11: Elmina – Kakum

Early morning drive to Kakum National Park, one of West Africa's surviving tropical rain forests. Extending over 360sq km, the home to over 40 large mammals and 400 bird species as well as many species of butterflies, flora and fauna. The most popular attraction is the Canopy walkway, which is made up of seven bridges extending 330m, hanging 30m (100 feet) above the forest floor. Walk through this forest to discover the wide variety of exotic floral species and the medicinal values they offer or take a walk on the canopy walkway.

Impress your friends and family for years to come with the traditional recipes you will learn in your Ghanaian Cooking Workshop. Learn to make fufu, groundnut soup, and palava sauce. Sample some of Ghana's most popular foods.

NOTE: All dishes are made with purified water.

Meal(s) Included: Breakfast, Dinner

Overnight at The Coconut Grove Beach Resort or Similar

Day 12: Elmina – Accra – Depart

After a leisure breakfast and check out, we depart for Accra. Enroute, we will stop at the West Hills Mall for snacks/lunch (on your own account) and window shopping.

On arrival back in Accra, we will have a last-minute shopping at the Osu Oxford Street market for souvenirs and later have dinner at a selected restaurant.

This evening, you will be transferred to the airport for your onward flight.

Meal(s) Included: Breakfast
Trip Includes:
Meeting and assistance upon arrival and departure
Round-trip airport/hotel transfers
Hotel accommodation in the indicated properties
Transportation in private vehicle
Experienced tour guide
Meals indicated (Breakfast daily and 11 Dinners)
Bottled water while on tour
Admission to listed sites
Request A Quote