Egypt (Cairo, Giza Plateau, Memphis, Sakkarra, Luxor, Edfu, Kom Ombo, Aswan, Esna, Quena, Denderah)
Experience the best of Egypt on this 12-day tour. Highlights of the tour include the Egyptian Museum and the Pyramids of Giza, along with an 8-day Nile Cruise with excursions to fascinating sites along the Nile, such as the Luxor and Philae Temples.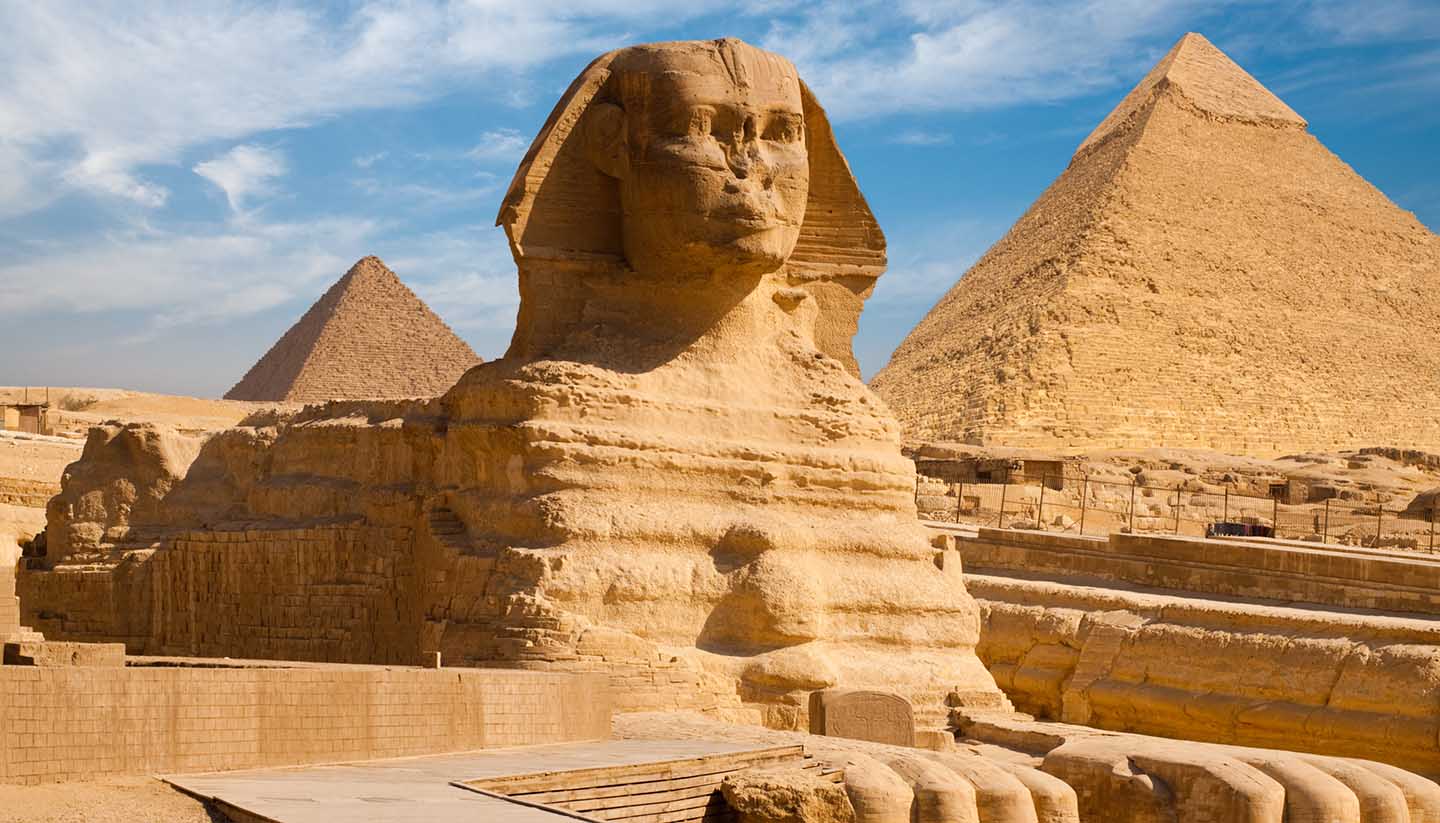 You can control these tabs with mouse and keyboad.
Aria roles are given automatically.
Arrow Key Left : Previous Tab
Arrow Key Right : Next Tab
Home : First Tab
End : Last Tab
Space/Enter : Select Tab
Day 1: Cairo, Egypt

Arrive Cairo: meet assist and transfer to hotel

Overnight at Hotel

Day 2: Cairo

Visit the Egyptian Museum of antiquities where a vast treasure of numerous objects made of gold, bronze, alabaster, silver from Egypt most glamorous times are exhibited; continue to Old Cairo: the Coptic area of Cairo where the Romans constructed the fortress of Babylon.

You will see the ruins of fortress tower of the church of St Mary, more commonly known as the Hanging Church . in the evening visit Kan El Khalili Bazzar an Oriental Bazzar

Late evening, have dinner Cruise along the Nile.

Meal(s) Included: Breakfast, Dinner

Overnight at R. Hilton Hotel/ Pyramisa or Similar

Day 3: Giza Plateau – Memphis – Sakkarra

After breakfast, begin the city tour of Cairo which begins at Memphis, the first capital of a united Egypt and Sakkara, the necropolis of Memphis. In Sakkara, visit the newly opened museum and tour the Step Pyramids complex of Djoser, which predates the Giza pyramids and is the world's first monumental building constructed entirely in stone. Tour the smaller pyramid of Teti, built for a Sixth Dynasty king, whose burial chamber is covered with pyramid texts to ensure the survival of his soul, and the mastaba tombs of the nobles Ti and Pthhotep. Dinner is at a local restaurant.

Meal(s) Included: Breakfast, Dinner

Overnight At R. Hilton Hotel/ Pyramisa or similar

Day 4: Cairo – Luxor

After breakfast, transfer to the airport for your flight to Luxor. Embark the cruise ship before lunch. In the afternoon, you can enjoy a sound and light show at Karnak Temple (Optional).

Meal(s) Included: Breakfast, Lunch, Dinner

Overnight cruise Luxor

Day 5: Luxor – Edfu

In the morning, we cross to the West Bank. Visit the valley of the Kings, the temple of Queen Hatshepsut and the Colossi of Memnon.

Meal(s) Included: Breakfast, Lunch, Dinner

Overnight cruise

Day 6: Edfu – Kom Ombo – Aswan

After breakfast, visit the temple of Horus in Edfu. Sail to Kom Ombo. In the afternoon, visit the temple shared by the two Gods Sobek and Haroeris. Cruise to Aswan for overnight

Meal(s) Included: Breakfast, Lunch, Dinner

Overnight cruise

Day 7: Aswan

Today, visit of the High Dam and the temple of Philae. In the afternoon, get a view of Elephantine Island by Felucca (Sailing boat) and see the Agha Khan Mausoleum. Enjoy a light show at the Philae Temple. Overnight in Aswan.

Meal(s) Included: Breakfast, Lunch, Dinner

Overnight cruise

Day 8: Aswan – Kom Ombo – Esna

In the morning, we sail to Edfu. In the afternoon, sail to Kom Ombo and view the Kom Ombo temple. Later sail to Esna

Meal(s) Included: Breakfast, Lunch, Dinner

Overnight cruise

Day 9: Luxor

In the morning, we sail to Luxor. In the afternoon, visit the temple of Karnak and the Temple of Luxor. Overnight in Luxor.

Meal(s) Included: Breakfast, Lunch, Dinner

Overnight cruise

Day 10: Luxor –  Denderah – Luxor

After breakfast disembark and travel to visit Denderah before returning to the ship.

Overnight in Luxor.

Day 11: Luxor – Cairo

After breakfast, disembark the cruise ship then transfer to the airport for your flight to Cairo where you are assisted and transferred to the hotel.

Meal(s) Included: Breakfast, Dinner

Overnight at R. Hilton Hotel/ Pyramisa or similar

Day 12: Depart Cairo

Decide on your activities with the assistance of your Guide, before transfer to the Cairo International Airport for your Departure flight.

Meal(s) Included: Breakfast
Trip Includes:
Meeting and assistance upon arrival and departure
Roundtrip airport/hotel transfers
Hotel accommodation in the listed properties
Transportation in private vehicle
Experienced tour guide
Admission to listed sites
Meals indicated
Request A Quote