Mauritania(Nouakchott, Atar, Azoughi, Chinguetti, Guelb Er Richat, Ouadane, Terjit, White Valley)
Discover Mauritania with us on this 8 Day tour. Highlights of this tour include; a visit to the capital city of Nouakchott, trekking on the big dunes to discover the desert beauty, Drive through Akjoujt to Atar, Explore the traditional quarter and the market, See vestiges of the fortress that was built in the cover of 20,000 palm trees and the mosque among a maze of rocks and many more.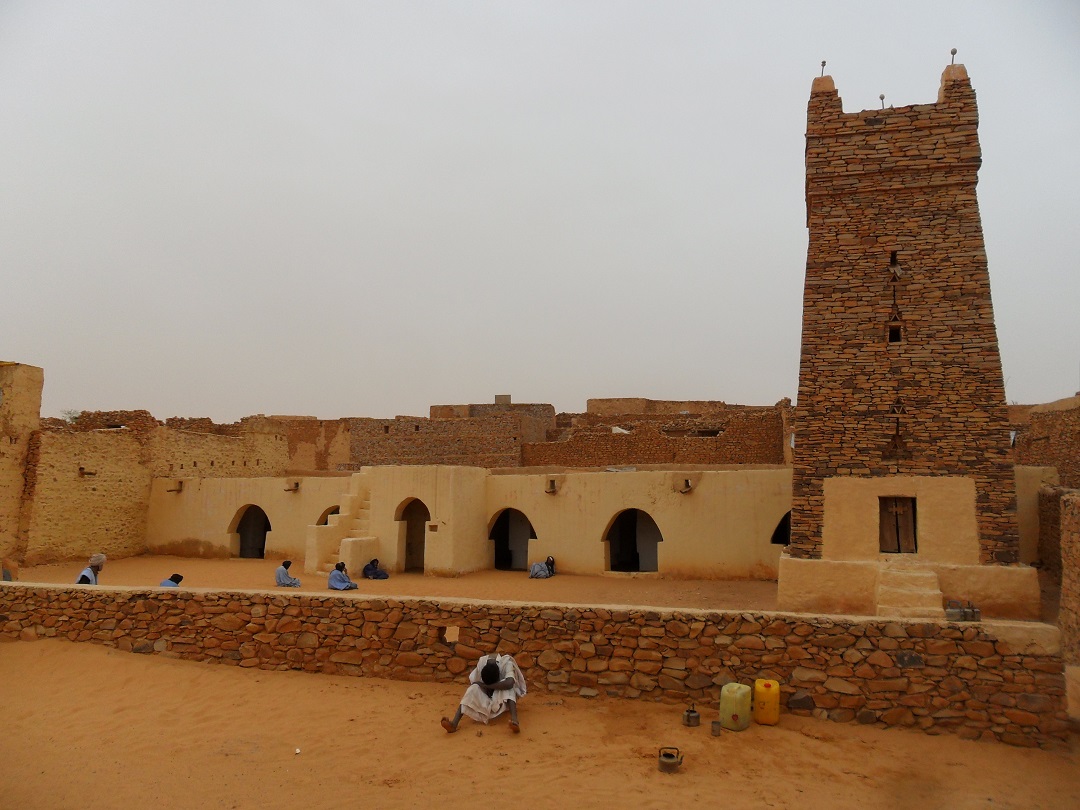 You can control these tabs with mouse and keyboad.
Aria roles are given automatically.
Arrow Key Left : Previous Tab
Arrow Key Right : Next Tab
Home : First Tab
End : Last Tab
Space/Enter : Select Tab
DAY 1: ARRIVE – NOUAKCHOTT

On arrival in Nouakchott, you will be met and transferred to your hotel. Tour orientation and overnight in Nouakchott.

Hotel: Azalai Marhaba

DAY 2: NOUAKCHOTT

Breakfast and begin your day with a visit of the capital city of Nouakchott believed translation from Berber "The place of the winds" and one of the largest cities in the Sahara Desert.

Visit the following places: –the craft market –the mosque with its two minarets –the National Museum with its ethnographical and anthropological exhibit. In the afternoon visit to the desert dunes, trekking on the big dunes to discover the desert beauty. The return of boats in the late afternoon is an original performance, then return to your hotel for overnight.

Meals included: breakfast

Hotel: Azalai Marhaba

DAY 3: NOUAKCHOTT – ATAR ~ 430 km = 265 mi, 4 to 5 hours

After breakfast, depart for Atar. Drive through Akjoujt to Atar, Mauritania's most beautiful region, with the country's most impressive dunes, rock paintings, stunning oases and nomadic culture. Explore the traditional quarter and the market. Overnight in Atar.

Meal(s) Included: Breakfast, lunch and dinner

Hotel: Hotel Waha

DAY 4: ATAR –AZOUGHI – CHINGUETTI ~ 80 km

After breakfast, drive to Azougoui, the ancient capital of the Almoravids, a group of Muslim warrior monks who conquered Morocco, Spain and sub-Saharan Africa in the eleventh century.

See vestiges of the fortress that was built in the cover of 20,000 palm trees and the mosque among a maze of rocks.

Then continue to Chinguetti the seventh holy city of Islam, a UNESCO World Heritage Site. Visit the libraries, traditional quarters, and oases.

Chinguetti, meaning "Good horse", was established in (1261). It was on the caravan route linking northern Sudan to North-Africa. This road was the main access to the gold and other products from the Sudan. This ancient city was also a center of religious and cultural influence from where Mauritanians spread Islam and the Arab-Muslim culture to the entire West Africa. Chinguetti was a cultural center where theology, poetry, philosophy and law and other disciplines were studied.

Meal(s) Included: Breakfast, lunch and dinner

Hotel: Motel Lagueila

DAY 5: CHINGUETTI – GUELB ER RICHAT – OUADANE ~ 180 km

After breakfast, depart to Ouadane with a stop in Guelb Er Richat, an impressive crater, which originated from a meteorite that Theodore Monod had been searching for, for many years. Ouadane which was one of the main caravan centers in West Africa.

Meal(s) Included: Breakfast, lunch and dinner

Hotel: Motel Vasque

DAY 6: OUADANE – TERJIT – WHITE VALLEY – ATAR ~ 230 km

After breakfast, cross the White Valley to reach Terjit, the most beautiful oasis in Mauritania, where there are oasis with thermal springs and pools for bathing. Continue to Atar and rest of at leisure.

Meal(s) Included: Breakfast, lunch and dinner

Hotel: Hotel Waha

DAY 7: ATAR – NOUAKCHOTT

After breakfast, drive back to Nouakchott. Complete city tour by buying souvenirs or just stay at leisure the rest of day.

Meal(s) Included: Breakfast

Hotel: Azalai Marhaba

DAY 8: NOUAKCHOTT – DEPART

Today, you will be transferred to the airport in time.

Meal(s) Included: Breakfast
Trip Includes:
Meeting and assistance upon arrival at the airport
Transportation and Airport/ hotel transfers
Accommodation in the listed properties
Experienced and fluent English-speaking tour guide
Admission to all listed sites
Meals as indicated in the itinerary (B: Breakfast, L: Lunch & D: Dinner)
Request A Quote