Ghana (Accra, Kumasi, Elmina, Cape Coast) South Africa ( Johannesburg, Soweto, Cape Town, Robben Island)
Experience Ghana and South Africa on this all-inclusive 14 day tour which includes visits to the ancient Ashanti Kingdom in Kumasi and to UNESCO World Heritage sites in Cape Coast. In South Africa tour Johannesburg, Soweto, Lesedi Cultural Village- and enjoy a game drive at Pilanesberg National Park. Continue to Cape Town for Table Mountain, Robben Island, the Cape Winelands and Township tour.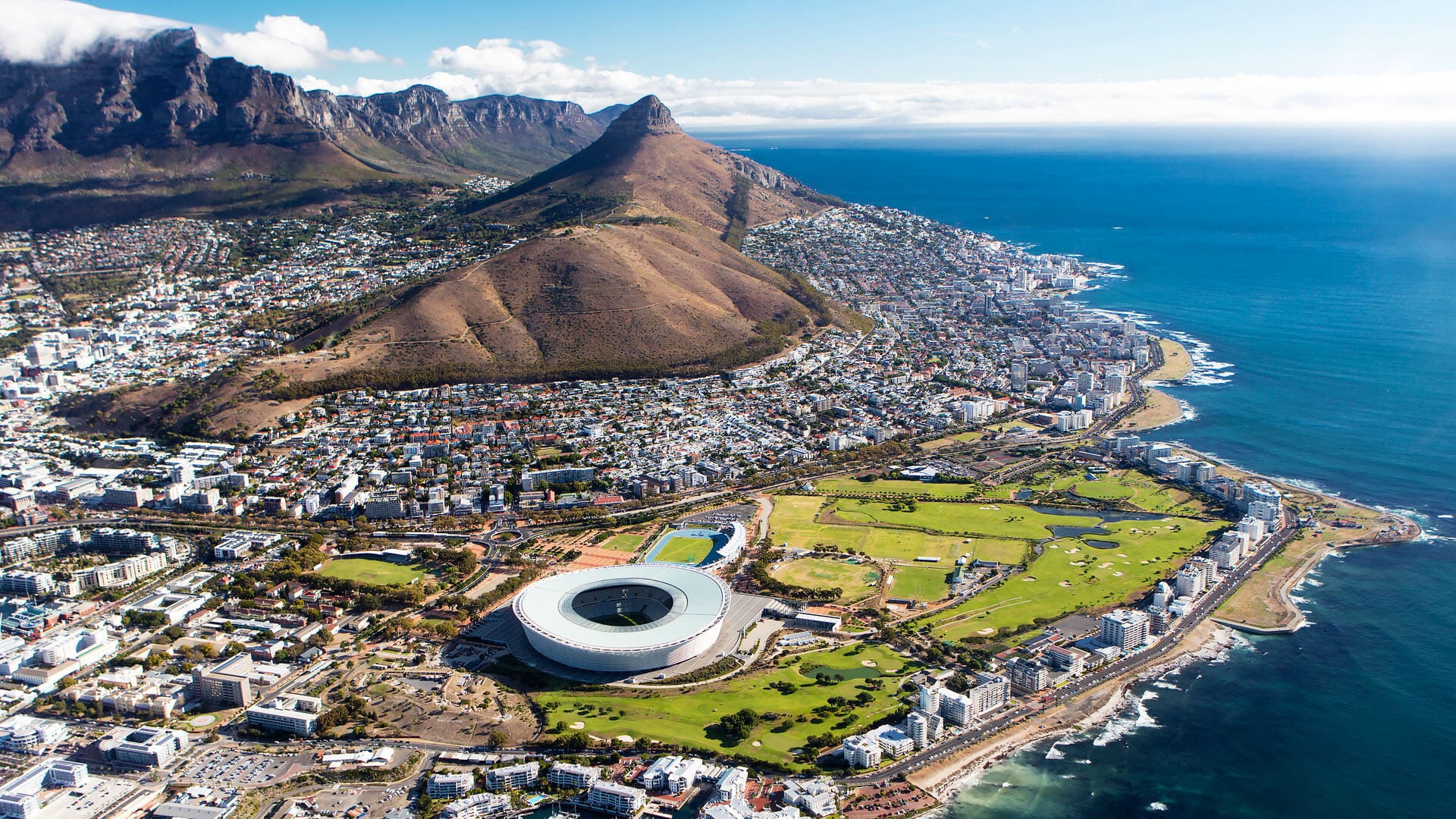 You can control these tabs with mouse and keyboad.
Aria roles are given automatically.
Arrow Key Left : Previous Tab
Arrow Key Right : Next Tab
Home : First Tab
End : Last Tab
Space/Enter : Select Tab
Day 1: ARRIVE ACCRA

On arrival at Kotoka International Airport, our expert cultural tour guide will meet, assist and transfer you to your hotel in our private air conditioned vehicle.

Once you have checked in, your guide, who will be with you throughout your stay, will brief you on what to expect during your time here in Ghana.

Overnight at Accra City Hotel

Day 2:  ACCRA

After breakfast go on a full day tour of Accra highlights will include:

Independence Square, see the enclosed flame of African liberation, which was lit by Dr. Kwame Nkrumah in 1961.
The Kwame Nkrumah Memorial Park, final resting place of Ghana's first president. Set in attractive gardens, there is an adjoining museum, which contains photos, artifacts and an insight into Dr. Nkrumah's life. Adjoining the park is the National cultural center, which is Ghana's largest outdoor arts and crafts market selling traditional crafts from all over West Africa.
James Town—one of Accra's most historic neighborhoods, where history resides on every corner. Best known for its lighthouses (the first of which was constructed in 1875 by the British) as a navigational aid for trading vessels sailing through the Gulf of Guinea. The original structure was ruined but a larger and more improved lighthouse completed in 1921 is still functioning today.
"Brazil House" learn about the seven Afro-Brazilians families who returned to settle in Ghana in 1836. Familiar Brazilian/Portuguese last names such as De Souza,    Palmares,   Azumah, Amorin, Da Costa, Santos, De Medeiros, and Olympio are abundant in this section of Accra.

Meal(s) Included: Breakfast, Dinner ( local restaurant)

Overnight at Accra City Hotel

Day 3: ACCRA/CAPE COAST

After breakfast, drive to Cape Coast; enroute tour of Mankessim, visit the Posuban Shrine and Fante Village. This evening go on a guided tour through the ancient town of Elmina. At the harbor see the colorful fishing canoes getting ready to go to sea for another night's task of fishing. This is a perfect opportunity for the photographers in the group.

Meal(s) Included: Breakfast, Dinner

Overnight at Coconut Grove Resort

Day 4: CAPE COAST

After breakfast, visit Cape Coast Castle and the Castle Museum for a guided tour. Cape Coast Castle is a UNESCO World Heritage Site, and was one of the departure points for Africans being sent to slavery in the Americas. The castle is home to the infamous "Door of No Return This afternoon visit Elmina Slave Castle, another UNESCO World Heritage Site built in 1482. This castle was the first European structure built in sub-Saharan Africa. This evening attend a "Return to the Homeland" ceremony called "fiankra".  This ceremony illustrates how Africans were taken from the homeland without bidding goodbye to their family.  It is also an initiation rite for African returnees.

Meal(s) Included: Breakfast, Dinner

Overnight at  Coconut Grove Resort

Day 5: CAPE COAST

After breakfast, drive to Cape Coast; stop at Assin Manso, the burial site of two former slaves from the U. S. and Jamaica whose remains were re-interred in August 1998 during Ghana's first Emancipation Day Celebration. You will see the "Slave River" where captured Africans were washed before being confined in the Slave Castles to await shipment to the Americas and the Caribbean.

Meal(s) Included: Breakfast, Dinner

Overnight at Coconut Grove Resort

Day 6: CAPE COAST / ACCRA

After breakfast return to Accra with a stop at the Village of Abandze, the Ancestral Home of Louis Armstrong, the famous American jazz musician; in Accra those who ordered outfits will go for a fitting, farewell dinner.

Meal (s) Included: Breakfast, Dinner

Overnight at Accra City Hotel

Day 7: ACCRA/ JOHANNESBURG, SOUTH AFRICA

Today is a leisure in Accra until you are transferred to the airport for your flight to South Africa.

On arrival in Johannesburg, you will be met, assisted and transferred to your hotel.

Meal (s) Included: Breakfast

Overnight at Rivonia Premier Lodge

Day 8: RISE TO FREEDOM TOUR- SOWETO

Today you will get a detailed understanding of South Africa's history and transformation.

You will travel along the footpaths of the freedom fighters and experience the City of Johannesburg and Soweto through their eyes. Highlights will include:

The Hector Petersen Memorial, the spot where 12 year-old Hector was shot during the Soweto uprisings.
Regina Mundi Church. The church was a meeting place for activists deprived of any other place to meet. It played a role in Soweto's most significant day, when students, revolting against the imposition of Afrikaans teaching by the apartheid government, ran into the church. They were followed by police, who shot and injured many; firing teargas and damaging the marble altar and the figure of Christ, the bullet holes are still visible in the ceiling.
Chris Hani Baragwanath Hospital the largest hospital in the world; named in honor of the African National Congress leader who was assassinated in 1993.
Mandela's House comprising four inter-leading rooms, containing an assortment of memorabilia, paintings and photographs of the Mandela family as well as a collection of honorary doctorates bestowed on Nelson Mandela from universities and institutions around the world.
Freedom Square, the place where the Freedom Charter was adopted as the guiding document of the government.

Meal(s) Included: Breakfast & Dinner

Overnight at Rivonia Premier Lodge

Day 9: PILANESBERG NATIONAL PARK AND LESEDI CULTURAL VILLAGE FULL DAY TOUR 

After breakfast we depart to Pilanesberg National Park for a safari.

The Park boasts a healthy population of lions, buffaloes, leopard, elephant, black and white rhino – Africa's Big Five.  There is an extensive range of rare and common species of wildlife including the brown hyena, sable, wild dogs, cheetah, giraffe and hippos. More than 360 species of birds are found in this park.

After lunch drive to Lesedi Cultural Village. On the way we stop at the Market where you have a wide variety of Southern Africa made goods perfect as souvenirs.

Continue to Lesedi where upon arrival you will be welcomed to the Ndebele village before settling down to a multimedia presentation on the history of South Africa's rainbow nation.   The presentation is followed by a guided tour of each of the 4 unique cultural villages where you will learn the various cultural rituals and folklore of South Africa's ethnic groups and learn a few key phrases of the local languages. A traditional cultural performance rounds off the day's activities, followed by a dinner buffet of African fare fit for a king, hosted in the 200-seater Nyama Choma restaurant, with a wide variety of meats such as impala, ostrich or crocodile. At the end of the evening, gather around the open fire to listen to tales of African mythology, or be escorted back to their cozy traditional house by a host family. Return to Johannesburg for overnight.

Meal(s) Included: Breakfast & Dinner

Overnight at Rivonia Premier Lodge

Day 10: JOHANNESBURG/CAPE TOWN

After breakfast you will be transferred to the airport for your flight to Cape Town.

On arrival in Cape Town, you will be met, assisted and transferred to your hotel located near to the Victoria & Alfred Waterfront.  The rest of the day is at leisure in this sprawling city that boasts a multitude of entertainment and recreational activities, ranging from the outdoors to a vibrant night life. The culture of this city is reflected in its architecture, cuisine and music. The vast range of shopping opportunities includes bargaining with vendors at Greenmarket Square Flea Market, as well as visits to the upscale and stylish shopping malls. The huge variety of restaurants that caters for every taste, from fast-food and casual to the elegant, reflects the multicultural history of the Cape.

Within its warm summer, temperate winter and friendly communities, the Mother City is an ideal all–year vacation destination.

Meal(s) Included: Breakfast & Dinner

Overnight at Protea Hotel Hotel Sea Point

Day 11: CAPE TOWN- ROBBEN ISLAND & CAPE TOWNSHIPS 

After breakfast, take the ferry to Robben Island, the former prison where the late president Mandela spent many years incarcerated – now a UNESCO World Heritage site

Robben Island is followed by a Cultural Tour of Cape Townships. Here you will have the opportunity to interact with different Communities – including Langa, Cape Town's oldest formal township. You will gain insights into the legacy of apartheid and the country's struggle for democracy. In Gugulethu township, visit a community-driven project and observe artisans crafters at work.

Meal(s) include: Breakfast, Dinner

Overnight at Protea Hotel Hotel Sea Point

Day 12: CAPE POINT  & WINE COUNTRY TOUR 

Early morning tour of Table Mountain. Ride the state-of-the-art cable car that rotates 360 degrees on its way to the top, offering a panoramic view of the City. After Table Mountain, continue on a tour of the Cape Peninsula including a visit to a wine cellar. Drive along the breath taking Atlantic coastline, past the world-famous Clifton and Camps Bay Beaches, Bakoven, Llandudno and through Hout Bay. Continue along the world-renowned magnificent Chapman's Peak Drive through the quaint seaside village of Scarborough to Cape of Good Hope in the Table Mountain National Park. Enjoy complimentary tea/ coffee and biscuits at the much photographed Cape of Good Hope sign-board before arriving at the Flying Dutchman Funicular for an incredibly beautiful view from the base of the old Cape Point lighthouse.  Lunch will be Seaforth near Boulders.  After lunch continue on to the Constantia Valley Wine Route, one of 9 routes in South Africa. Enjoy a tasting of fine wine at one of the carefully selected estates.  Enjoy a scenic drive back to Cape town past Botanical Gardens.

Meal(s) include: Breakfast & Dinner

Overnight at Protea Hotel Hotel Sea Point

Day 13: CAPE TOWN  AND VICINITY 

The day is at leisure where at your own pace you can enjoy the Mother City with its vast shopping, leisure and dining opportunities.

This evening there is farewell dinner with entertainment.

Meal(s) include: Breakfast & Dinner

Overnight at Protea Hotel Hotel Sea Point

Day 14: CAPE TOWN/JOHANNESBURG/DEPART

After a leisurely buffet breakfast, transfer to the airport for your onward flight

Meal(s) Included: Breakfast
Trip Includes:
Meeting and assistance upon arrival
Assistance at departure on final day
Roundtrip airport/hotel transfers
Hotel accommodation in the indicated properties or similar
Transportation in private vehicle
Experienced tour guides
Admission to all listed sites
Meals indicated
Request A Quote