Senegal (Dakar, Goree Island, Pink Lake, Thies, Bandia Park, Saly, Joal Fadiouth, Niokolo Koba National Park, Kedougou, St Louis, Loumpoul)
See another side of Senegal on this unique tour! Special stops include Goree Island, the National Gallery of Tapestry in Thies, Bandia Game Reserve, twin villages Joal and Fadiouth, Niokolo Koba Game Reserve, the holy city of Touba and even more!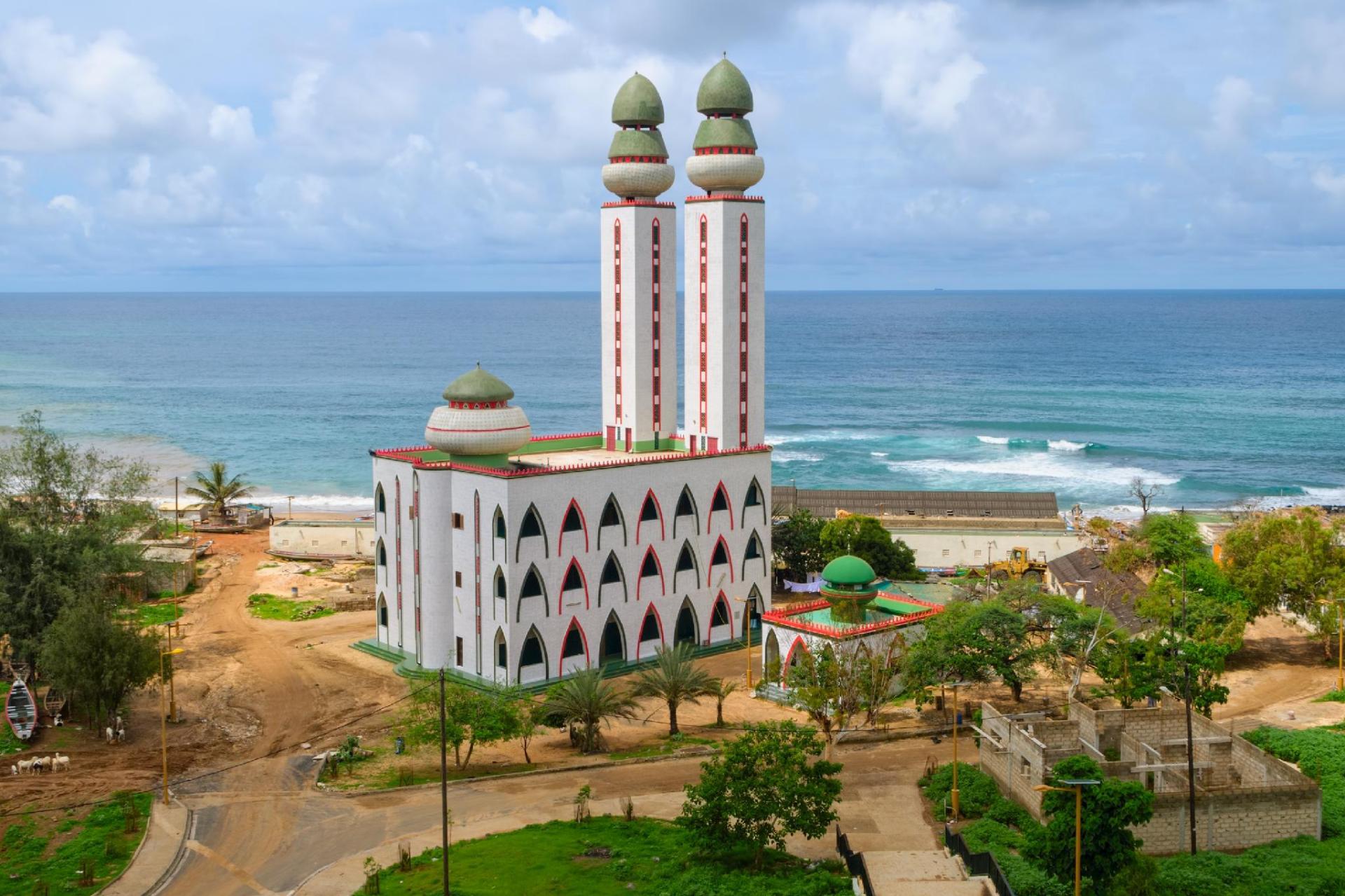 You can control these tabs with mouse and keyboad.
Aria roles are given automatically.
Arrow Key Left : Previous Tab
Arrow Key Right : Next Tab
Home : First Tab
End : Last Tab
Space/Enter : Select Tab
Day 1:  ARRIVE IN DAKAR

Arrive Dakar; meet assist and transfer to the hotel.
Overnight at Le Ndiambour or Similar

Day 2: DAKAR – CITY TOUR – GOREE ISLAND

After breakfast, tour Dakar. Pass the colorful markets of Sandaga, Tiline and Kermel. Observe the Great Mosque, Independence Square, the Presidential Palace, the IFAN Museum, where a fine collection of West African masks is housed, the Cathedral, and the shopping centers on Pompidou Avenue. Then visit the craft village of Soumbedioune.

In the afternoon, take a ferry boat to visit famous/infamous Goree Island, a UNESCO World Heritage Site. Observe the "Door of No Return" through which millions of Africans passed on the way to slavery in the Americas. The tour includes a visit to the ethnographic museum and a lecture by the curator on the history of Goree Island. Late afternoon, return to Dakar.

Meal(s) Included: Breakfast, Dinner
Overnight at Le Ndiambour or Similar

Day 3:  DAKAR – PINK LAKE –THIES- ST LOUIS

This morning drive to Saint Louis. Visit Pink Lake on the way, a rare natural phenomena caused by a unique combination of microorganism and high concentration of salts which gives the lake its pink color. Interact with the women harvesting salt and visit the Fulani village where you will be welcomed by the chief and his wives. Continue to Thies and visit the National Gallery of Tapestry before you get to St Louis.

 Meal(s) Included: Breakfast,  Dinner
Overnight at Mermoz

Day 4: ST LOUIS – DJOUDJ – ST LOUIS

This morning drive to Djoudj Park. You will see thousands birds and hundreds species.  We will have a tour in motorised canoe. We may also see some snakes and crocodiles. There are also possibilities to see warthog.  After visit Drive back to St Louis and enjoy a tour of Saint Louis (the former colonial capital of Senegal) in a horse-drawn carriage.  Explore the narrow streets flanked by houses with carved wooden balconies and verandas. You will see the governor's palace, a fortress built in the 18th century; you will see the only mosque in the world with a bell and dating colonial period.

 Meal(s) Included: Breakfast, Dinner
Overnight at Mermoz

Day 5: ST LOUIS – TOUBA –  KAOLACK

After breakfast, you drive to Kaolack with stops on the way to visit small villages and the holy city of Touba, founded by Ahmadou Bamba, a revered Holyman who started the Pan Africanism struggles in Senegal. After lunch continue to Kaolack.

 Meal(s) Included: Breakfast, Dinner
Overnight at Le Relais or Similar

Day 6: KAOLACK – TAMBACOUNDA – KEDOUGOU

Today drive to the Niokolo Koba park passing through Tambacounda and visiting small villages on the way. Arrive early evening at your hotel.

 Meal(s) Included: Breakfast,  Dinner
Overnight at Hotel Bedik or similar

Day 7: KEDOUGOU – TOMBORONKOTO – KEDOUGOU

Continue exploring rural Senegal. Drive to visit places where people get gold in the traditional manner; trek to visit some bedik villages and overnight in Kedougou.

 Meal(s) Included: Breakfast, Dinner
Overnight at Hotel Bedik or similar

Day 8: KEDOUGOU – BASSARI COUNTRY

Today take a drive to villages in the area of Kedougou. Between Kedougou and Salementa to visit the Bedik people. Visit their main villages such as Iwol to meet the Biwol and Etyowar. Then you drive to see the cascade of Dindelo. Return to Kedougou early evening.

 Meal(s) Included: Breakfast, Dinner
Overnight at Hotel Bedik or similar

Day 9:  KEDOUGOU – KAOLACK

Today, cross the Niokolo Koba park while driving back to Kaolack. Stop at points of interest for more curiosity.

 Meal(s) Included: Breakfast, Dinner
 Overnight at Le Relais or Similar

Day 10: KAOLACK – SALY

Breakfast and drive to Joal Fadjouth and Mbour. Joal birthplace of Senegal's first president, Leopold Sedar Senghor and its picturesque twin, Fadiouth a village covered with oyster and clam shells. The food supplies are houses in granaries built on stilts. Get to Saly and stay overnight at your resort hotel.

 Meal(s) Included: Breakfast, Dinner
Overnight at Hote Le Royame or Similar

Day 11: SALY – BANDIA PARK – SALY

Early depart to visit the Bandia park for Safari. Chance to see wildlife such as Crocodiles, Antelopes, Rhinoceros, Monkey, Buffalos, Giraffe among others… Observe the legendary Baobab tree which has been used during the past century as cemetery. Inside the game reserve there is a bar restaurant where you may stop and take some refreshment. Return to Saly.

Meal(s) Included: Breakfast, Dinner
 Overnight at Hote Le Royame or Similar

Day 12: SALY

Day at Leisure at the beach hotel.

Meal(s) Included: Breakfast, Dinner
 Overnight at Hote Le Royame or Similar

Day 13: DEPART – DAKAR

You have this morning either to rest or have a tour in Dakar to buy some souvenirs.

Meal(s) Included: Breakfast
Trip Includes:
Meeting and assistance upon arrival and departure
Roundtrip airport/hotel transfers
Accommodation in the listed properties
Transportation in private vehicle
Experienced tour guide
Admission to listed sites
Meals indicated
Request A Quote