Senegal (Dakar, St. Louis, Touba, Kaolack, Saloum Island, Ziguinchor) Gambia (Banjul) Guinea Bissau (Bissau, Quinhamel) Guinea (Conakry, Dalaba) Sierra Leone (Freetown) Liberia (Monrovia) Ghana (Accra, Kumasi, Cape Coast)
West Africa is waiting to be explored! Have a pleasant tour of the West African coast, visiting the nations of Senegal, Ghana, Gambia, Guinea Bissau, Guinea, Sierra Leone, and Liberia. Not only will you take in the vibrant atmosphere of all these countries' capital cities, but you will also be able to visit their hidden jewels, such as Ghana's Kumasi, center of the famed Ashanti kingdom.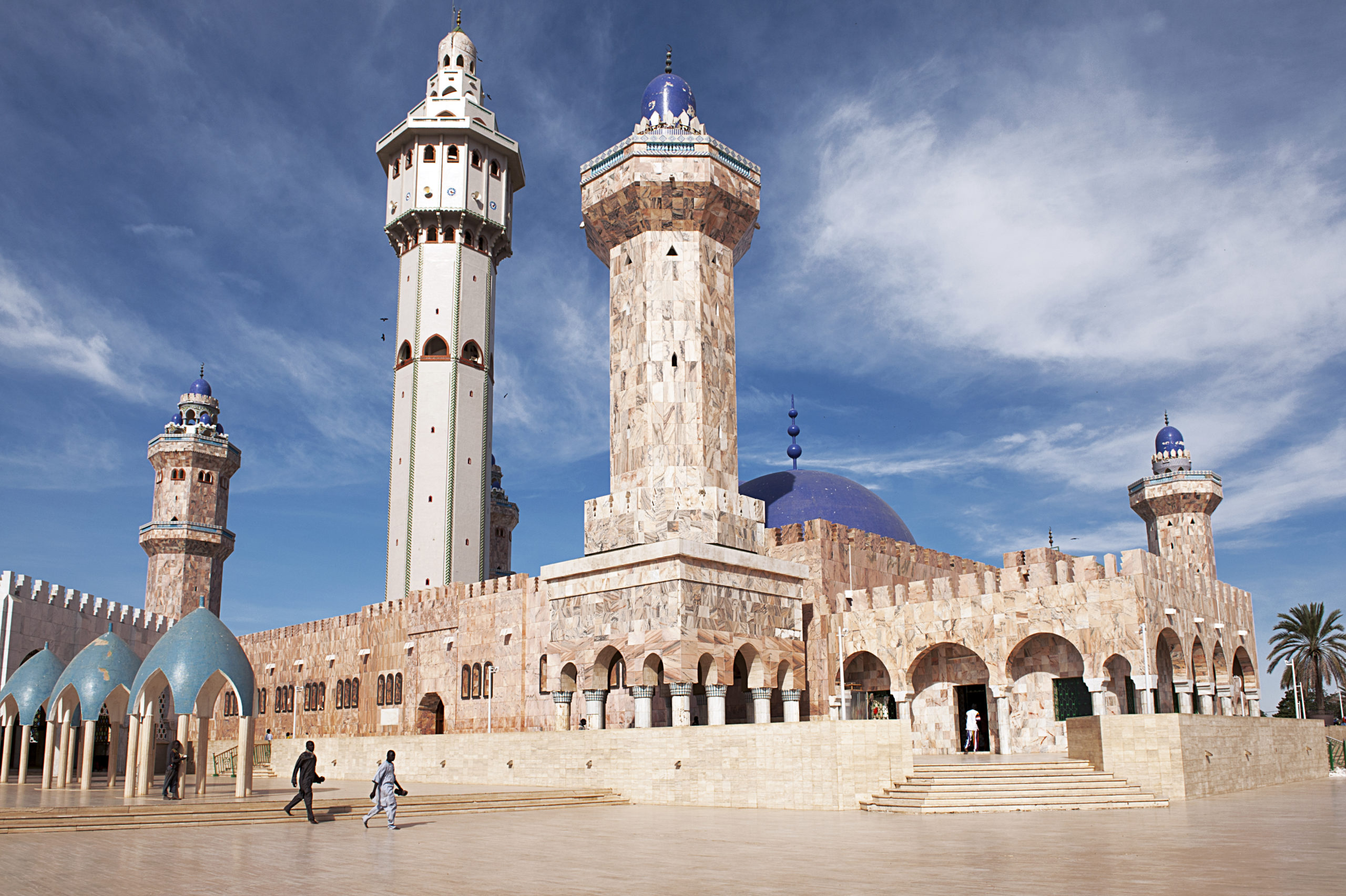 You can control these tabs with mouse and keyboad.
Aria roles are given automatically.
Arrow Key Left : Previous Tab
Arrow Key Right : Next Tab
Home : First Tab
End : Last Tab
Space/Enter : Select Tab
Day 1: Dakar

Arrive in Dakar, meet assist and transfer to your hotel.

The rest of the day is at leisure.

Overnight at Djoloff Dakar

Day 2: Dakar

After breakfast go on a tour of Metropolitan Dakar. Visit the colorful markets including Tilen Market, famous for a variety of medicinal herbs and traditional healers. Visit the National Art Gallery and the picturesque district of Medina. In the afternoon visit Gorée Island, a UNESCO World Heritage Site and home the "Door of No Return". The tour includes a visit to the ethnographic museum and a lecture by the curator on the history of Gorée Island.

Meal(s) Included: Breakfast and Dinner
Overnight at Djoloff Dakar

Day 3: Dakar / Pink Lake / St. Louis

After breakfast, depart Dakar for a tour of Pink Lake, a rare natural phenomena caused by a unique combination of microorganism and high concentration of salts which gives the lake its pink color. You will see the salt harvesters going about their daily tasks extracting and transporting salt. Interact with the "Salt Harvesters." This afternoon continue to St. Louis, Senegal's former French Colonial Capital.
Meal(s) Included: Breakfast and Dinner
Overnight at Residence Hotel

Day 4: Saint Louis

After an early breakfast, visit Djoudj Park national bird sanctuary, a UNESCO World Heritage site. Enjoy a pirogue ride to better view the many species of cormorants, pelicans, ducks, flamingos, various songbirds and more. See crocodiles, boas, and wild boar. After Djoudj park, return to St. Louis, explore the narrow streets flanked by houses with carved wooden balconies and verandas.

Meal(s) Included: Breakfast, Dinner
Overnight at Residence Hotel

Day 5: Saint Louis / Touba / Kaolack

After breakfast continue to Kaolack in the south of Senegal. Enroute visit the City of Touba; see the Grand Mosque which is the largest and most magnificent in all of West Africa. See the tomb of Cheikh Ahmadou Mbacke the founder of Mouridism (African brotherhood or African Islamic movement) and those of his 4 sons. Spend a few minutes in the large library which holds thousands of volumes many of which were written by the mystic founder. Learn about the history and legend of Touba one of the most significant cities in Senegal.  Touba is an autonomous city in Senegal much like the Vatican in Italy. After Touba, continue to Kaolack with stops in the villages of Wadiour or Keur Khaly.  Meet locals; learn their daily activities and custom. Arrive in Kaolack and visit the nearby traditional hospital of Malango where you will meet with healers from different ethnic groups and walk through the large open air market.

Meal(s) Included: Breakfast and Dinner
Overnight at Le Relais de Kaolack

Day 6 : Kaolack / Sine Ngayene / Banjul

After breakfast we continue to Sine Ngayene to see the Stones Circle.  Visit "The Sine Ngayene complex (Senegal) a UNESCO World Heritage Site – It consists of 52 circles of standing stones. In all, there are 1102 carved stones on the site. About 1km east of the circles, (outside the inscribed property) is the quarry from which the monoliths were extracted and where the source of around 150 stones can be traced. The site was excavated in the early 1970s.  The work established that the single burials appeared to precede the multiple burials associated with the stone circles" Early afternoon continue to Banjul, the Capital City of The Gambia, which is surrounded by beautiful scenery of tropical grassland and fascinating beaches.

Meal(s) Included: Breakfast and Dinner
Overnight at Atlantic Hotel Banjul

Day 7: Banjul

After breakfast, take the journey "up-river" to one of Gambia's most popular sites, the land of Alex Haley's Saga "Roots". Cruise up-river from Banjul Port and go back 200 years in time.  On arrival at the ancient Trading Station of Albreda, (which gained fame in the period of slavery as a result of its Flag Pole, which many believed would guarantee freedom to any slave who touched it after escaping from nearby James Island) observe the ruins of the Sao Domingo Church, reputed to be one of the oldest churches in West Africa, erected by the Portuguese during the 17th century. Then, enjoy a fifteen minutes' walk to the village of Juffureh where "Kunta Kinte" of Roots fame traced his ancestry. Visit the original home of Alex Haley's great grandfather, which stands near to the mosque and is still occupied by the Kinte family. The current community leader, a cousin of Alex Haley is female. Continue to the "Museum of Slavery" which gives a good insight into the history of slavery in the Gambia. Board the boat for the short river cruise to James Island, steeped in slave trade history. Fortress ruins tell the tale of colonial rivalries, and the beads still buried deep in the sand conjure pictures of the hundreds of slaves shackled together awaiting transport to an unknown and uncertain future. Early evening, board the boat back to Banjul accompanied by the friendly Dolphins who generally make an appearance. Arrive back in Banjul early evening.

Meal(s) Included: Breakfast, Lunch and Dinner
Overnight at Atlantic Hotel Banjul

Day 8: Banjul / Ziguinchor

After breakfast begin the tour of Banjul at the National Museum which houses the history of The Gambia. Enjoy a short drive through Banjul to "see the sights," stopping to visit the general market with much hustle and bustle, where anything from live chicken and vegetables to herbs can be purchased (As with any crowded place, care must be taken with handbags, cameras, etc.). We also stop by the main mosque. In the afternoon, visit Serrekunda the most densely populated town in The Gambia. Witness a display of "Tie & Dye" skills and the handling of beautiful Batik cottons. Afterwards, continue to Ziguinchor, stopping at Jola villages enroute where you will learn about the Jola tribe.

Meal(s) Included: Breakfast and Dinner
Overnight at Kadiandoumagne

Day 9: Ziguinchor /Oussouye / Karabane/ Ziguinchor

After breakfast have an audience with the last king of the Jola people, who will welcome you in his palace located in the sacred forest, He is currently the King of 18 villages which keeps him busy doling out assistance and mediating disputes. Continue to the historical island of Karabane facing the Casamance river where you will have lunch.  Return to Zinguinchor through Cap Skirring, known for its stunning beaches.

Meal(s) Included: Breakfast and Dinner
Overnight at Kadiandoumagne

Day 10: Ziguinchor/Bissau

After breakfast depart from Ziguinchor, then cross the border into Guinea-Bissau, for an afternoon city tour of Bissau.  Your Guinea Bissau visa will be stamped in your passport at the border.

Visit the National Museum and the military museum where you will learn about history of Guinea Bissau and see the mausoleum of Amilcal Cabral and of his companions in the revolution. Visit the Mercado (Central Market) known for its vibrant atmosphere, fold art and handcrafted items, and the 'Centro Artistico Juvenile', where young artists exhibit their wares.  Continue to the old colonial center of Bissau Velho, Porto Pidjiguiti, the Presidential Palace and Fortaleza d' Amura barracks which includes a memorial to  Amilcar Cabral. Make a brief visit to the National Arts institute before returning to your hotel.

Meal(s) Included: Breakfast and Dinner

Overnight at Hotel 24 Septembro

Day 11: Bissau / Quinhamel/Bissau

After breakfast drive to visit Quinhamel along the Mar Azul (in Portuguese) meaning blue sea.  Visit the Quinhamel weavers workshop, see how local sugar cane rum, palm oil and cashew nuts are made, you will have time to visit the small market of Quinhamel, interact with local people. Visit other villages nearby and return to Bissau for overnight.

Meal(s) Included: Breakfast and Dinner
Overnight at Hotel 24 Septembro

Day 12:  Bissau / Cacheu / Bissau

After breakfast, drive to the town of Cacheu (approx. 100 km from Bissau) located in northwestern Guinea Bissau on the Cacheu River. Cacheu was one of the earliest European colonial settlements in sub-Saharan Africa, due to its strategic location on the Cacheu River. For most of the seventeenth and eighteenth centuries, Cacheu was the official slave trading point for the Portuguese in the Upper Guinea region – the point where the Portuguese crown endeavored to ensure that duties on all exports, including human, were paid.

Arrive in Cacheu and begin the city tour.  Sites to visit here include the Fortress of Cacheu, the Slavery Museum, the Rua Grande and the Nativity Church (first Church built in Guinea-Bissau).

Or

Arrive in Cacheu and begin the mangroves tour on the Cacheu River by a traditional boat and stop for lunch in Sao Domingos.

Afterwards drive back to Bissau for dinner and overnight.

Meal(s) Included: Breakfast and Dinner
Overnight at Hotel 24 Septembro

Day 13: Bissau/ Conakry

After breakfast, transfer to the airport for flight to Conakry.  Arrive in Conakry where you will be met, assisted, and transferred to your hotel. Time permitting begin the city tour of Conakry and vicinity.

Meal(s) Included: Breakfast and Dinner
Overnight at Hotel Petit Bateau

Day 14: Conakry / Dalaba

After breakfast travel to Dalaba and visit the market place then continue to drive to Fouta Jalon- an interesting farming region referred to as the African Switzerland. The area was a favorite second home for the late Mariam Makeba, the famous South African singer whose home, dating from the French colonial period is still immaculately kept.

Meal(s) Included: Breakfast and Dinner
Overnight at SIB Hotel Fouta

Day 15: Dalaba / Kindia

After breakfast city tour of Dalaba; visit the palace of Sékou Touré where Ahmed Sékou Touré, first President of Guinea lived. Visit the artisans and drive to see the water falls of Kinkon in Pita.  After wards continue for dinner and overnight in Kindia.

Meal(s) Included: Breakfast and Dinner
Overnight at Hotel Masabi

Day 16: Kindia / Conakry

After breakfast, drive to Conakry; enroute visit Water Falls, le Voile de la Mariee, (Wedding Veil), the Kilissi touristic site with a natural swimming pool and the Valley of Labota which affords a beautiful panoramic view of the region. Arrive in Conakry and begin the short tour of Conakry.

Meal(s) Included: Breakfast and Dinner
Overnight at Hotel Petit Bateau

Day 17: Conakry/ Freetown

After breakfast drive to Sierra Leone, admiring the landscape and villages along the route. Cross the border into Sierra Leone and continue to Freetown for dinner and overnight.

Meal(s) Included: Breakfast and Dinner
Overnight at Home Suites Hotel

Day 18:  Freetown

After breakfast, visit the Tacugama Chimp Sanctuary, located about 40 minutes from the center of Freetown. The Sanctuary is committed to the rescue and rehabilitation of orphaned and abandoned chimpanzees. The chimps enjoy a semi-wild life within the 100 acre reserve.

In the afternoon begin the city tour of Freetown- including the Big Market, which operates daily with a range of crafts, bric-a-brac, traditional medicines and mystical materials.  Visit the country's oldest Cathedral and other historic sites throughout the city center.

Meal(s) Included: Breakfast and Dinner
Overnight at Home Suites Hotel

Day 19: Freetown/Bunce Island / Monrovia

After breakfast drive to the University of Sierra Leone/ Fourah Bay College at Mount Aureol- the oldest University in West Africa.  Enjoy the stunning views from the elevated location and the Botanical Gardens. Afterwards cruise to visit Bunce Island, declared a national monument in 1948 and was a famous European commercial fort built during the slave trading era. It was a meeting place for European traders and African merchants.

Early evening transfer to the airport for the flight to Monrovia

Meal(s) Included: Breakfast and Dinner
Overnight at Bella Casa

Day 20: Monrovia

After breakfast drive through the rain forest and small villages, where you'll   marvel at Kpatawee Waterfalls.  There are two water falls, the male and the female. Travel to Gbarnga in Bong County.  Just outside of Gbarnga, the capital of Bong County, visit a Tribal Chief and experience the warm welcome of the traditional villagers and learn about the history and culture of the tribes. Late evening return to Monrovia.

Meal(s) Included: Breakfast and Dinner
Overnight at Bella Casa

Day 21: Monrovia – Accra

After breakfast, embark on a historical journey through the capital of Africa's first independent Republic, Monrovia. Formally known as "the city of Christ" or Christopolis, this little city holds a tremendous amount of antiquity. Nestled in Monrovia's highest point, Ducor Hill is Liberia's first defense facility, Fort Norris, the country's first lighthouse, a monument honoring the first president, Joseph Jenkins Roberts, and the remnants of Liberia's first five-star hotel (the first in West Africa), the Ducor Hotel. This tour will leave you stunned as the breathtaking views of the Atlantic Ocean and the Saint Paul River serve as the backdrop.

Liberia's Declaration of Independence was signed at the country's oldest and most prestigious church, Providence Baptist Church on July 26, 1847.

Monrovia's historical gems also include the grave site of the country's most distinguished president, William V.S. Tubman, the Centennial Pavilion, and Providence Island where Liberia's first town was established in 1822. Visit one of the crowded and colorful markets of Monrovia.

Afterwards transfer to the airport for the flight to Accra.  On arrival at Kotoka International Airport, meet, assist and transfer to the hotel.  Once checked in, the guide will brief you on what to expect during your stay here in Ghana.

Meal(s) Included: Breakfast and Dinner
Overnight at La Villa Boutique

Day 22:  Accra and vicinity

After breakfast go on a full day tour of Accra highlights will include:

Independence Square, see the enclosed flame of African liberation, which was lit by Dr. Kwame Nkrumah in 1961.
The Kwame Nkrumah Memorial Park, final resting place of Ghana's first president. Set in attractive gardens, there is an adjoining museum, which contains photos, artifacts and an insight into Dr. Nkrumah's life. Adjoining the park is the National cultural center, which is Ghana's largest outdoor arts and crafts market selling traditional crafts from all over West Africa.
James Town—one of Accra's most historic neighborhoods, where history resides on every corner. Best known for its lighthouses (the first of which was constructed in 1875 by the British) as a navigational aid for trading vessels sailing through the Gulf of Guinea. The original structure was ruined but a larger and more improved lighthouse completed in 1921 is still functioning today.
"Brazil House" learns about the seven Afro-Brazilians families who returned to settle in Ghana in 1836. Familiar Brazilian/Portuguese last names such as De Souza, Palmares, Azumah, Amorin, Da Costa, Santos, De Medeiros, and Olympio are abundant in this section of Accra.

Meal(s) Included: Breakfast and Dinner
Overnight at La Villa Boutique

Day 23: Accra/Kumasi

After breakfast, drive to Kumasi, the center of the Ashanti Kingdom. En-route stops at Bunso Arboretum. Arboretum is a protected reserve and a home to over 120 species of birds, some of which are very rare. There is an herb garden in the Arboretum which contains over 200 different species of herbs with a wide range of uses, from food to medicinal to aromatic. It is a research center for the Plant Genetic Resources Centre.  Continue to Kumasi arriving late afternoon. Start the tour of Kumasi by visiting the Kumasi Cultural Center which houses Prempeh 11 Jubilee Museum, named after a former Asantehene, Nana Osei Agyeman Prempeh 11. Exhibits include a replica of the famed Golden Stool, which is believed to have descended from the sky and is a spiritual symbol of unity for the Ashanti people.

Meal(s) Included: Breakfast and Dinner
Overnight at Miklin Kumasi

Day 24: Kumasi

After breakfast go on a tour of the Manhyia Palace Museum built as a residence for the Ashanti Kings – now a museum displaying the original furniture and assorted royal memorabilia. Join the celebration including the pomp and pageantry of the scheduled Akwasidae Festival. The Asantehene (King of Ashanti), riding in his palanquin and adorned in golden regalia, comes out to receive the homage of his sub-chiefs and people. It is a spectacular occasion with colorful canopies and umbrellas, skillful drummers, dancers and horn-blowers at this centuries old event held every 42 days in honor of the ancestors.

This afternoon visit the Okomfo Anokye sword site, an important symbol of Ashanti unity that marks the spot where the golden stool "descended from the sky" and has been in place for 300 years. Legend says the Ashanti kingdom would collapse should the sword ever be removed. Later visit  some of the traditional craft villages starting with the Woodcarving village of Ahwiaa, known for the talented craftsmen who fashion royal stools, walking sticks and fertility dolls from wood,.

The next stop is Bonwire, famous as the birth place of Kente. Bonwire produces some of Ghana's finest Kente cloths, many designs are woven here and some are exclusive only to this region. We will interact with the community, learning about the history behind the many designs.

On the way back to your hotel visit the village of Sokoban Krofrom where traditional brass casting has been the main source of income for generations. Wide selections of items ranging from beads and jewelry to traditional statues are made here. The methods used to produce these intricate brass works have not changed in centuries and during our time here we will see a demonstration of the skilled process.

Meal(s) Included: Breakfast and Dinner
Overnight at Miklin Kumasi

Day 25: Kumasi- Cape Coast

After breakfast, depart for Cape Coast.  You will stop at Assin Manso to see the "Slave River" where captured Africans were washed before being confined in the Slave Castles to await shipment to the Americas and the Caribbean.

Later visit Cape Coast castle, a UNESCO world heritage site. The castle is a thought provoking monument to a sad period in the region's history. You will journey through the castle which held more enslaved Africans than any other in the region, viewing the dungeons and the infamous "Door of no return". There is a significant historical museum inside, which explains the history of the castle and of Cape Coast itself. You can purchase literature on Ghana's forts and castles, as well as the cultural history and traditions of Ghana.

This evening we can enjoy the sights of the many colorful fishing boats bringing their daily catch into the harbor and take the opportunity to mix with the locals at the nearby market. A short distance from the market we visit the boat builders, still building colorful fishing boats using traditional tools and methods spanning centuries.

Meal(s) Included: Breakfast and Dinner

Overnight at Elmina Beach Resort

Day 26: Cape Coast/Accra/Depart

After breakfast visit Kakum National Park, one of Africa's famous rainforest and canopy walkways. This is a truly beautiful, tropical rainforest and the canopy walkway is sure to be a highlight of your time in Ghana. The walkway consists of a series of 7 bridges, attached to 7 emerging trees, 40 meters above the rainforest floor. Prepare to take a deep breath as you walk the suspended bridges. You will marvel at the outstanding views that stretch for miles across this breathtaking rainforest, as you rest on the tree platforms between the bridges. We are sure you will agree that this is an exciting excursion that won't be forgotten. We return to the park headquarters where we find an excellent information Centre that offers an informative overview of the park's flora and fauna. Over 40 different mammal species have been recorded within the park, which includes forest elephants, leopards and 6 primate species to mention just a few. We stop for refreshments at Han's cottage Boatel, built over a lake containing Nile crocodiles and set in a beautiful location surrounded by tropical rainforest.

Return to Accra stopping at villages along the way.

Arrive in Accra where souvenir shopping opportunities are in abundance.

At the right time you will be transferred to the airport for your onward flight.

OR EXTEND YOUR STAY IN ACCRA

Meal(s) Included: Breakfast
Trip Includes:
Meeting and assistance upon arrival and departure
Roundtrip airport/hotel transfers and luggage handling
Hotel accommodation in the listed properties
Transportation in private vehicle
Experienced tour guides
Meals indicated
Admission to sites listed
Request A Quote