Egypt (Cairo, Qantir, Zagazig) Algeria (Algiers, Tipaza, Cherchell, Djemila, Medracen, Timgad, Bou Saada)
Join us on this 17 Days Archaeological Tour of Egypt & Algeria in an engaging and informative AIA Tours lecturer, plus trip managers and local guides, on archaeological-themed tours.
Highlights of this tour include; A visit to Sakkara, the Step Pyramid complex of Djoser, the Giza pyramids, the Nile delta region of Egypt, Algiers, The Mausoleum of Medracen, and many more.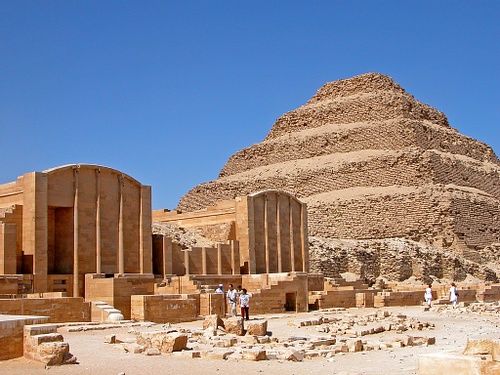 You can control these tabs with mouse and keyboad.
Aria roles are given automatically.
Arrow Key Left : Previous Tab
Arrow Key Right : Next Tab
Home : First Tab
End : Last Tab
Space/Enter : Select Tab
DAY 1: CAIRO – EGYPT

Arrive Cairo, meet assist and transfer to Hotel..

Overnight at Ramses Hilton

DAY 2: CAIRO

After breakfast, begin the city tour of Cairo. Begin at Memphis, the first capital of a united Egypt, and Sakkara, the necropolis of Memphis. At Sakkara visit the newly opened museum and tour the Step Pyramid complex of Djoser, which predates the Giza pyramids and is the world's first monumental building constructed entirely in stone. Tour the smaller Pyramid of Teti, built for a Sixth Dynasty king, whose burial chamber is covered with pyramid texts to ensure the survival of his soul, and the mastaba tombs of the Nobles Ti and Ptahhotep.

Meals: Breakfast, Lunch & Dinner

Overnight at Ramses Hilton

DAY 3: CAIRO

After breakfast visit the Citadel, famed as the stronghold of Salah el-Din. Continue to Old Cairo to visit the Coptic Church of Abu Sarga and the Ben Ezra Synagogue. Spend the afternoon at the Egyptian Museum, where to see the highlights of its huge collection, including the mummy room and the exhibit of the tomb of Tutankhamen.

Meals: Breakfast & Lunch

Overnight at Ramses Hilton

DAY 4: CAIRO

Full day Tour of the Pyramids of Giza, the Sphinx and the museum, where the remains of the Solar Boat of Cheops are displayed.

Meals: Breakfast

Overnight at Ramses Hilton

DAY 5: CAIRO – QANTIR

After breakfast, drive to the village of Qantir (Khatana-Qantir). Qantir marks what was The Ancient site of Ramesses II's great capital, Pi-Ramesse or Per-Ramesses, continue to Tell el Dab'a, the modern name of the capital city of the Hykos in the Nile delta region of Egypt, called Avaris. Avaris was occupied by the Asiatics from the end of the 12th through the 13th dynasty, the site is known primarily for its Minoan frescoes.

Meals: Breakfast

Overnight at Ramses Hilton

DAY 6: CAIRO – ZAGAZIG

After breakfast drive to Zagazig the capital of the Sharqiyyah; visit the ruins of Bubastis located 3 km southeast of town. Bubastis was the ancient capital of the 12th Nome and is home to the feast celebrating the cat-goddess Bastet. Bubastis is the Greek name of the Egyptian Per-Bastet. Bubastis became the capital of Egypt in the 22nd and 23rd Dynasties.  There are remains of the temples built by Osorkon II and Nectanebo II. Catacombs where the sacred cats were buried are located behind an Old Kingdom chapel remains that are from the period of Pepi I.

Meals: Breakfast

Overnight at Ramses Hilton

DAY 7: CAIRO/ALGIERS – ALGERIA

Transfer to the airport for the flight to Algiers; meet assist and transfer to Hotel.

Meals: Breakfast

Overnight at Hilton Algiers

DAY 8: ALGIERS

After breakfast; go on a full day tour of Algiers; This whitewashed city 'la Blanche' has maintained its old mystique whilst its sprawl has turned it into one of the largest ports in Africa. It is spread around a huge crescent bay, and the Casbah, which is on the hillside above the northern part of the port, is topped by its Citadel. Visit of Notre Dame d'Afrique, the Martyr's Monument and the Bardo Museum.

Meals: Breakfast

Overnight at Hilton Algiers

DAY 9: TIPAZA/CHERCHELL

Full day tour along the Mediterranean to Tipaza (amphitheatre, 4th century basilica, forum, and old port) followed by Cherchell (Roman port of Caesarea): superb museums, old port, theatre.

Meals: Breakfast

Overnight at Hilton Algiers

DAY 10: DJEMILA

After breakfast; drive to Djemila; beautifully situated in the Kabylie Hills, Djemila is known as being the most aesthetic of all Roman ruins in North Africa – and for many that includes those of Libya.

Meals: Breakfast; Lunch and Dinner

Overnight at Hotel El Hidhab

DAY 11: MEDRACEN

Today; tour Medracen; The Mausoleum of Medracen is a mysterious burial chamber, built around 400 BC complete with false door and real hidden entrance. It is 18m high and 60m in diameter and made with massive stone blocks.

Meals: Breakfast; Lunch and Dinner

Overnight at Hotel Chelia

DAY 12: TIMGAD

After breakfast; drive to Timgad, ancient Thamugadi, ruined city, sometimes called the Pompeii of North Africa because of the extensive remains of the Roman city founded here by Trajan in AD 100. This city was destroyed by Berbers in the 7th century and was unknown until excavations were begun in 1881. Its Roman ruins, which include a triumphal arch, public baths, a theater, a library, and a forum, are the best preserved and most extensive in Africa.

Meals: Breakfast; Lunch and Dinner

Overnight at Hotel Chelia

DAY 13:TIMGAD

Continue Tour of Timgad

Meals: Breakfast; Lunch and Dinner

Overnight at Hotel Chelia

DAY 14:TIMGAD

Continue Tour of Timgad

Meals: Breakfast; Lunch and Dinner

Overnight at Hotel Chelia

DAY 15: TIMGAD/ BOU SAADA

After breakfast; drive to The Oasis city of Bou saada which means "place of happiness" in Arabic. Tour of Bou Saada; visit old Medina with its arched alleyways and ancient fortress walls- situated within the city, and the French town which is located to the south. Explore Bou Saada Park, a vineyard covering roughly 100 acres. The park produces Sauvignon Blanc, Merlot, Chardonnay and Riesling.

Meals: Breakfast; Lunch and Dinner

Overnight at Hotel Kerdada

DAY 16: BOU SAADA/ALGIERS

Morning tour of Bou Saada; drive to Algiers in the afternoon

Meals: Breakfast; Lunch and Dinner

Overnight at Hilton Algiers

DAY 17: ALGIERS – DEPART

Transfer to airport for your flight back home

Meals: Breakfast
Trip Includes:
Meeting and assistance upon arrival
Roundtrip airport to hotel transfers
Assistance with airport departure formalities
Hotel accommodation in the properties listed
Tours in private vehicle
Experienced tour guides
Meals indicated
Admission to sites listed
Request A Quote