Egypt (Cairo, Giza Plateau, Memphis, Sakkarra, Samanoud, Sakha, Wadi Natroun, Minya)
This fascinating 8 Day tour features visits to many of these sites where the Holy Family stayed when they took refuge in Egypt. The tour also includes an excursion to the Giza Plateau to view the Great Pyramids.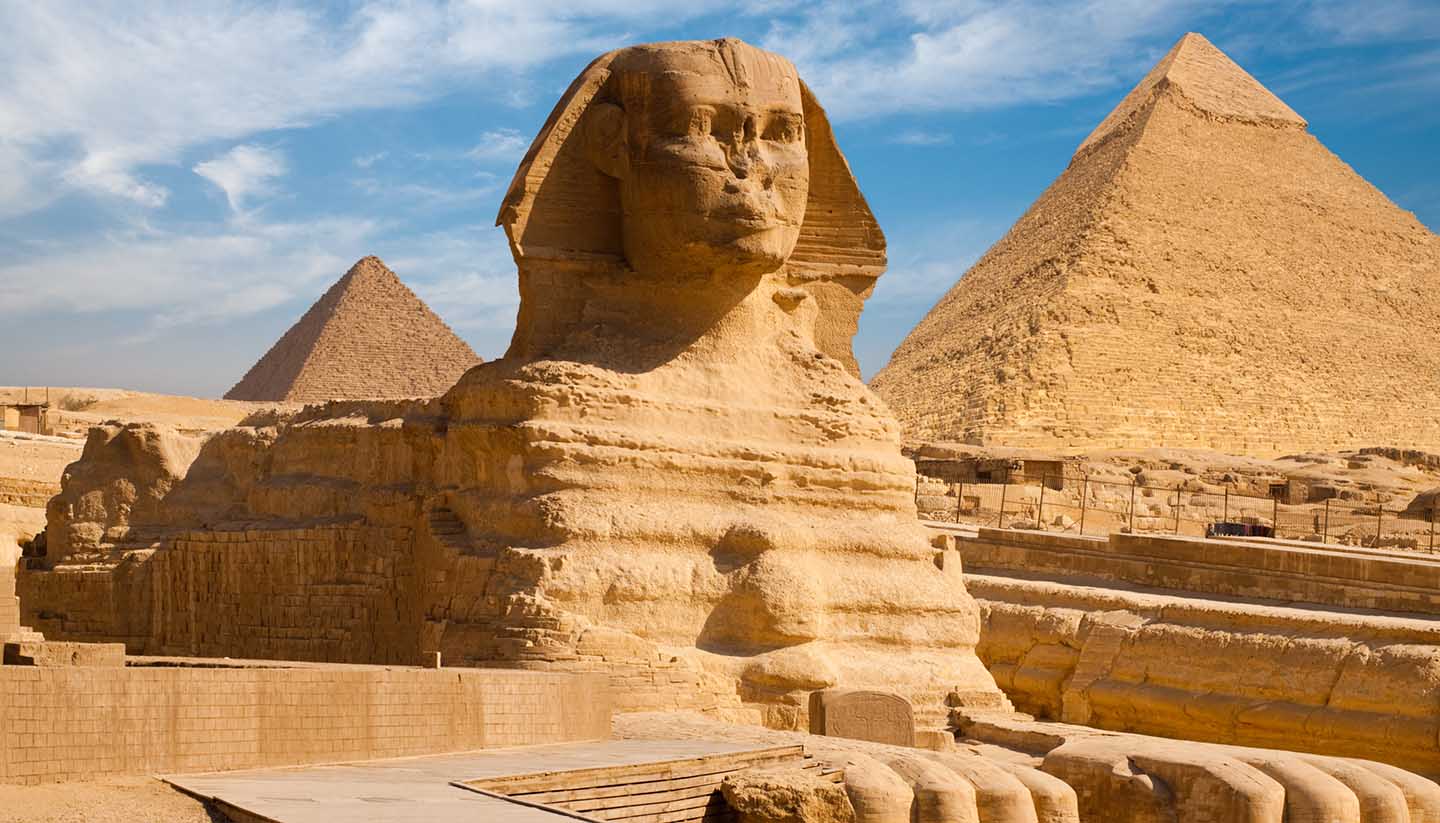 You can control these tabs with mouse and keyboad.
Aria roles are given automatically.
Arrow Key Left : Previous Tab
Arrow Key Right : Next Tab
Home : First Tab
End : Last Tab
Space/Enter : Select Tab
Day 1: Cairo, Egypt

Arrive Cairo: meet assist and transfer to hotel

Overnight at hotel

Meal(s) Included: Dinner

Overnight at Hotel

Day 2: Giza Plateau – Memphis – Sakkara

Tour of The Pyramids of Giza, including the famous Sphinx in the afternoon drive to Sakkara, the ancient "Necropolis" of the Old Kingdom Capital. Visit other Pyramids and Tombs including the "Step Pyramid", the oldest known Pyramid.

Dinner is at local restaurant.

Meal(s) Included: Breakfast, Dinner

Overnight At R. Hilton Hotel/ Pyramisa or similar

Day 3: Samanoud – Sakha

In the morning, travel to Samanoud. Located on the Damietta branch of the Nile, it is also the site where a church was built to commemorate the resting place of the Holy Family. Continue to Sakha, where the Holy Family is also believed to have visited. It was also known for its large Christian community in the middle Ages. Return to Cairo for overnight.

Meal(s) Included: Breakfast, Dinner

Overnight At R. Hilton Hotel/ Pyramisa or Similar

Day 4: Wadi Natroun

Today, visit Wadi Natroun, a desert area which many believed was blessed by Jesus Christ . Three monasteries still exist in the area. Return to Cairo for overnight

Meal(s) Included: Breakfast, Dinner

Overnight At R. Hilton Hotel/ Pyramisa or similar

Day 5: Cairo

Today, visit the holy well and sacred tree at Matariya just outside of Cairo. It was a resting place of the Holy Family and a popular destination for medieval pilgrims. Also see the Church of St. George, as well as the Fortress of Babylon in Old Cairo, where the Holy Family passed. Tour the ancient churches. Including the Hanging Church and St. Sergius .This evening, visit Khan El Khalili Bazar.

Meal(s) Included: Breakfast, Dinner

Overnight At R. Hilton Hotel/ Pyramisa or similar

Day 6: Cairo – Minya

Today, travel to the Church of the Holy Virgin on the banks of the Nile at Maadi, south of Cairo. This is where Jesus and His Virgin Mother boarded a sail boat and set out for the village of Deir Al Garnousin, Upper Egypt. Drive to this village near the town of Maghagha, where the Monastery of Arganos was founded. It is believed that Jesus and his Virgin Mother drank the water they needed from a well by the Church of the Virgin. Also, see the beautiful church hewn out of the cliff on the bank of the river Gabal Al Teir in Miya. Overnight in Minya

Meal(s) Included: Breakfast, Dinner

Overnight at Minya Hours Hotel or similar

Day 7: Minya – Cairo

Today's excursion is to the Monastery of the Holy Virgin in al Qusiya, a popular place for pilgrims to journey to in Ancient times. Jesus and his Virgin Mother are believed to have stayed at this site for over three years. Return to Cairo for overnight.

Meal(s) Included: Breakfast, Dinner

Overnight At R. Hilton Hotel/ Pyramisa or Similar

Day 8: Depart Cairo

Transfer to Cairo's international airport for departure flight.

Meal(s) Included: Breakfast
Trip Includes:
Meeting and assistance upon arrival and departure
Roundtrip airport/hotel transfers
Hotel accommodation in the listed properties
Transportation in private vehicle
Experienced tour guide
Admission to listed sites
Meals indicated
Request A Quote