Mali (Bamako, Sikasso, Segou, Mopti, Dogon, Djenne) Burkina Faso (Bobo Dioulasso, Bandora, Gaoua, Ouagadougou, Tiébilé) Benin (Natitingou, Abomey, Cotonou, Ouidah)
Absorb the vistas of Mali, Burkina Faso, and Benin in this 19-day tour of West Africa. Take a camel ride out from Timbuktu, Visit Djenne on market day and mysterious Dogon Country. Visit the craft market in Ouagadougou and the "Slave Road" in Benin.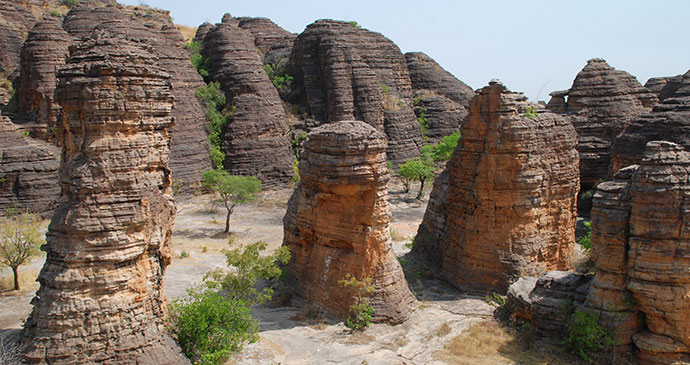 You can control these tabs with mouse and keyboad.
Aria roles are given automatically.
Arrow Key Left : Previous Tab
Arrow Key Right : Next Tab
Home : First Tab
End : Last Tab
Space/Enter : Select Tab
Day 1: Bamako, Mali

Arrive in Bamako; Meet assist and transfer to Hotel.

Meal(s) Included: No

Overnight at Azalai Grand Hotel or Similar

Day 2: Bamako

After breakfast, city tour of Bamako: enjoy a panoramic view of Bamako from Point G, called the hill of Health; visit the National Museum, providing an excellent introduction to the ethnic diversity of the country.  Visit the city's craft bazaar to see sculptors, weavers, leather workers, jewelers, and metal workers exhibiting their wares and displaying their skills.

One area of the market is devoted entirely to traditional African medicines.  Tour the handicraft center to shop for souvenirs.

Meal(s) Included: Breakfast

Overnight at Azalai Grand Hotel or Similar

Day 3: Bamako/Sikasso

After breakfast drive to Sikasso, passing through the rich agricultural lands of southern Mali. Sikasso is considered to be a Mali breadbasket. View the remnants of the Tata, an ancient palisade that encircled the city which, for a time, held off the French colonial army. In the Mamelon, the residence of the kings of Sikasso and the cultural center Sénoufo tribal homeland – learn about this brave tribe and their strong heritage. Overnight in Sikasso.

Meal(s) Included: Breakfast

Overnight at Hotel du Cinquantenaire or Similar

Day 4: Sikasso / Ségou

After breakfast drive to the Bambara Kingdom: Segou. Visit the village of Sekoro former capital of the Kingdom; the pottery market along the riverside and the colonial buildings of Segou; see how women prepare local beer and learn and experience how to dye mud cloth at the Ndomo.

Meal(s) Included: Breakfast

Overnight at Hotel Independence or Similar

Day 5: Ségou/Mopti

After breakfast, drive to Mopti and visit the beautiful mosque, the fishing port, and the bustling market, where you can shop for gold or silver jewelry, Tuareg leatherwork, or Fulani blankets of cotton or wool. In the afternoon enjoy a sunset sail on the Niger River in a traditional Panisse. Overnight in Mopti.

Meal(s) Included: Breakfast

Overnight at Hotel Kanaga or Similar

Day 6: Mopti/Dogon

After breakfast, drive to Mali's fascinating Dogon country, visit the Dogon village of Songo, renowned for its rock paintings and grotto; continue to Sangha, comprised of 10 distinct Dogon villages – some are traditional animist and others have converted to Islam.

Meal(s) Included: Breakfast

Overnight at Campement Hotel Sangha (Bandiagara) or Similar

Day 7: Dogon

After breakfast, visit the village of Banani. Continue to the villages of Ireli and Amani, site of a sanctuary for crocodiles which are sacred to the Dogon people. Visit the village on the edge of the Bandiagara Cliff. Continue to Bandiagara overnight.

Meal(s) Included: Breakfast

Overnight at Hotel La Falaise or Similar

Day 8: Dogon/Djenné

After breakfast, drive to Djenne and visit the magnificent Grand Mosque, the world's largest mud-brick structure, and a UNESCO World Heritage site.

Meal(s) Included: Breakfast

Overnight at Hotel Djenne-Djenno  or Similar

Day 9: Djenne/Bobo Dioulasso, Burkina Faso

This morning drive to Bobo Dioulasso, Burkina Faso's second-largest city. Time permitting this afternoon we will drive to mysterious Koumi, a typical Bobo village. Here, time seems to have stood still for centuries. Sites of interest in Koumi include the young female's initiation place. This evening return to Bobo.

Meal(s) Included: Breakfast

Overnight at Auberge or Similar

Day 10: Bobo Dioulasso/Banfora/Bobo Dioulasso

Tour the city of Bobo Dioulasso, Burkina Faso's second-largest city. See the old mosque and visit the old Kibidwe artisans' district, where you will see blacksmiths, potters, and dyers at work. In the afternoon, drive to Banfora to visit the Karfiguela waterfalls and Lac Tengrela. On the way, visit the domes of Fabedougou that are natural sculptures, enjoy a cruise on lake Tengrela. This evening return to Bobo.

Meal(s) Included: Breakfast

Overnight at Hotel Auberge or Similar

Day 11: Bobo Dioulasso/ Gaoua

After breakfast drive to Gaoua. In the afternoon, visit the mysterious stone ruins of Loropeni, whose origins are unknown then continue to Kampti to visit the Lobi houses and the Fetish man with his family. Learn the culture of the Lobi people.

Meal(s) Included: Breakfast, Dinner

Overnight at Hala Hotel or Similar

Day 12: Gaoua/ Ouagadougou

After breakfast, visit the Poni Museum, dedicated to the Lobi culture; see the distinctive, fortress-like Lobi architecture, then continue on to Ouagadougou. Visit the sacred crocodiles of Bazoule on the way. Overnight in Ouagadougou.

Meal(s) Included: Breakfast

Overnight at Hala (Ala)Hotel or Similar

Day 13: Ouagadougou/Tiébilé/Ouagadougou

After breakfast drive to Tiebile, the home of the Kassena ethnic group. See the houses with their unique architecture colorfully and intricately painted in traditional designs by the women Kassena women. Time permitting, meet with the village chief. Return to Ouagadougou overnight.

Meal(s) Included: Breakfast

Overnight at Splendid Residence or Similar

Day 14: Ouagadougou

Full day to explore Ouagadougou, Burkina Faso's capital city; visit the Grand Market and the National Museum, with its interesting collection of regional clothing, masks, household utensils, and ancestral statues; visit the craft market at the Artisans' Center where you will find basketry, batik fabrics, wooden statues, and masks, jewelry, leatherwork, and bronze castings.

Meal(s) Included: Breakfast

Overnight at Splendid Residence or Similar

Day 15: Ouagadougou/Natitingou, Benin

Depart Ouagadougou after breakfast and drive to Fada N'Gourma, cross the BF-Benin border, and continue to Natitingou, in Somba country; overnight in Natitingou.

Meal(s) Included: Breakfast & Dinner

Overnight at Hotel Tata Somba Or Similar

Day 16: Natitingou / Abomey

Visit the Natitingou Museum for an interesting overview of the Somba culture; then drive to Abomey, the birthplace of voodoo; visit Abomey's historical Daho-Donou Museum; overnight in Abomey

Meal(s) Included: Breakfast & Dinner

Overnight at Hotel Dako Ler Bohicon Or Similar

Day 17: Abomey-Cotonou

Visit the ancient palaces of the twelve kings of Abomey, who reigned from 1620 through 1900; visit the artisans' center; then depart for Cotonou; overnight in Cotonou.

Meal(s) Included: Breakfast & Dinner

Overnight at Hotel Du Lac Or Similar

Day 18: Ouidah

Tour of Ouidah, an important traditional religious center and ancient slave depot, which sent thousands of African's into slavery into the new world; visit the Museum in the old Portuguese fort, the temple of pythons, the Cathedral of Notre Dame, and the Kpasse sacred forest; trace the route of the famous "Slave Road" which leads to the slavery memorial of Zoungbodji; witness a traditional voodoo ceremony featuring the spirits of departed ancestors; return to and overnight in Cotonou.

Meal(s) Included: Breakfast & Dinner

Overnight at Hotel Du Lac Or Similar

Day 19: Cotonou – Depart

In the morning visit Ganvie village, built on stilts over the lagoon; then continue with a tour of Cotonou, including the international Dantokpa market, with its fetish products and handcraft center; in the evening, transfer to the airport for your final departure.

Meal(s) Included: Breakfast
Trip Includes:
Meeting and assistance upon arrival and departure
Roundtrip airport/hotel transfers and luggage handling
Hotel accommodation in the listed properties
Transportation in private vehicle
Experienced tour guides
Meals indicated
Admission to sites listed
Domestic airfare within Africa
Day room in Cotonou on the final day
Request A Quote