Ethiopia (Addis Ababa, Lake Tana, Gondar, Arba Minch, Chencha, Lake Chamo, Azo Gebeya, Omorati, Omo, Mago National Park) etc
Explore Ethiopia on this 14 Day historic route program with Palace Travel. Tour highlights include; Sightseeing in Addis Ababa, Lake Tana monasteries, Gondar, hike around the Simien Mountains, Rock-Hewn Church, Yemrehanna Kristos, Axum and many more.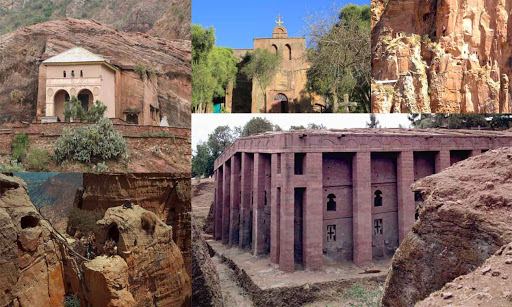 You can control these tabs with mouse and keyboad.
Aria roles are given automatically.
Arrow Key Left : Previous Tab
Arrow Key Right : Next Tab
Home : First Tab
End : Last Tab
Space/Enter : Select Tab
Addis Ababa sightseeing: visit Entoto, spectacular cathedral and National museum
Explore Lake Tana monasteries; Bahirdar
Explore Gondar: a royal and ancient historical city of Ethiopia.
Hike around the Simien Mountains, one of Africa's largest mountain ranges.
Explore the Rock-Hewn Churches of Lalibela
Pay a visit to Yemrehanna Kristos Monastery
Axum Sightseeing: Visit Axum Stele, St. Mary Tsion Church and Yeha temples
Arbaminch: Explore Chencha village and Lake Chamo boat trip
Visit the unique cultures and museum of Jinka and Visit Konso Village, land of low terraced hills
Explore Mago National Park to visit the Mursi village
Excursion to Omoratte and Murule.
DAY 1: ARRIVAL

Upon your arrival, at Bole International airport Addis Ababa, and completion of the entry formalities, you will be met by one of our representatives and be transferred to your hotel.

Overnight: Jupiter international Hotel /Similar

Meal: Breakfast

DAY 02: ADDIS ABABA SIGHTSEEING

Mount Entoto will be a commencing of your city tour. It is a historical place where Emperor Menelik II resided and built his palace when he came from Ankober and founded Addis Ababa. It is considered a sacred mountain and has many monasteries. It is situated at an altitude between 2,600 and 3,100 meters. You will have a magnificent view of the city.

Then drive to the National Museum, the museum houses the nation's artistic treasures as well as many of the most precious archaeological finds such as the fossilized remains of early hominids, the most famous of which is "Lucy," the partial skeleton of a specimen of Australopithecus aphaeresis. The well-known Lucy is 3.2 million years old. After visiting the museum, you will drive to Trinity cathedral Church. This church is the highest-ranking Orthodox cathedral in Addis Ababa, Ethiopia. It was built to commemorate Ethiopia's liberation from Italian occupation and is the second most important place of worship in Ethiopia, after the Church of Our Lady Mary of Zion in Axum.

Afternoon, you will visit the Ethnological Museum Set within Haile Selassie's former palace and surrounded by the beautiful gardens and fountains of Addis Ababa University's main campus is the enthralling Ethnological Museum. Even if you're not normally a museum fan, this one is worth a bit of your time – it's easily one of the finest museums in Africa. Later, you drive to Mercato and visit the largest open market in Africa, where you will drive through the market.) Mercato is located covering several square miles and employing an estimated 13,000 people in 7,100 business entities.

Overnight: Jupiter international Hotel /Similar

Meal: Breakfast

DAY 3: FLY ADDIS – BAHIR DAR [~1 hr. Flight] SIGHTSEEING BAHIR DAR

These morning after breakfast, you will be transferred to the airport to fly to Bahir Dar, checked in to the your room and take a boat trip on Lake Tana to visit a selection of the monasteries hidden on the islands and shores of this sacred lake.

Bahir Dar is the former capital of Gojjam province and the current capital of the Amhara Regional State in Ethiopia. It is found 491 km away from the capital Addis Ababa. Visit the 14Th-century Monastery of Ura Kidane Mihret, which is the most famous of the Zege peninsula monasteries with Avery beautiful painted maqdas and priceless collection of crosses as well as crowns.

Later, if time allows you will drive to the village of Tis Isat to see the Blue Nile falls (please be informed that due to the newly constructed electric dam in the vicinity the water level of the falls could be very minimal).

Overnight: Kuriftu Resort and spa/Similar

Meal: Breakfast

DAY 04: DRIVE BAHIR DAR – GONDAR VIA AWURA AMBA [~196 km & ~ 4 hrs. Drive] AND SIGHTSEEING GONDAR

This morning, you will drive to Gondar. En route, you will visit the village of Awra Amba. This unique settlement is considered to be a prime model for self-help and above all, gender equality. Women have equal rights to men and there is no distinction in divisions of labor. Men cook, women's plow, and religion has no place. They believe in hard work and being good to all people. Continue driving to Gondar and upon your arrival, you will be transferred to your Hotel.

Shortly afterward, you will begin exploring the Royals Enclosure Gondar. Gondar is a town founded in 1636 by the great Emperor Fasiladas, set in a landscape of incomparable beauty; it was the Royal Capital of Ethiopia. Visit the Castles and Churches built by the Emperor and his descendants. Later proceed to the fascinating Debre Birhan Selassie Church (a UNESCO World's heritage site) whose walls and ceilings are decorated with scenes of Biblical lore and medieval history.

Overnight: Mayleko Lodge /Similar

Meal: Breakfast

DAY 05: EXCURSION TO SIMIEN MOUNTAINS

This day you will drive to visit Simien Mountain, National Park. No matter how you look at it, the Unesco World Heritage-listed Simien Mountains National Park is one of Africa's most beautiful ranges.

This massive plateau, riven with gullies and pinnacles, offers tough but immensely rewarding trekking along the ridge that falls sheer to the plains far below. It's not just the scenery (and altitude) that will leave you speechless, but also the excitement of sitting among a group of gelada monkeys or watching magnificent Walia ibex joust on rock ledges. The Simien Mountain National Park makes a great companion to the historical circuit's monument-viewing.

Overnight: Mayleko Lodge /Similar

Meal: Breakfast

DAY 06: FLY GONDAR – LALIBELA (~40 MIN FLIGHT)/ EXCURSION TO YIMRHANE KIRISTOS

The following morning you will be transferred to the airport for your flight to Lalibela. Lalibela is a town in the Amhara region of northern Ethiopia. It has known for its distinctive rock-cut churches dating from the 12TH and 13Th centuries, which are pilgrimage sites for Coptic Christians. Upon arrival at the Lalibela Airport, you will be taken to a Travel Ethiopia vehicle waiting for you outside the terminal and be transferred to your hotel to drop off your luggage and refresh.

Shortly afterward, you will drive to another striking attraction just outside of Lalibela. About a 90-minute drive from the town of Lalibela passing through magnificent scenery one finds a church that is built inside a cave. Yemrehanna Kristos dates back to 1100 to 1200 AD period in Ethiopia's history; predating even the rock-hewn churches of Lalibela itself.

After you park your vehicle is a steep walk leading up to Yemrehanna Kristos cave church, roughly 30 minutes. Inside the cave, a beautiful church presents itself, laid out on a foundation of Africa Olive Wood. While the main structure is a combination of wooden and granite struts. Once inside the church, it is the wooden ceiling that is spellbinding – the attention to detail is extraordinary.

Visit and drive back to Lalibela.

Overnight: Mezena Lodge

Meal: Breakfast

DAY 7: LALIBELA SIGHTSEEING

After breakfast, you will start exploring the magnificent rock-hewn churches of Lalibela, a UNESCO World Heritage site. Lalibela's monolithic and semi-monolithic structures were carved directly into the stone of the mountainside at least 800 years ago.

The complex hosting the first five groups of churches boasts the largest monolithic church in the world (Bet Medhanialem – House of Holy Savior), a maze of passageways and tunnels, intricately carved reliefs, and fabulous examples of icon paintings. Upon completing your tour of the Northern cluster of churches, you will return to your vehicles and drive back to your hotel where you will enjoy lunch.

Later on, you will head to the astonishing Bet Giyorgis church (House of St.George). Resting off on its own, St George's Church is Lalibela's masterpiece. Representing the apogee of the rock-hewn tradition, it is the most visually perfect church of all, a 15m- high three-tiered plinth in the shape of a Greek cross – a perfectly proportioned shape that required no internal pillars. Due to its exceptional preservation, it also lacks the obtrusive roofing seen over the other churches. Inside, light filters in from the windows and illuminates the ceiling's large crosses – beauty in simplicity. Finally, you will be transferred to your hotel.

Overnight: Mezena Lodge

Meal: Breakfast

DAY 8: FLY LALIBELA – AXUM [~40 min flight]/AXUM SIGHTSEEING

In the morning, you will be transferred to the airport to catch your flight to Axum. After checked in to your room tour of the city will follow.

The first attraction will be "Stele Park". These Steles are famed granite obelisks, thought to be built in either late B.C. or early A.D., that have gained a "UNESCO World Heritage Site" status. The tallest stele is at about 23 m /75 ft. tall.

Unfortunately, there was once a period where the tallest stele was actually 33 m /108 ft. tall and weighed a colossal 500 tons. Also known as "The Great Stele", it remains today broken into six different pieces.

This park also contains a museum. The tour will be followed by the visit of "King Kaleb's Palace and tomb". After the visit to the King's palace, you will then have lunch. During lunch, you will attend a traditional Ethiopian Coffee ceremony.

After lunch, you will visit the ruins of the "Queen of Sheba's Palace" thought to be the oldest building in Axum. Followed by the "Tomb of Bazen", a King though to be born during the time period of Jesus Christ. Next will be "Mariam Tsion Church". Within that vicinity will be the "Sanctuary Chapel", which is supposedly the repository of the Ark of the Covenant and then the "Coronation Yard". Once done with the tour, drive back to the hotel.

Overnight: Sabean International Hotel/Similar

Meal: Breakfast

DAY 9: FLY AXUM – ARBA MINCH VIA ADDIS ABABA[~1 hr. Flight]

Today you will be transferred to the airport to catch your flight to Addis Ababa and connecting flight to Arba Minch.

Arbaminch, the largest town in southern Ethiopia, set amongst lush green hills near Lakes Abaya and Chamo. Arba Minch is named for the numerous local springs that produce a groundwater forest. In Amharic, Arba Minch means "forty springs." The town itself is divided into two distinct settlements. Buses and taxis connect Shecha (on higher ground) and downtown Sikela. Shecha is the uptown administrative center. Just two and a half miles away is Sikela, home to the commercial, industrial, and downtown residential areas.

On the eastern side of Sikela lies the gate to Nechisar National Park, which covers the isthmus between Lake Abaya to the north and Lake Chamo to the south.

Overnight: Paradise Lodge/similar

Meal: Breakfast

DAY 10: EXCURSION TO CHENCHA AND BOAT TRIP ON LAKE CHAMO

After a short break, you will visit a very scenic route to the mountain village of Chencha, home of the Dorze people. Renowned for their cotton weaving, called Shammas and their distinctive house- towering beehive-shaped structures made from woven thatch.

These structures can stand two stories high and have a lifespan of over 50 years. You will take a leisurely walk about the village, meeting some residents and watching the women weave

After Lunch you will have a Boat trip on Lake Chamo. You will enjoy a one-hour boat ride on the lake to Azo Gebeya, the so-called "crocodile market" – which is not a market at all, but a gathering place for crocodiles and pelican and one of the best features of the park. The attraction of the boat trip includes viewing crocodiles from a very close range.

Overnight: Paradise Lodge/similar

Meal: Breakfast

DAY 11: ARBA MINCH – TURMI VIA KONSO [~277 km & ~5 hrs. drive]

Today after breakfast, leaving Arba Minch and you will drive to Turmi via Konso. En- route visit one of the Konso villages. The Konso people live in a land of low terraced hills. They are reputed to be one of the hardest working groups in the country. Their elaborately terraced hillside grows some of the country's best coffee. They are known for their tradition of erecting peculiar totems on the graves of their deceased. Proceed to Turmi for overnight stay.

Overnight: Buska Lodge/similar

Meal: Breakfast

DAY 12: EXCURSION TO OMORATE[~75 km & ~4 hrs. drive]/ MURULLE [~73 km & ~3 hrs. drive]

In the morning, we will drive towards the Murelle area to see the Karo – Koricho ethnic group. The Karo men are famous for their unique hairstyles and both genders are recognized for their expertise in painting: faces, chest, arms, and legs using clay with vegetable pigments.

In the afternoon, you will have an excursion to Omorate. You will visit Dassanech or Dassanech Tribe also known as the Geleb or Geleb, this tribe lives just north of Kenya's Lake Turkana. Their neighboring tribe is the Turkana people. The Dassanech are pastoralists (cattle herders), but due to the harsh territory, they have moved south to grow crops and fish. Cattle are used by the tribesman for meat, milk, and clothing.

Overnight: Buska Lodge/similar

Meal: Breakfast

DAY 13: DRIVE TURMIO – JINKA [~78 km &~ 2-hrs. drive]/ JINKA MUSEUM

Today you will drive to the town of Jinka, one of the larger outposts in the area. Despite its location on the main road, the town of Jinka seems to exist in virtual isolation from the rest of Ethiopia. High, cool, and green, Jinka sits at the edge of the highland plateau, standing guard over the vast Omo Valley to its west. From Jinka, you will drive a short distance up into the hills to the South Omo Research Centre and Museum to inspect their collections of tribal artifacts and learn more about the interactions and history among tribes of the area.

OR

If the day is Tuesday or Saturday you will drive to the Dimeka market, 28 km north of Turmi, is the biggest town in Hamer territory and its Saturday market is the most atmospheric and liveliest of the big ones. It has a great crafts section, with jewelers, woodcarvings, masks, and pottery. Ask your guide to take you to the tej bets that are just behind the market – around noon they're full of Hamer men and women enjoying calabashes of honey wine or sorghum beer. The cattle market, which is held in the morning about 400m further north, is also not to be missed. There's little reason to stop here besides the markets.

Overnight: Eco Omo Lodge

Meal: Breakfast

Day 14: EXCURSION TO MAGO AND VISIT MURSI VILLAGE AND FLY BACK TO ADDIS [~1 hr. flight]/ DEPARTURE

Today you will drive to Mago National Park to visit the Mursi village. The Mursi are one of the most original ethnic groups. They live in very low huts made of straw leaves. The women like to wear terra cotta on their enormously stretched lower lips and ear lobes. The men are famous for their hairstyles.

The tribe is famed for its fierce warrior disposition and wildly decorative appearance, with large circular clay labrets that the women wear in the lower lip. The larger the lip plate, the greater the woman's value when she is married. She removes her plate for eating and sleeping. We may see some women, especially elder women, without their lip plates. They are easily distinguished by how their long, distended lips hang down from their mouths.

In the afternoon, you will be transferred to the Airport to catch your local flight back to Addis Ababa and after a farewell dinner will be a departure.

Overnight: Jupiter international hotel

Meal: Breakfast
Trip Includes:
Hotel accommodations on double/twin room occupancy on bed and breakfast basis
All private airport transfers
Ground transport as per the given program
An English speaking professional escort guide throughout the trip
Unlimited drinking water throughout the trip
Local guide fee
Day use on the last day
Boat trip at Lake Chamo and Tana
Scout for Simien and Mago National Park
All entrances listed in the itinerary
Day use on the last day
15% VAT
Request A Quote