Eritrea (Asmara, Keren, Massawa, Mendefera)
In Eritrea, explore the city of Asmara and visit the mountain town of Keren before reaching Massawa-the "Pearl of the Red Sea" and one of the region's most important ports for centuries. With its exquisite Turkish-style architecture and shopping arcades, beautiful mosques and delicious seafood, Massawa is the perfect destination for the adventurous traveler. In addition to the city's many attractions, it also offers pristine beaches and world-class swimming only short distance from the city center.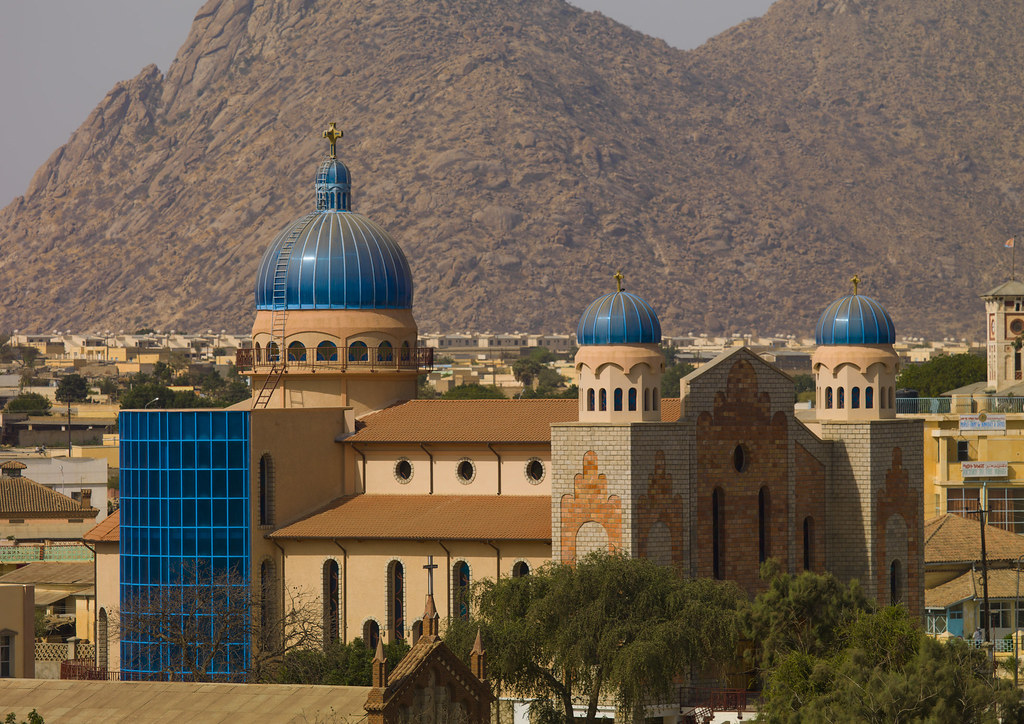 You can control these tabs with mouse and keyboad.
Aria roles are given automatically.
Arrow Key Left : Previous Tab
Arrow Key Right : Next Tab
Home : First Tab
End : Last Tab
Space/Enter : Select Tab
Day 1: ARRIVE ERITREA

Arrive Eritrea; meet assist and transfer to the hotel.
 Meal(s) Included: Breakfast, Dinner
Overnight at Hotel Asmara Palace or Similar

Day 2: ASMARA CITY TOUR

After breakfast enjoy a tour of Asmara. Attractions include visits to the National Museum, the Cathedral, the Coptic Church of St. Mary, the Khulafa al Rashedin, the local market for souvenir shopping, and a curious monument to Alexander Pushkin, one of Russia's greatest poets.
 Meal(s) Included: Breakfast, Dinner
Overnight at Hotel Asmara Palace or Similar

Day 3: ASMARA – KEREN

After breakfast drive to Keren, a town set on a high plateau surrounded by dusty mountains. One of the country's most attractive towns, Keren is also the heart of Eritrea's agricultural community. During your trip visit Keren's popular markets, including one for livestock and camels, which attracts traders from far around.
 Meal(s) Included: Breakfast, Dinner
Overnight at Sarina Hotel or Similar

Day 4: KEREN – MASSAWA

After breakfast drive to the city of Massawa. En route you will travel through the Filfil, home of the last remnants of Eritrea's tropical forest. The area is particularly noted for its bird watching opportunities. The rainforest is part of a larger region known as the Semenawi-Bahri, a hilly region that slopes downward to the coastal plains. Not only is the area full of rare species of flora and fauna, but the snaking road recently built through the region's mountains in 2005 affords view after view of breathtaking scenery.
 Meal(s) Included: Breakfast, Dinner
Overnight at Red Sea Hotel or Similar

Day 5: MASSAWA

After breakfast experience a tour of Massawa, a city composed of a series of island and immersed in the history of a number of different kingdoms. Once named the 'Pearl of the Red Sea', Massawa has been has been one of the region's most important ports for centuries. With its exquisite Turkish-style architecture and shopping arcades, beautiful mosques and delicious sea food, Massawa is the perfect destination for the adventurous traveler. In addition to the city's many attractions, it also offers pristine beaches and world-class swimming only short distance from the city center.
 Meal(s) Included: Breakfast, Lunch & Dinner
Overnight at Red Sea Hotel or Similar

Day 6: MASSAWA – MENDEFERA – ASMARA

After breakfast enjoy a pleasant return drive to Asmara with a stop in the town of Mendefera. Dominated by hills on both sides of its main road, the town offers beautiful views of natural scenery. You will arrive in Asmara later in the day.
 Meal(s) Included: Breakfast, Lunch
Overnight at Hotel Asmara Palace or Similar

Day 7: ASMARA –DEPART

Day at leisure; transfer to airport for your onward flight.
 Meal(s) Included: Breakfast
Trip Includes:
Meeting and assistance upon arrival and departure
Roundtrip airport/hotel transfers
Hotel accommodation in the listed properties
Transportation in private vehicle
Experienced tour guide
Admission to listed sites
Meals indicated
Request A Quote