I just returned this afternoon from Accra and wanted you to know that we had a fabulous trip. Thank you again for planning our wonderful adventure. Unfortunately the Bakatue festival ended up not happening, but it did not matter at all! We were given plenty of alternative ways to spend our time.  The guides were most helpful and friendly as were the people in Accra. I'm happy to say my tour was all positive!
I just wanted to thank you for all of your help planning our trip.  We had a great time in South Africa and really enjoyed the activities that you scheduled for us.  We truly had a great time and couldn't have had this great experience without all of your help.
Maureen Zakutansky
01 Jun 2016
Hi Mary Najee had WONDERFUL time in Ghana.  He enjoyed traveling with the group and loved Ghana.  He says he wished he could have had more time there.  Thank you for all of your help.  Will be speaking with you soon.
Maureen V. Johnson
AAA Travel Sales Specialist Charlotte, N.C.
Maureen V. Thomas
06 Feb 2016
I'm writing you from Ghana -- things are going well.  Today we had our naming ceremony which was completely amazing.  The people in our group have been very pleasant....no issues to report.  I've taken more pictures than Jesus has eyes, and spent more of Visa's money than I'd rather admit.  Our hotel was switched from Coconut Grove to the Elmina Bay Hotel --- I'm going to send you pictures, this place is amazing, simply amazing.  I'm extremely happy I took this trip.  I wouldn't change anything for the world. Just letting you know... Love and blessing
Thank you so much for your kindness and understanding. I cannot begin to tell you how disappointed I am that I am not able to go on my trip. I was so looking forward to it. But I have to think about my health first. I am hoping and looking forward to traveling with Palace Travel in the future. Thank you again for the great customer service you have given to me under these unfortunate circumstances. I really look forward to planning a trip with your travel agency in the future. Please keep me on your mailing list. I will be in touch with you about the South Africa and Senegal trip in March after my recovery. Thank you again and I hope the trip is a success for everyone who will be going.
Marcia Thomas
29 Jun 2015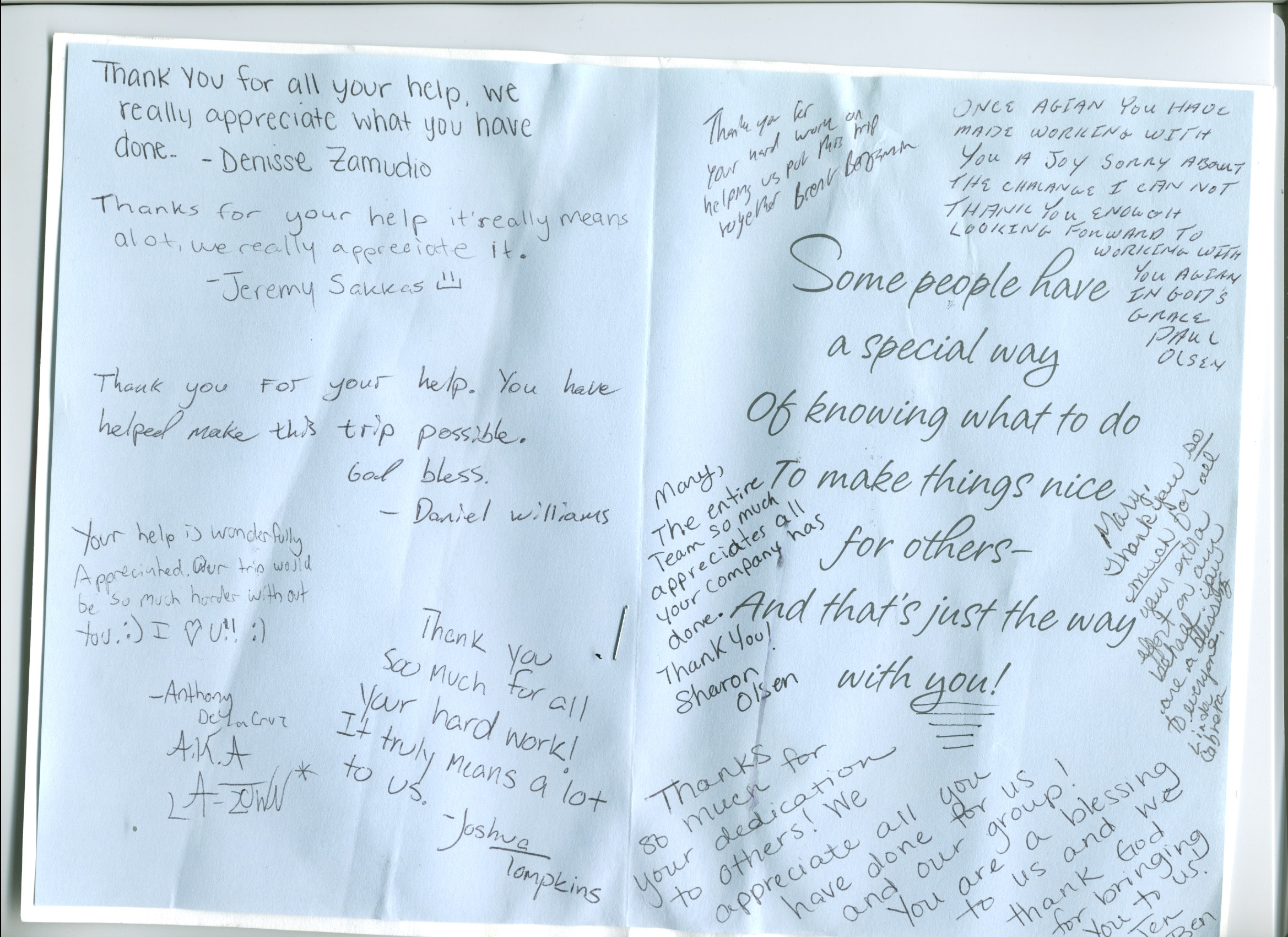 Laveen Baptist Church
07 Jul 2014
Mary, The Fernands family had an absolutely wonderful time ... everything went smoothly, they were more than pleased with their flights, accommodations, tours, drivers & service, and they couldn't thank me enough for helping make their dream vacation come true. Of course, I couldn't have done it without you and Palace Travel!  I am very thankful Palace Travel joined PTANA, which is how I found you.  Mary, you were prompt and professional in answering all my questions and concerns, and I will definitely recommend Palace Travel to my colleagues.  Hopefully I will have many more African travels to plan for my clients in the future. And I hope to get back myself one day, too. Take care, Pattie Mitchell, ACC Travel Dreams Advisor - Professional Travel Agents of North America/PHL Chapter
Pattie Mitchell
25 Apr 2014
Please forgive me for my delay in contacting you. The Guides were extremely knowledgeable, patient and professional.  They were always early for our pickup times; they knew the plan and helped familiarize ourselves with what we needed to do when they weren't around.  They were rich with information about the history, animals, sights, politics, etc.  They were truly a pleasure. The Hotels were very nice and the staff was hospitable.  The restaurants were nice, with great atmospheres, delicious foods and a wide selection. The itinerary was jam packed with everything that we wanted to do.  We saw and experienced so much that it was impossible to articulate the experience to others.  It was an excellent diversity of tours, from museums, to Natural Wonders, to local villages, to big cities, to the bush!  This was truly an experience of a lifetime and I will highly recommend it to others. We had a phenomenal time. THANK YOU VERY MUCH!!!   …..and PLEASE THANK the Tour Guides.
Katrina Hines
25 Mar 2014
I just wanted to take the time to say thank you to the staff of Palace Travel. From the beginning until my clients got back from Ghana you all made sure that I and my clients had the most up to date information as well understanding of the destination that my clients were traveling to. The experience with Palace Travel has been great. I look forward to booking my next trip to Africa with you. I booked a group through Palace Travel to Ghana this past winter and my 7 clients totally enjoyed their experience.  The staff at Palace travel was very helpful in guiding me with hotels and what my clients were going to see and do while in Africa. Palace travel went above and beyond even when my clients decided to do their own thing when it came to getting visa and few almost did not get them when they did not follow the directions that were given. Palace Travel still helped my clients all the way through the process and assisted them in getting all of their visas.  I am actually working on booking a trip to Senegal with those same clients for 2013.  Overall I will work with them again and again look forward to the great customer service from start to finish. Jamal Guiden Prestige Travel
Hello Mary, Well, the team is off and maybe in Johannesburg by now.  Thank you again for your help with the tickets. I wanted you to be able to follow what the team is doing in Africa so I will put the link to their blog in this email.
http://mozambiquemission.blogspot.com/
Hope your day is Great! Sharon Olsen Laveen Baptist Church
Hi Palace Travel, Thank you so much for our wonderful tour of Ghana.... Our guide George and driver Sam did a wonderful job showing us all overGhana. The hotels were all great except for the brick tower at Chances Hotel in Ho.Luckily our guide George moved us to the Chalets in the other complex whichwas much better. Thanks again  for a very memorable trip to Ghana. Regards, Greg and Neil New Zealand
Greg and Neil
01 Sep 2013
I want to thank Palace Travel for our great trip to Ghana. The itinerary was so interesting, we learned so much about Ghana's history and culture. The hotels were fine. We especially liked our guide and driver, Ernest Nkansah and Samuel Minanor. They were so thoughtful and considerate of our needs. It was a pleasure to be with them. They are valuable assets to your company. Thanks again, Catherine Abboubi
Catherine Abboubi
21 Aug 2013
As a retail travel agent, I was working with a University professor who wanted to do a 10-day study course in Ghana. He had very specific requirements. Each day he needed a room where he could lecture and have a classroom discussion, which were part of the course. He wanted to make sure that the itinerary addressed specific elements of the course, and that the guide provided would have an academic background to discuss those elements. He also wanted guest lectures from some professors located in Ghana. Palace Travel set all this up for me, and the professor was extremely satisfied. They made all the local arrangements in Ghana, and provided me with the background information. That way, I could concentrate on advising the professor and his students, collecting deposits/final payment, insurance, and so forth. Palace Travel prepared an emergency contact list so that the students could leave that information with their families at home. Their ground operator in Ghana was available to handle any changes that were needed, on the spot. I would have no hesitation in recommending Palace Travel for being your partner in travel to Africa. Sincerely, Kathy Moroney, Owner Distinctive Destinations Founder of The International Association for Travel to Africa
Kathy Moroney
15 May 2013
Hi Katrina, How are you doing? I just have to let you know this. I just returned from Connecticut with the church group that just returned from Ghana.  It's the talk of the town and I was told that another trip will be scheduled for 2014 and it must be through "Palace Travel".   Everyone was totally satisfied and is still talking about it. (including myself). Norma Peart Mid South Travel
I have used Place Travel several times for clients traveling to Ghana for the USA. They have always returned indicating what an educational and wonderful time they had. And that they would recommend Palace Travel to any and all of their friends traveling to Africa. The tour operators that were used were excellent, knowledgeable, friendly and just wonderful people to be around and with. I am planning to take a group of clients to South Africa next year (2013) and it is my plan to have Palace Travel assist with this tour. I hesitate not, in recommending Place Travel to all of my clients and friends for their travel to Africa. Palace Travel does an excellent job and their services are outstanding. Eugene Solomon President Precision Travel Inc Columbia, Maryland
Eugene Solomon
01 Jul 2012
Katrina, Thank you for all your hard work and attention to details in preparing our flights to Ghana! I know the process was not easy given our various challenges. I really appreciated your great attitude and responsiveness in assisting us. As our mentor prepare depart, excited about what they will experience, I know you played a part in making it happen. My best, Susan
Custom Tour —Roundtrip Airfare to Ghana
07/03/2011 - 07/28/2011
Dear Palace Travel, We want to thank you for making our trip to Ghana so wonderful! We thoroughly enjoyed our trip and we were well taken care of by our guide Ernest and our driver Robert. Thank you again for your support and for the opportunity. Laura Buhs Laura Buhs - University of Denver, Denver Colorado
Ghana Historical Tour, 7 Days
03/19/2011 - 03/25/2011
Dear Palace Travel: I think I can speak for Randy when I say that we had a really wonderful time in Ghana. Our tour guide, Jonathan, and our driver Robert, were really helpful and knowledgeable in all respects and were a genuine pleasure to spend two weeks together with. You were not kidding when you labeled the tour "Back Roads of Ghana" - we saw how the people in truly remote regions live on a day to day basis. It was particularly great getting such a wide variety of sites - urban, park, beach resort and historical. I would certainly recommend the tour to any of my friends who had an interest in West Africa. If I could only make one suggestion it might be to try and fly, not drive, the long long leg from Mole National Park back to the coast. We will certainly contact you the next time one or both of us plan a trip to Africa. Regards, Mitch Mackler Princeton, New Jersey U.S.A. BackRoads of Ghana - February 2011 02/20/2011 - 03/05/2011
Mitch Mackler
20 Mar 2011
Dear Palace Travel, I arrived in London Heathrow this morning from Accra. I travel on to Portugal and Spain in a few hours to continue my journey for another week and a half before I head home. I had the most extraordinary trip to Ghana. British Airways messed up my arrival by cancelling the flight, but your Ghana  agent shifted everything forward by one day and I extended my stay. After that it was just a perfect visit. Joshua handled everything with great consideration and efficiency; I was extremely impressed with his management of my tour. Best of all he selected in Jonathan Doe, a superb guide who is a Ghana history and culture expert who provided me with the most expert information and guidance. I had a masterful driver, Paul, who made me feel very safe and well looked after. Hotels were beautifully located and the service was all  very high quality . This trip was beyond my expectation. I want to thank you for your wonderful service and assure that I would be happy to recommend Palace Travel and Continental  Tours  to all my friends and colleagues. I do think your service for academics is really of the highest order. Thank you again, Susan Solt Educator Los Angeles, California Susan Solt - Dean of the School of Theater at CALARTS, Los Angeles Historical Tour of Ghana, November 2010 11/06/2010 - 11/13/2010
Hi Mary! The trip was great! Thanks for all your work and support! I was especially impressed with our wonderful tour guide, Jonathan, who went out of his way to ensure that our group was well cared for and that our various outings were a success! I hope I will have the opportunity to work with you again. Meanwhile, I will not hesitate to recommend you to my colleagues. Sincerely, Durthy A. Washington Director, The Writing Center United States Air Force Academy, Colorado Springs, Colorado Educational Tour of Ghana, May 2010 05/28/2010 - 06/11/2010
Durthy A. Washington
22 Jul 2010
Amazing Trip Dear  Palace Travel, Our trip was amazing!  We really appreciate all the hard work you did to make this trip enjoyable for the group! We were EXTREMELY pleased with the tour agent in Ghana, especially our tour guide. Thanks, MATTHEW R. BASLER, Maj, USAF United States Air Force Academy, Colorado Springs, Colorado Assistant Professor, Department of History HQ USAFA/DFH Educational Tour of Ghana, May 2010 05/28/2010 - 06/11/2010
Matthew R. Basler
22 Jul 2010
Hello Mary and Palace Travel, Thank You! Thank You! Thank You!!! I had a fabulous trip! Everything moved like clock-work--very smoothly, no delays. It was very educational. The only regret I have is that I should have stayed longer. When I plan my next African adventure I certainly will be contacting you and Palace Travel. A new world has been opened to me! Thank you Mary! Sincerely, Michael Williams School Teacher , Barrow;  Alaska Tour of South Africa, May 2010 05/19/2010 - 05/25/2010
Michael Williams
17 Jun 2010
Dear Palace Travel, The trip was great for our educational purposes. I hope to have the  chance to lead another  one of these group trips soon. Regards, Dr. Craig A. Foster Professor Department of Behavioral Sciences and Leadership United States Air Force Academy, Colorado Springs, Colorado Educational Tour of Ghana, March 2010 03/19/2010 - 03/27/2010
Dr. Craig A. Foster
10 Apr 2010
My clients were so thoroughly pleased with the entire tour.  They were transferred to hotels that were not on the itinerary to even better ones, to include a "townhouse" type of accommodation. They raved about their tour guides and the absolute fun they had while at a private home where they experienced their authentic African hospitality and cuisine, to include the dances and entertainment given to them by several tribes. For all of them, it was a "trip of a life-time", and they were absolutely thoroughly pleased and delighted. Thank you Palace Travel for a job well done!!! Pat Woodard, Travel Agent Woodard Enterprises Cruises & Travels, Atlanta Georgia Johannesburg, Cape Town, Soweto 10/04/2009 - 10/12/2009 South African Experience Tour 2009
How glad we are to have found your agency! When faced with piecing together an Africa tour for a church group to remote places in Burkina Faso and Ghana I was concerned with not only who to use, but who to trust. I am pleased to announce that all the services you provided for our group with regard to hotels, transfers, inter-Africa flights, escorts, tours, day rooms and more were all met with the highest degree of satisfaction from my client. We thank you and look forward to using the services of Palace Travel again for our group tours to Africa in the future. Sincerely, Suzanne Carlson - Director Group Sales/Millennium American Express Travel Ghana, Burkina Faso 03/22/2009 - 03/23/2009
Suzanne Carlson
02 Apr 2009
I will highly recommend Palace Travel to anyone I know traveling to Africa...
I am back from Ghana and just wanted to let you know that we had a wonderful time. Anamabo Beach Resort is a great property with a beautiful beach. Your agents in Ghana were very responsive and took great care of us. The tours of Cape Coast Castle and Kakum National Park were great. I have to put in very special praise for our guide. He was very friendly, responsive and flexible to the needs of our group. Our group had a great lunch at a place on the way to Kakum (Han's Cottage), which he suggested. When I became petrified on the canopy walk, it was our guide's gentle encouragement that gave me the courage to persevere and make it across. We appreciate all of your help! I will highly recommend Palace Travel to anyone I know traveling to Africa. Very best regards.
atina N. Grays/Habitat for Humanity International Ghana 03/22/2009 - 03/23/2009
Katina N. Grays
02 Apr 2009
Thank you all for the marvelous arrangements for our trip to Senegal and Cape Verde. It was one of the greatest experiences of our lives. The attention to detail in every aspect of our trip was duly noted. The tour guides were excellent. Le Meridien was absolutely fabulous, as well as all of the other hotels. Again, I must thank you for all of your efforts. Your kindness and professionalism throughout the organization of our trip is greatly appreciated by me and my family. As a result of the enjoyment that we experienced on this trip, we will definitely call upon the services of Palace Travel when we visit Africa again and I will definitely recommend your company to others. Thank you for making an experience of a lifetime memorable forever. Patti Rose, MPH, Ed.D, President/Rose Consulting Inc. Senegal, Cape Verde 03/22/2009 - 03/23/2009
Our trip was wonderful! Thank you for all of your help. Kenya and Tanzania were wonderful highlights. Egypt was spectacular!! Thank you for ALL that you have done in order to make this a super trip! Thank you, thank you, thank you! Without your help, insight and guidance, I could never have accomplished any of this! Palace Travel gave me the best personal attention anyone could ask or hope for. You followed through, provided much helpful advice and were always courteous and patient with my many detailed questions. I am most grateful! I look forward to planning other trips with Palace Travel. It is a delight to work with you. Thank you for a job well done! Professor Dorothy Bosch Keller Saint Joseph College <b>Kenya, Tanzania</b> 03/22/2009 - 03/23/2009
Professor Dorothy Bosch Keller
01 Apr 2009
The Festival in the Desert tour in Mali was exceptional!!! The Festival in the Desert tour in Mali was exceptional!!! The impression of all 8 travelers, myself included was very very positive. This is mainly due to extraordinary group of guides and drivers we had and overall superb organization by Palace Travel. Again, thank you very much for everything. Dr. Slobodan Miseljic Festival in the Desert (overland), 2009 01/03/2009 - 01/14/2009
Dr. Slobodan Miseljic
01 Apr 2009
My wife and I would like to express our deepest appreciation for your assistance in coordinating our trip to Ghana, Africa. Your willingness to go above and beyond to ensure our trip was a success is a rarity in today's business environment. We also thank you for covering the extra night in Accra. Words can't express how amazing the trip was for us. My wife and I travel quite often but we both can honestly say that it was the trip of a lifetime. Since I have always been intrigued by the transatlantic slave trade, it was an awesome experience to witness firsthand many of the things I had only read about in books. I have to admit that since most of the books I've read about slavery were written by an American author, their writings can not come close to a tour of Elmina or Cape Coast Castle provided by a true "African." My wife and I thoroughly enjoyed the traditional Ghanian cooking class. I especially enjoyed a dish called "Red-Red" which consists of plantains and beans cooked in palm oil. Trust me when I say, IT'S DELICIOUS! We also had an opportunity to make Fu-Fu by pounding Casava and unripe Plantains. That was truly a work out. Thanks again.
Jonathan D Haraty - Jon's Dive & Travel Services, East Longmeadow, Massachusetts
Jonathan D Haraty
07 Mar 2009
In one word, the experience was "perfect". First, as my wife and I were planning this trip Palace Travel's personnel patiently worked with us answering all questions, sometimes in duplicate, in order that we would have a complete understanding of what to expect. Since I found Palace Travel through the Internet, I, at first, was suspicious, as were other members of our family. Our research with the Better Business Bureau in Philadelphia provided some assurance since the Bureau showed that Palace Travel had a good reputation. Also, when I ask others who they would recommend to guide us in the process, more often than not, the answer came back the same -- Palace Travel. Now, in hindsight since the trip is over, I know that all of them were right. First, Palace Travel gave us an honest assessment of all of the cost we could expect. The fact sheet that they provided us contained very helpful advice and tips to assist us as first time international travelers. I then had more questions that I e-mailed to them, which they answered promptly. Palace Travel provided an itinerary that was accurate and complete. When we arrived in Ghana, our tour guide met us at the airport on time and was with us during every waking hour thereafter. He was friendly, knowledgeable and, most of all, patient. In addition to our tour guide, the driver, was also great. He did his job expertly. Most importantly, we were able to visit and see all that the tour documents advertised and then some. Clearly, in an age and time when the consumer often falls victim to scams and anemic service, our experience with Palace Travel was much better than we could have ever imagined. Larry Smith Ring in the New Year in Ghana 12/31/2008 - 01/06/2009
My clients wrote: My wife and I would like to express our deepest appreciation for your assistance in coordinating our trip to Ghana, Africa. Your willingness to go above and beyond to ensure our trip was a success is a rarity in today's business environment. We also thank you for covering the extra night in Accra. Words can't express how amazing the trip was for us. My wife and I travel quite often but we both can honestly say that it was the trip of a lifetime. Since I have always been intrigued by the transatlantic slave trade, it was an awesome experience to witness firsthand many of the things I had only read about in books. I have to admit that since most of the books I've read about slavery were written by an American author, their writings can not come close to a tour of Elmina or Cape Coast Castle provided by a true "African." My wife and I thoroughly enjoyed the traditional Ghanian cooking class. I especially enjoyed a dish called "Red-Red" which consists of plantains and beans cooked in palm oil. Trust me when I say, IT'S DELICIOUS! We also had an opportunity to make Fu-Fu by pounding Casava and unripe Plantains. That was truly a work out. Thanks again. Jonathan D Haraty - Jon\'s Dive & Travel Services, East Longmeadow, Massachusetts Ghana Arts & Culture Tour 7, Days 12/09/2008 - 12/15/2008
Jonathan D Haraty
20 Dec 2008