Burundi (Bujumbura, Kalera Falls) Rwanda (Nyungwe Forest, Kigali, Gisenyi, Virunga Mountain) DRC (Nyrangongo Volcano Climb, Goma) Uganda (Lake Bunyonyi, Queen Elizabeth National Park, Jinja, Kampala, Entebbe)
Discover the other East Africa, with an adventure across four of Africa's most beautiful countries. Go in search of the mysterious Mountain Gorillas, shrouded in Mist-and the playful predator-Uganda's Tree Climbing Lion.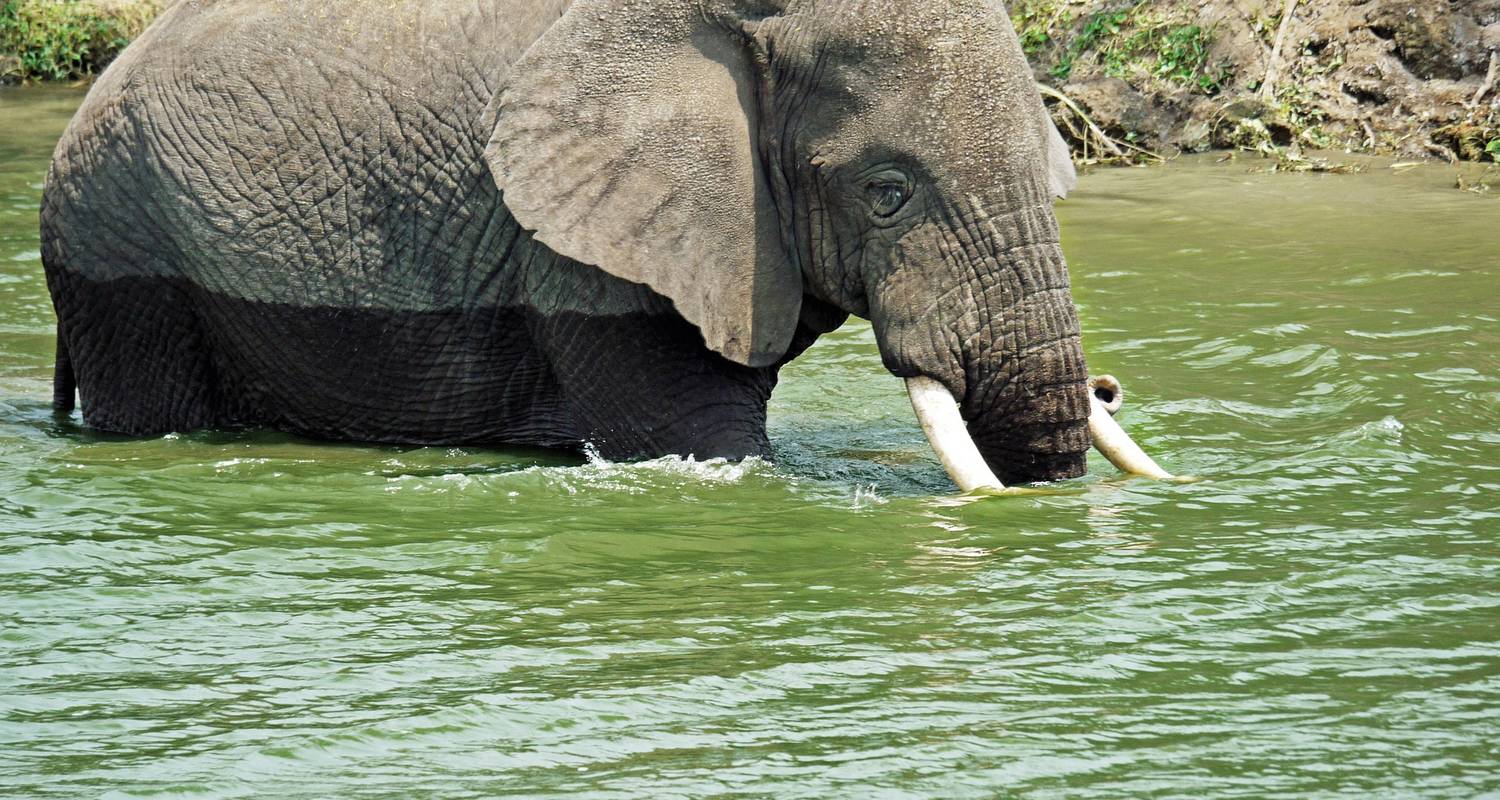 You can control these tabs with mouse and keyboad.
Aria roles are given automatically.
Arrow Key Left : Previous Tab
Arrow Key Right : Next Tab
Home : First Tab
End : Last Tab
Space/Enter : Select Tab
Day 1: Bujumbura, Burundi

Arrive Bujumbura; meet assist and transfer to hotel.

Meal(s) Included: No
Overnight at Club du lac Tanganyika or Similar

Day 2: Bujumbura

After lunch visit the mausoleum of Prince Louis Rwagasore, a hero in the independence of Burundi, located in the "Belvedere". The Belvedere is a dominating point of Bujumbura, which offers a unique view over Lake Tanganyika. In the evening, enjoy entertainment by le ''Les tambourinaires du Burundi'' or Burundi Drummers.

Meal(s) Included: Breakfast & Dinner

Overnight at Club du lac Tanganyika or Similar

Day 3: Burundi – Kalera Falls

After breakfast; drive South to "la pierre de Stanley et Livingstone" the commemorating stone of the place where the famous explorers Stanley and Livingstone rested during their attempt to find the source of the Nile. Afterwards  head to the stunning "Kalera Falls". In the afternoon drive to Gitega to visit the Burundi National Museum.

Meal(s) Included: Breakfast & Dinner

Overnight at Club du lac Tanganyika or Similar

Day 4: Nyungwe Forest

After breakfast drive to Nyungwe forest national park in Rwanda through the hilly countryside after which Rwanda got its name as "a country of a thousand hills. After lunch go trekking in the forest to find the Blue monkeys, and Angolan Colobus monkeys among others.

Meal(s) Included: Breakfast & Dinner

Overnight at Top View Hill Nyungwe Hotel or Similar

Day 5: Nyungwe Forest

After breakfast, go on an early morning Chimpanzee trek; walk in search of chimps and other primates. Return in time for lunch.  After lunch drive to Butare where you will visit the Historical Museum of Rwanda.

Meal(s) Included: Breakfast & Dinner

Overnight at Mater Boni Consilii Hotel or Similar

Day 6: Kigali

After breakfast; transfer to Kigali where you will visit Rwanda Genocide Memorial. Here you will begin to understand what happened in 1994 when 1 million people died within 100 days.

Meal(s) Included: Breakfast & Dinner

Overnight at Hotel Des Milles Collines Kigali or Similar

Day 7: Gisenyi

After breakfast, drive to Gisenyi near the shores of Lake Kivu. Stop in Ruhengeri for lunch and afterwards, enjoy a spectacular performance by the Intore Traditional dancers.

Meal(s) Included: Breakfast & Dinner

Overnight at Serena View Hotel or Similar

Day 8: Virunga Mountain

After breakfast, transfer to Grande Barriere border(Rwanda-DRC border) crossing at 10:30 A.M and check in with Virunga tourism office by 11:15am. Receive gorilla and volcano trek permits at check-in which must be presented at the start of each trek. Once check-in is complete, visitors will be transported to Kibumba.

Meal(s) Included: Breakfast & Dinner

Overnight at Kibumba Tented Lodge or Similar

Day 9: Gorillas trekking – Virunga NP

After an early breakfast at Kibumba Tented Camp, trekkers will head down the hill to meet their Ranger guides and have a briefing before the gorilla trek. Treks usually require 1-2.5 hours of hiking each way, depending on location of the gorilla group being trekked and the difficulty of the terrain. After spending the allotted hour with the gorilla family group, trekkers will make their way back to camp, enjoy a late lunch and have the rest of the day at leisure, including time for nature walks and bird watching.

Meal(s) Included: Breakfast & Dinner

Overnight at Kibumba Tented Lodge or Similar

Day 10: Nyiragongo Volcano trek – Ascending

After breakfast in Kibumba, guests will be transported to the Kibati Ranger Post at 8:15am, departure point for the Nyiragongo volcano trek. On arrival to Kibati, guests will receive a briefing and will have the opportunity to hire porters. The climb up the volcano will take around four to six hours and trekkers will. 

Meal(s) Included: Breakfast & Dinner

Overnight at The Summit or Similar

Day 11: Nyiragongo Volcano trek – descending – Uganda

In the early morning, leave the crater rim and start the descent back to Kibati and average descent time is four hours. Once at the bottom, transfer back to Goma with drop-off at the Grande Barriere. Meet your guide drive again and transfer to Uganda.

Meal(s) Included: Breakfast & Dinner

Overnight at Bunyonyi Overland Resort or Similar

Day 12 Queen Elizabeth National Park

After Breakfast take a short walk a nearby village in Bunyonyi. Afterwards drive to Queen Elizabeth National Park- famous for its tree-climbing lions' and large herds of Uganda cobs, Topis; buffaloes and elephants. Late in the afternoon enjoy a boat ride on the Kazinga Channel.

Meal(s) Included: Breakfast & Dinner

Overnight at Mweya Lodge or Similar

Day 13 Queen Elizabeth National Park-Jinja

After breakfast go on an early morning game drive to view some wild animals like; Lion, Topis, Elephants, Uganda Kobs and buffaloes. After your early game drive, transfer to Jinja. Enjoy the drive through the scenic countryside of Ankole  and make a stop over at the Equator for a quick photo op and presentation from your guide. Stop in Mbarara for Lunch before Proceeding to Jinja.

Meal(s) Included: Breakfast & Dinner

Overnight at Jinja Nile Resort or Similar

Day 14 Kampala-Entebbe-Depart

After breakfast, return to Kampala. Transfer to airport for flight back home.

Meal(s) Included: Breakfast
Trip Includes:
  Meeting and assistance upon arrival and departure
  Roundtrip airport/hotel transfers & luggage transfer
  Assistance with airport departure formalities
  Accommodations in properties listed
  Tours in private vehicle
  Experienced tour guides
  Admissions to all listed sites
  Meals indicated
Request A Quote