Ethiopia (Addis Ababa, Bahir Dar, Lalibela, Meskel Festival)
Join us on this Historical Tour of Ethiopia scheduled to include the 2020 Meskel Festival. Explore the fascinating history of Ethiopia with visits to ancient cities, picturesque hinterlands and UNESCO World Heritage Sites including the rock-hewn churches of Lalibela. The main Meskel celebration includes the burning of a large bonfire, the Demera, in Meskel Square in Addis Ababa.
This tradition is based on the revelation by the mother of the first Christian Roman Emperor, Constantine the Great, which revealed the exact location of the True Cross. The ancient festival dates back 1,600 years and is celebrated with huge, evening bonfires with large, orderly but noisy torch-carrying throngs of participants accompanied by ornately robed priests carrying silver Coptic crosses. The flowering of the cross-shaped Meskel daisies also marks the end of the 3-month long rainy season and the return of the sun. This is a once in a lifetime experience that should not be missed!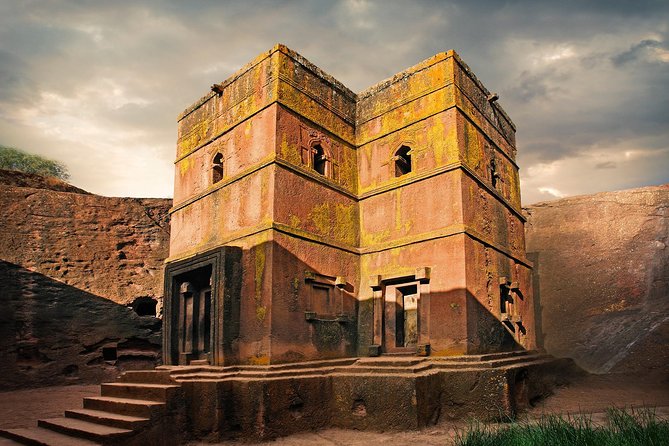 You can control these tabs with mouse and keyboad.
Aria roles are given automatically.
Arrow Key Left : Previous Tab
Arrow Key Right : Next Tab
Home : First Tab
End : Last Tab
Space/Enter : Select Tab
Day 1:  Arrival and fly to Bahir Dar

Hotel: Kuriftu Resort and Spa

Meal: Dinner

Day 2: BAHIR DAR

Meal(s) Included: Breakfast, Dinner

Hotel: Kuriftu Resort and Spa

Day 3: Drive Bahir Dar – Gondar

After breakfast, you will drive over land to Gonder which is some 180 kms. This day is dedicated for sightseeing of Gonder; the 16th century Royal enclosure famous for its 17th C castles that is known as the "African Camelot", Fasil bath where Timkat (Epiphany) festival colorfully celebrated and one of the old churches Debre Birhan Selassie.

Meal(s) Included: Breakfast & Dinner

Hotel: Goha Hotel

Day 4: Fly Gondar – Lalibela

After breakfast fly out to Lalibela. After lunch break, proceed to visit the first group of rock-hewn churches, which are 6 in number and represent the earthly Jerusalem. Visit the remaining second group of churches which are 5 in number again and represent heavenly Jerusalem. And later conclude the visit by covering the third group of church, which is the cross-shaped and highlight of the Lalibela churches, St. George.

Meal(s) Included: Breakfast & Dinner

Hotel: Mountain View

Day 5: Excursion to Nakuto Leab and Yemrehanna Kristos

This day after having breakfast, you will visit the Nakuto Le'ab Monastery, king Nakuto abdicated his throne in 1270 AD and went to a cave to lead a hermit's life. This cave has ever since became a monastery and has dramatic setting. In the afternoon, you will take an excursion to visit Yemerehane Kirstos, located in a mountain ridge, in the peak of Abuna Yosef. This exquisite church, a masterpiece of Axumit wood and stone construction and renewed for its interior decoration. The walls are subdivided vertically with recessions and projections.

Meal(s) Included: Breakfast & Dinner

Hotel: Mountain View Hotel

Day 6: Fly Lalibela – Addis, visit eve of Meskel

Meal: Breakfast & Dinner

Hotel: Hilton Hotel

Day 7: 

Go for the place the Demera to use the ash on the forehead and celebrate the holiday at local restaurants.

Meals: Breakfast & Dinner

Hotel: Hilton Hotel

Day 8: Addis Ababa

City tour of Addis Ababa and farewell

Meal(s) Included: Dinner
Trip Includes:
Hotel accommodation on a double/ twin room occupancy on bed and breakfast basis
Dinner as stated in the sketched program
All private airport transfer and ground transportation as per the program
City tour of Addis
Drinking water throughout the trip
An English speaking professional escort guide
Boat cruise on lake Tana
All entrances and 15% tax fee.
Request A Quote