Ghana (Accra, Ada Foah, Cape Coast, Elmina)
Discover the extraordinary indigenous culture, traditional lifestyles and the warmth of Ghanaians on this introductory exploration of Ghana's stunning eco-beaches and thriving unspoilt hotspots. Get introduced to the sights and soothing sounds of the Atlantic ocean as you frolic along the pleasantly uncrowded palm fringed white sandy beaches.
As an eco-tourism site, Ada Foah has an estuary Island which is a wildlife paradise with marine turtles, birds and primates.
There is opportunity to explore Ghana's Historical Slave Trade with visits to World Heritage sites in the ancient towns of Elmina & Cape Coast.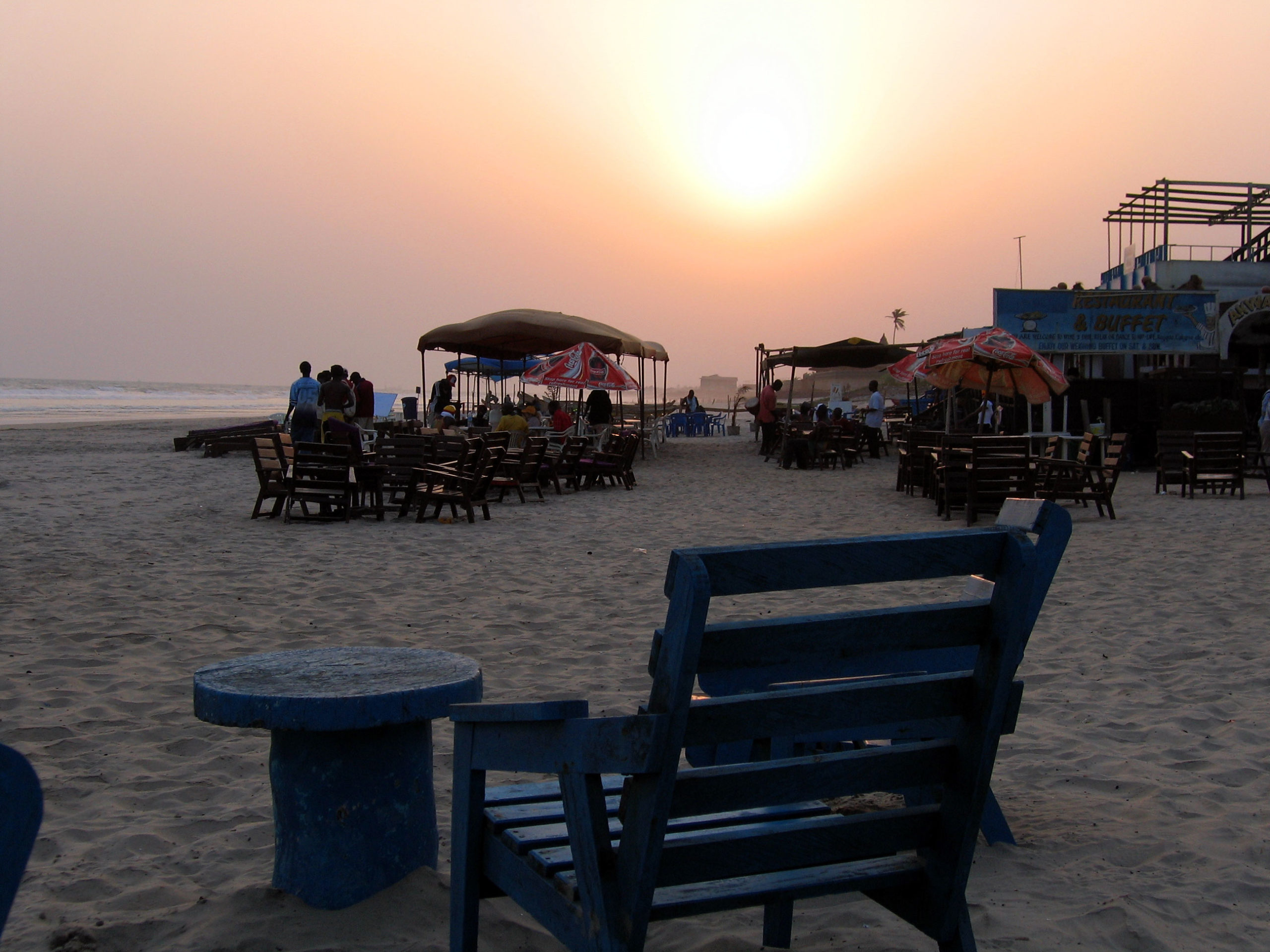 You can control these tabs with mouse and keyboad.
Aria roles are given automatically.
Arrow Key Left : Previous Tab
Arrow Key Right : Next Tab
Home : First Tab
End : Last Tab
Space/Enter : Select Tab
Day 1: ARRIVE IN ACCRA

AKWAABA!!! WELCOME TO GHANA!!!

Highlights:
· Jamestown Community
· The Brazil House
Upon arrival at Kotoka International Airport, proceed through immigration, claim luggage and clear Custom procedures, exit, and meet our expert Cultural Tour guide.

After a brief introduction and orientation, you will have panoramic sightseeing experience of Accra. We will have a scenic drive through the beautiful and vast campus of University of Ghana, Legon in our private air conditioned vehicle.

We visit Jamestown Community-One of Accra's most historic neighborhoods where history resides on every corner. Best known for its lighthouses (the first of which was constructed in 1875 by the British) as a navigational aid for trading vessels sailing through the Gulf of Guinea. The original structure was ruined but a larger and more improved lighthouse completed in 1921 is still functioning today.

Experience the hustle and bustle at the Fish Market at the seashore as fishermen dock their boats and fishmongers sell their catch Afterwards you continue to the hotel; after check-in, your guide, who will be with you throughout your stay, will brief you on what to expect during your stay in Ghana.

Transfer to your hotel with a drive through the infamous Oxford street cladded with colorful shops and stalls offering you the unique opportunity to purchase authentic African prints, beaded wear and ready- made clothing.
Hotel : Labadi Beach Hotel or similar

Day 2: ACCRA-ADA FOAH RESORT

Highlights: Kwame Nkrumah Memorial Park
After breakfast, you will depart the bustling city of Accra to Ada Foah, for an exclusive luxurious experience at Aqua Safari Resort, a top eco-friendly luxury getaway resort in the heart of Ada Foah, located 2 hours drive away from Ghana's capital, Accra. This is where you enjoy an ideal blend of a stunning beach, picturesque village tours, topped off with some sun. You will also unravel a rich and inspiring history of the local people.
Complete the tour of Accra – visit the Independence Square where you will see the enclosed flame of African liberation, which was lit by Dr. Kwame Nkrumah in 1961.

Next, we visit the Kwame Nkrumah Memorial Park, final resting place of Ghana's first president. Set in attractive gardens, there is an adjoining museum, which contains photos, artifacts and an insight into Dr. Nkrumah's life.

Continue to Ada Foah, arriving in time for a mouth-watering dinner (prepared with fresh farm produce) which you can take right at the beach or taken from the serene chalet garden. There is a chance to be part of exciting events happening at the hotel which may include watching beautiful orange flames flicker into the Ada night sky as the resort fetes you with an excellent night with the DJ's special playlist.

The rest of the evening is at leisure.
Hotel: Aqua Safari Resort or similar
Meal (s) Included: Breakfast, Dinner

Day 3: ADA FOAH RESORT

Highlights :
· Boat trip to the Mangroves and Island
· Local Gin production visit
After a sumptuous breakfast either at the beach, chalet, terrace, chalet garden or the Island, morning at leisure sunbathing along the Atlantic Ocean. You may take walk around the resort which reminds most like a walk through an episode of Discovery Channel. If the well-mannered donkeys don't amuse you, the friendly midget ponies will definitely get you posing for pictures. Why walk the tour when you can glide it? You have the day to explore everything Big Ada has to offer while you effortlessly and smoothly glide through its ins-and-outs. Enjoy a beautiful glide on the Segway ride as you explore the town of Ada.

There are also varieties of activities you can choose. You can take a leisure ride on a bike through Ada township and commune with nature, or enjoy the thrill of your first catch of Barracuda, Dorado, Tuna Mackerel, etc or grab the opportunity of going kayaking or canoeing with the resort's GHALDA certified staff and have some fun.

Or you can take a cool icy dip in the stunning resort pool overlooking the Atlantic ocean, or just while away the hours on the beach, save for your personal butler at hand to top up your cocktail whenever you need, or just enjoy the stunning views from your balcony.

After lunch, take a relaxing boat cruise to the Mangroves and Island to explore the work of the local gin producers on the Island who is committed to responsible tourism and environmental protection.
Hotel: Aqua Safari Resort or similar
Meal(s) Included: Breakfast, Lunch & Dinner

Day 4: ADA FOAH-ELMINA

Highlights:
Cape Coast Castle
We check out today for yet another adventure at the Coast-lands of Ghana. We have a scenic drive through the greenery zone from Ada Foah to Elmina.

Arrive Cape Coast in time for lunch (on your own account). This afternoon, we visit Cape Coast Castle a UNESCO World Heritage site, and was one of the departure points for Africans being sent to slavery in the Americas. The Castle is home to the "Door of No Return".

Check into your beach resort and stroll around the resort and explore the minimal animal sanctuary at the resort. You will likely see some of the most interesting animals that grace the resort including horses, crocodiles and donkeys.
Hotel: Lemon Beach Resort or similar
Meal(s) Included : Breakfast, Dinner

Day 5:ELMINA

You are greeted by the rising sun as you wake up to the cool breeze of the Atlantic ocean.
You may take a dip in the spectacular outdoor swimming pool giving you a panoramic view of the Atlantic Ocean or read your favorite book at your ocean front chalet.
The day is yours to enjoy, refresh and recharge.
Hotel: Lemon Beach Resort or similar
Meal(s) Included : Breakfast, Dinner

Day 6: ELMINA-ACCRA

Waking up to another new day, in tranquil Elmina. Enjoy a sumptuous breakfast before check out from your hotel.
We drive through the Denkyira Kingdom to Accra stopping at the West Hills Mall for late lunch (on your own account). Upon arrival in Accra, you may visit the Arts center where you can shop for unique souvenirs.
Continue to the airport for your onward flight to your country.
Meal (s) Included: Breakfast
Trip Includes:
Meeting and assistance upon arrival and departure
Round-trip airport/hotel transfers
Hotel accommodation in the indicated properties
Transportation in private vehicle
Experienced cultural tour guide
Meals (Breakfast daily)
Admission to listed sites
Assistance with visa application
Request A Quote