Ghana (Accra, Kumasi, Elmina, Cape Coast),12 Days
Join us on this 12-Day Tour of Authentic Cultural Experience as we Explore 5 different regions in Ghana namely, Greater Accra, Volta Region, Northern Regions, Central Region, and Ashanti Region. In the Volta Region, we get to the Hogbetsotso festival. The Hogbetsotso festival is celebrated by the chiefs and people of Anlo in the Volta region of Ghana.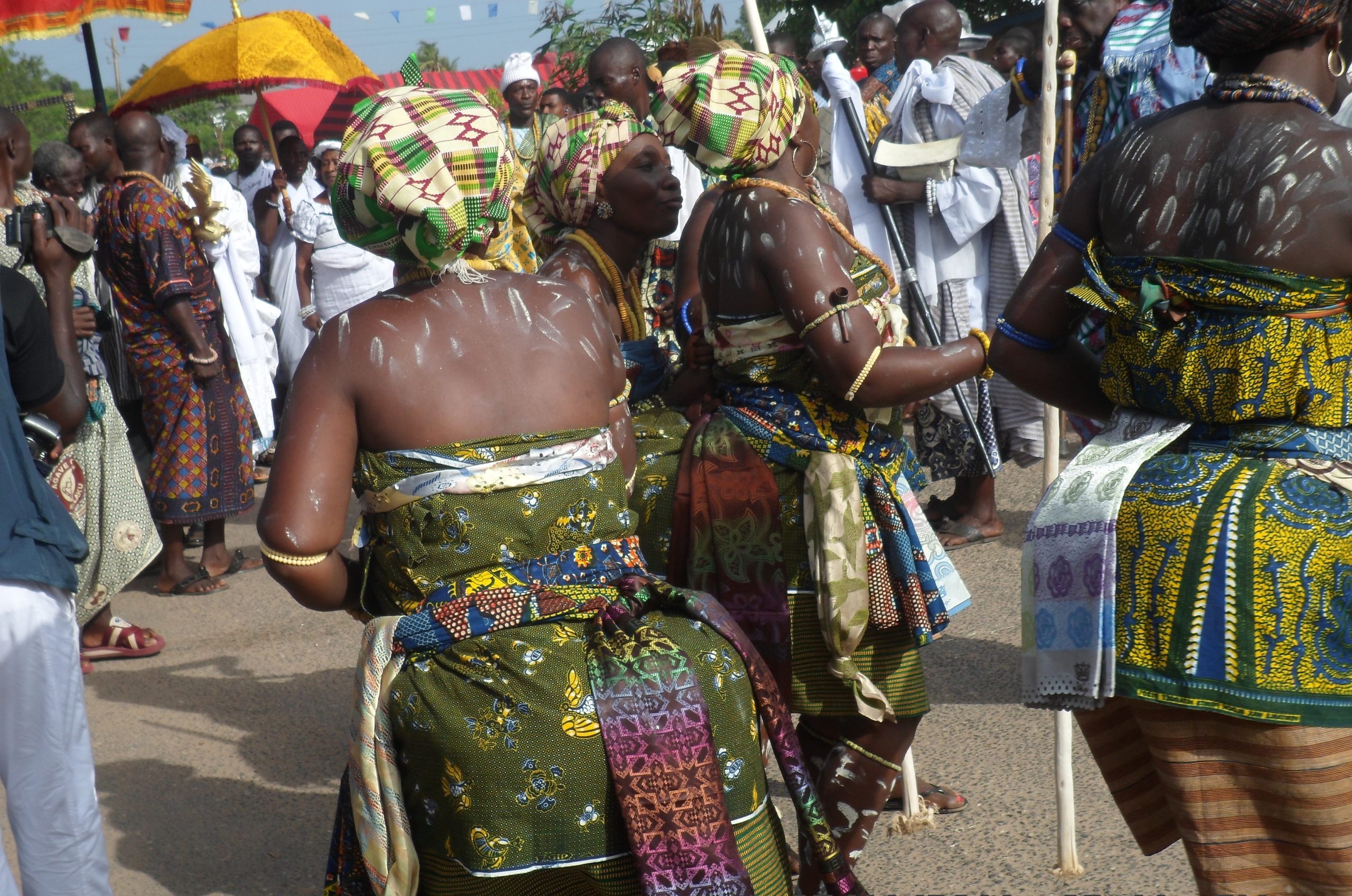 You can control these tabs with mouse and keyboad.
Aria roles are given automatically.
Arrow Key Left : Previous Tab
Arrow Key Right : Next Tab
Home : First Tab
End : Last Tab
Space/Enter : Select Tab
Day 1: ACCRA- Tuesday, November 1, 2023

On arrival at Kotoka International Airport, our expert cultural tour guide will meet, assist and transfer you to your hotel in our private air-conditioned vehicle. Once you've checked in, your guide will brief you on what to expect during your stay here in Ghana. Other activities today will depend on your arrival time and preference.

Overnight at Accra City Hotel

Day 2: ACCRA CITY TOUR-Wednesday, November 2, 2023

Experience the bustling city of Accra today, which is a blend of modern buildings and old structures that existed during colonial times. This 120-year-old city has a number of historical things to offer as we embark on another full day sightseeing of old and new town: Ga Mashie, Jamestown area. We will drive past Independence Square where Ghana hosts most of its national ceremonies on our way to visit the Kwame Nkrumah Memorial Park, the final resting place of Ghana's first president driving past the Independence Square where you will see the enclosed flame of African liberation, which was lit by Dr. Kwame Nkrumah in 1961. The Memorial Park is set in attractive gardens and has a museum that contains photos, artifacts, and insight into Dr. Nkrumah's life.

Our day's exploration ends at the La Community to visit the Casket/Coffin Shop where uniquely designed caskets are made and this reflects the people's belief in life after death. The shop was started by Seth Kane Kwei in the 1950s, almost by accident. He made palanquins, also known as Litters or Sedan Chairs that are used to carry tribal chiefs at traditional festivals. One chief, who had ordered a palanquin shaped like a cocoa pod, died unexpectedly before the festival, so he was buried in the palanquin. Soon after that, his grandmother, who had planned her first overseas trip by flight died before the trip and she too was buried in a coffin shaped like an airplane. "The third fancy coffin was for a chief fisherman who was buried in a canoe. Thus, the fancy coffin industry was started.

Overnight at Accra City Hotel


Meal(s) Included: Breakfast, Dinner

Day 3: ACCRA-SHAI HILLS-HO- Thursday, November 3, 2023

After breakfast, we set off further east to explore Ghana's culture and nature. En route, make a stop at the breathtaking Shai Hills Game Reserve. Observe the beautiful range of rocky hills sitting in the midst of large wooded grassland. Several cave systems embedded in the hills have played an important role in the local history, culture & the tradition of the Shai people. The reserve is home to 31 species of mammals more than 175 species of birds, and 13 reptile species. We continue on a scenic drive to a small village called Krobo Odumase to witness the first-hand experience of beads made from specially crafted glasses – Cedi Beads Factory. We will have the opportunity to design our own beads using the traditional Krobo technique. The bead-making craft has a long history in Ghana. Beads have been used in ceremonies of birth, coming of age, marriage, or death for the past 400 years. You will watch and participate in the whole bead-making process from beginning to end. Thereafter, visit the famous Akosombo Dam to explore the infamous Volta Lake for an hour's tour of the cradle of Ghana's Hydroelectric power. This Hydro-electric Dam is located within the Akosombo gorge, on the Volta River. The construction of the dam resulted in the flooding of the Volta River Basin which resulted in the creation of Lake Volta, the largest man-made lake in the world which covers about 3.6% of Ghana's total land area. We continue to Ho, with a drive through Adomi Bridge which is Ghana's longest bridge which spans over the Volta Lake suspended by arch steel cables. Volta Ghana is an area of extraordinary scenic beauty with rolling hills and valleys, green vegetation, rocky outcrops overlooking Lake Volta and lagoons, and a waterfall. Arrive and check in at your hotel.

Overnight at Volta Serene Hotel

Meal(s) Included: Breakfast, Dinner

Day 4: HO (HOGBETSOTSO FESTIVAL)-Friday, November 4, 2023

Wake up to the calm of the lake and bask in the beauty of the mountain scenery and its surroundings.

Today marks the climax of the historical Hogbetsotso Festival of the "Anlos Ewes", an ethnic group in the Volta Region. There will be a durbar of chiefs and people, which is an essential aspect of this festival. Chiefs dress in very colorful regalia and sit in state to receive homage from their subjects. Take coverage of dancing, singing, and general merry-making during this festival.

We return to the hotel for another night; the rest of the evening is at leisure.

Overnight at Volta Serene Hotel

Meal(s) Included: Breakfast, Dinner

Day 5: HO-WLI-TAMALE- Saturday, November 5, 2023

After a refreshing along the greenery landscape of the Volta Region, and a sumptuous breakfast, we will depart early for the Northern Volta. We will make a stop at Wli Waterfalls, the largest and highest waterfall in Ghana. Wli Waterfalls is divided into two sections with ice-cold water flowing from a height of about 80ft. On route to the waterfall, you will hike through the lush greenery of the Agumatsa Forest where you will cross the same river eleven times before reaching the breathtaking falls. Early afternoon, continue to Nkwanta. Time permitting, visit Shiare Hanging village. Transfer to the hotel; check-in for overnight.

Overnight at Gateway Hotel

Meal(s) Included: Breakfast, Dinner

Day 6: TAMALE-MOLE NATIONAL PARK- Sunday, November 6, 2022.

After a well-deserved breakfast, depart to Tamale in the Northern Region. You will explore more of Tamale before heading to Mole National Park. Get acquainted with the local traditional industry of Northern Ghana-Shea Butter on your visit to the Shea Butter Processing Centre (SeKaf Shea Butter Village). Shea Butter is very important to the local community and its people and you will see as well as learn how it is obtained from the Shea nut and processed into butter for so many healthy uses.

Also, visit a local women's group that works on shea nuts and makes shea butter, shea oil, and shea butter soap among other products to learn how they work to provide for and support their families.

After lunch (on your own account), continue to Mole National Park. Check-in and enjoy the rest of the evening at leisure.

Overnight at Zaina Lodge

Meal(s) Included: Breakfast, Dinner

Day 7: MOLE NATIONAL PARK- MOGNORI-MOLE NATIONAL PARK-Monday, November 7, 2023

Discover the true wildlife gem of the Mole National Park as you take a once-in-a-lifetime early morning drive safari. The park is well known for being a great site for birding with over 200 identified bird species, colorful butterflies, and magnificent reptiles. In the company of your experienced and knowledgeable safari guide, you will enjoy the sights of the untamed but friendly African Bush Elephant, African Buffalo, Olive Baboon, Hyena, Red-flanked Duiker, Roan Antelope, common Warthog, Vervet Monkeys, Hartebeest, and the Bushbuck. In the afternoon, visit Mognori Eco-village which is located about 15km away from the park. Explore the village on a community walk, drumming, and dance performance, or take a canoe safari on the Mole River. Enjoy the rest of the day by the pool which overlooks the Park's waterhole. You can have an icy dip in the cool pool at your Lodge or motel

Overnight at Zaina Lodge

Meal(s) Included: Breakfast, Dinner

Day 8: MOLE-KINTAMPO-BOABENG FIEMA-KUMASI-Tuesday, November 8,2023

Depart for Kumasi, driving through the Gonja lands; stop at the Larabanga Mosque, the oldest Sudanese Mosque in West Africa, and the Mystic Stone. We also make a stop at Boabeng Fiema Monkey Sanctuary, an area of the forest that is home to Mona and Colobus Monkeys considered sacred by the villagers. Upon arrival in Kumasi, you will be transferred to the hotel for the night.

Overnight at Lancaster Hotel Kumasi

Meal(s) Included: Breakfast, Dinner

Day 9: KUMASI & ASHANTI CRAFT VILLAGES- Wednesday, November 9, 2023

Enjoy a sumptuous breakfast before we set out to explore the cradle of Africa's authentic culture. We will first visit the Manhyia Palace, the official residence of Ashanti Kings (Asantehene) until 1974, now a museum containing treasured items relating to the Ashanti Kingdom. Ashanti forms the biggest population group in Ghana. For centuries they were the rulers in this region because of their well-organized society. At Manhyia Palace, disputes are still settled in accordance with centuries-old customs where the King has the final word. We continue to the 3 craft villages of the surrounding lush countryside of Kumasi as follows:
The woodcarving Village of Ahwiaa is known for the talented craftsmen who fashion Royal stools, walking sticks, and Fertility Dolls from wood; with the opportunity to purchase hand-carved items of all kinds.

The village of Ntonso where Artisans hand-stamp patterns on the Cotton cloth to make Adinkra Textiles. Black-on-Black and Black-on-Red Adinkra Cloth is worn for funerals and other solemn occasions; learn how the Black Dye is made in the village from the bark of trees and creates your own Adinkra sash to take home. You may also purchase large pieces of the Adinkra Cloth handmade in the village.

Finally, to Adanwomase, where we'll see how the famous Kente Cloth is handmade on looms in a time-honored tradition passed down through generations. See the Kente styles and the opportunity to make purchases.

Transfer to your hotel.

Overnight at Lancaster Hotel Kumasi

Meal(s) Included: Breakfast, Dinner

Day 10: KUMASI-ELMINA-Thursday, November 10, 2023

After breakfast, we depart to Cape Coast & Elmina. En route, we visit Assin Manso where the "Donkor Nsuo (Slave river) is located. See the burial site of two former slaves from the U.S. and Jamaica whose remains were re-interred in August 1998 during Ghana's first Emancipation Day celebration. You will see the 'Slave River' where captured Africans were washed before being confined in the Slave castles to await shipment to the Americas and the Caribbean. This was the final transit point for enslaved Africans before being washed and stored in the slave castles to await shipment to unknown lands.

Arrive in Elmina and visit the Elmina Castle built by the Portuguese in 1482 and is also known as St. George's Castle. This castle was the first European structure built in Sub-Saharan Africa. The colorful harbor nestled below the Elmina Castle, full of pirogues preparing to go to the sea offers one of West Africa's greatest photo opportunities.

Transfer to your hotel.

Overnight at Coconut Grove Beach Resort

Meal(s) Included: Breakfast, Dinner

Day 11: ELMINA-KAKUM NATIONAL PARK-ELMINA-Friday, November 11, 2023

Early morning departure for a drive through the historic Denkyira Kingdom to Kakum National Park, one of West Africa's surviving tropical rain forests. Extending over 360sq km, Kakum is home to over 40 large mammals and 400 bird species as well as many species of butterflies, flora, and fauna. The most popular attraction is the canopy walkway, which is made up of seven bridges extending 330m, hanging 30m above the forest floor. Choose between a 2 km nature walk through this forest to discover the wide variety of exotic floral species and the medicinal values they offer or take a walk on the canopy walkway.

Return to Elmina with a stop in Cape Coast. We will visit Esi's Kitchen to explore the fragrant and exotic flavors of West African cuisine. Esi will introduce you to an array of new tastes and flavors as you learn how to create authentic Ghanaian dishes. Using African cooking techniques, during this workshop you will create traditional dishes like Jollof rice (Rice cooked in tomato sauce), Red Red (Beans stew with fried ripe plantain), Ampesi (Cooked yam/plantain with palava sauce), or Peanut butter soup.

Overnight at Coconut Grove Beach Resort

Meal(s) Included: Breakfast, Dinner

Day 12: ELMINA – ACCRA/DEPART- Saturday, November 12, 2023

Morning at leisure.

Depart to Accra early afternoon with a brief stop at Cape Coast where we embark on a tour of the infamous Forts, Castles, and Slave Dungeons of Ghana. History will unfold the story of the slave trade and the impact is still felt beyond the shores of Africa today. Visit the Cape Coast Castle built by the Swedes in 1653 and was later taken over by the British. This castle also houses the West African Historical Museum established by the Smithsonian Institute in collaboration with the Ghanaian Government in 1994.

Arrive in Accra late afternoon and drive through the Arts & Crafts Market where you may test your bargaining and trading skills against the vendors.

Transfer to the airport for your onward flight home.

Meal(s) Included: Breakfast
Trip Includes:
Meeting and assistance upon arrival and departure
Round-trip airport/hotel transfers
Hotel accommodation in the indicated properties
Transportation in private vehicle
Experienced tour guide
Meals indicated
Bottled water per day
Admission to listed sites
Request A Quote